Gianni Chacon said that going into it "she didn't think it would taste good but after she ate it she said it was the best oatmeal she had ever had. It really gets you full!" Duaa Austin said, " I hope I get to make stuff for my family and maybe they will enjoy it." -- From volunteer Susan Pinto at Lawton Elementary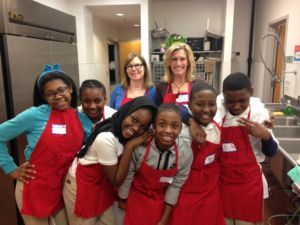 Most of the classes were cancelled this week, but Community Partnership got started.
Two years ago, when I was cooking with five girls in the convent kitchen at St. Martin De Porres in North Philadelphia, I dreamed that those lessons could be repeated in schools around the city, so kids who had never tasted fresh vegetables or prepared their own dinner could learn how simple and delicious healthy cooking could be.
Since then, a legion of people have dreamed with me and made it happen: This spring, 100 schoolchildren will be cooking such meals as winter minestrone and chicken quesadillas with squash and kale, and then sitting down to eat together, as the My Daughter's Kitchen cooking program expands to 20 classes.
The fifth graders from Russell Byers Charter School had learned plenty of kitchen skills since we started our cooking classes back in October. Now, it was time to put them to the test: cooking dinner for their families, a group of about 20.
Glazed salmon was the students' first choice, but in our mission to teach healthy and affordable cooking, here was another lesson: When feeding a crowd, don't choose an expensive protein. "Salmon is too pricey," I said.
The faces of the fifth graders lit up as they arrived for their seventh week of after-school cooking classes.
"Hello, Mrs. Byers!" Kaylah Nobrun called out. A chorus of greetings from the others followed.
"She's our founder," Kaylah said proudly, referring to Laurada Byers, who started the Russell Byers Charter school - named for her late husband - that these students attend, and who had come to visit the class they walk to at the Free Library of Philadelphia.
Chicken Skewers
Makes 6 servings
1 1/2 pounds boneless, skinless chicken breast
Stir-Fry With Chicken Thighs
Makes 6 servings
1 1/2 pounds chicken thighs, boneless and skinless (make sure each is completely dry)
Posted:

Tuesday, November 25, 2014, 12:56 PM

'So why aren't we making real grilled cheese?" said chef Marc Vetri, who was visiting our after-school cooking class.

"Well, we're going for something healthier," I said. Baked whole-wheat pitas stuffed with cheese and homemade tomato soup - a reinvention of the classic pairing.