Archive: October, 2011
In the first recipe on the blog, I wrote about making a roasted chicken. I've simmered many a chicken carcass over a low flame for hours to make stock for chicken soup, always worrying when I leave the kitchen, leaving the stove on and unattended. But this reader writes in with a great solution: a slow cooker!
Maureen,
I am enjoying your column following your daughter's cooking blog. I have a daughter that is 25 and she sends me picture's of every meal (dinner) she makes! I had one suggestion that I just learned and could be passed on to your daughter. After you roast the chicken that you made the first week, take all the meat off and put the carcass in crockpot. I usually refrigerate it after dinner and the next morning( or when works for you) cover it with water, add a carrot, celery stalk and an onion and salt/pepper. Cook on low heat for 4 plus hours, strain and you have an amazing stock that can turn that chicken into soup, risotto etc. The reason I wait until the next day is the first time I did it at night I woke up to the smell of chicken soup at 3 a.m. An inexpensive crockpot works fine.
Ugh! I can't believe that you used that ground turkey with freezer burn that you bought in July! But then again, who am I to argue with the USDA. And even more, who am I to argue with that photo of those beautiful meatballs! (Great photo Nicko!)
Looks like it all worked out in the end. And this time Sally, you taught me the lesson of not wasting food. Though I would still recommend that it's best to use meat within a month of putting it in the freezer, that is just a general rule, that can, as you have proven, occasionally be broken.
I bought organic ground turkey from Whole Foods in July, thinking I'd make tacos, but, somehow, that never happened. When I told my mom, she politely suggested I buy new ground turkey for the meatballs, suggesting meat should be frozen for really only 3 months. As many of my friends will attest, I'm known to ask others for advice, listen to what they have to say, but generally do what I want anyway. This situation was no different. I looked up the USDA guidelines for how long you can freeze ground meat, and it said 3 to 4 months. I was within the limit! I let the turkey defrost in the fridge during the day. My friend Sadie came over for dinner, and she can also attest to how delicious these meatballs were!! and how EASY this recipe is!!

I preheated the oven to 400 degrees. First, I took the ground turkey and placed it in the bowl. Next, I took a medium sized onion and cut it in half, then finely chopped 1/2 of the onion which produced almost exactly 2 tablespoons. Threw them in the bowl with the turkey. Next, the bread crumbs: I took two slices of my gluten-free udi bread, cut off the crusts, cut them in half, and placed the slices in the mini prep food processor. Then clicked grind. VOLA, breadcrumbs. I needed one cup of breadcrumbs, 2 slices of bread made the 1 cup perfectly. Next, I minced (chopped really finely) one clove of garlic, and added it to the mix along with the salt, basil, parsley, and Parmesan cheese. Next, I cracked the one egg, and finally added the Worcestershire sauce. Then came the fun part, the recipe says mix all ingredients by hand in a large bowl, using a light touch. (Yes, I made sure to wash my hands before… hint hint to those following along). I broke open the yolk of the egg with a fork before starting. I found it made the egg easier to mix. I was very gentle in my mixing, but got the mixture as homogenous as possible. Then, my sous chef Sadie, lined the baking sheet with tin foil as my hands were covered in raw meat. Then she helped me start making the balls. (Because the meat had been frozen and then defrosted, it didn't stick together as well as I'd remembered from helping my mom make them in the past!) We had 1.2 pounds of meat and made about 18 meatballs. We fit them all on one baking sheet and put it in the oven.

Then I got the stove top going. I reheated left over sauce and the pasta. My roommates were eating with us, they made regular pasta and I still had some leftover quinoa pasta. The apartment smelled amazing-- that seriously might be my favorite part of this whole process. After 20 min, the meatballs were done, luckily Sadie stopped me from putting one directly into my mouth as I pulled them out of the oven saving me from a third degree burn. I put them on a paper towel to drain, (although there wasn't much fat to drain off because the turkey was so lean) and then placed them into the sauce. All together, the whole process took about 45 minutes. Seriously. Not bad at all! The ground turkey, even after being frozen so long, still made delicious meat balls. And the sauce was GREAT reheated. It was a fun night, enjoyed the meal with a bottle of Malbec. I'm surprising myself with how much fun I'm having as I embark on this adventure with my mom! Saving money and eating good food—what could be better?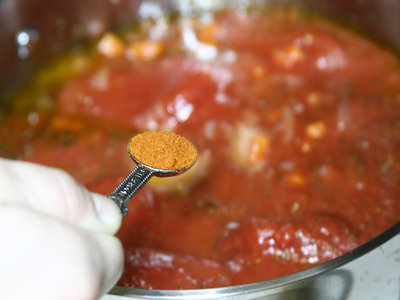 Aye yi yi Sally!
That looks more like 1/2 teaspoon than 1/4 teaspoon you thought it was; the recipe called for only 1/8 teaspoon! And with cayenne pepper, a little goes a long way. It's best when trying a new recipe to start with the recommended amount, and then add, little by little to your taste. You can always add more. Im so glad you liked the result, but might be worth tasting it next time with less cayenne, then add the heat as your palate desires.
As for the lid, keep it on, while the onions and carrots are cooking to keep all that moisture trapped. Even still, your whole apartment will fill with that lovely aroma.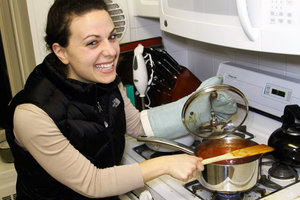 I'm not going to lie, since the big launch debut I've been a little nervous. My momma and I made the deal-- she picks the meals and provides the recipes and I'll do my very best to keep up. Up next on her list was her homemade tomato sauce. This sounded REALLY difficult to me, but I've always loved it, so I really wanted to try. And I was pleasantly surprised! It wasn't THAT HARD. I have to say, my sauce was AMAZING. Seriously.
Side note before we start: In preparation for the blog I did purchase a $20 immersion blender from Target. This isn't necessary as you can use a food processor or regular blender— things just get a little more dubious with the pouring of hot liquids.
Ok here we go: I started with 2 medium sized carrots, washed, peeled, and then chopped them up. ( The recipe says finely chopped, I cut the carrot in half long ways, then again so it was in four, and then chopped down the carrot. I realized after, that it this step isn't critical because you are going to blend everything anyway). Next, recipe calls for 3 cups of onions. I had 2 large onions, which was just enough. I started to put all the chopped veggies in the pot before I heated the oil, but apparently this is a big cooking no no and my roomie stopped me. "You should let the oil get hot before you add the veggies". So, with the stove at medium heat I added ½ cup of olive oil, waited 2-3 minutes, and then added the veggies. I let that cook on medium heat for 25 min. I kept the lid on the pot -- but my lid had a steam hole. (I don't really know if these things matter—mother dearest, please shed some light.)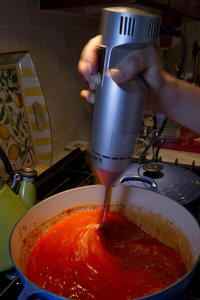 Rustic Tomato Sauce and Turkey Meatballs
Makes 6 to 8 servings
For the sauce:
1/2 cup good-quality olive oil
3 cups finely chopped onions
2 medium-sized carrots, peeled and grated
2 cans (28 ounces each) peeled plum tomatoes
1 tablespoon dried basil
1 teaspoon salt
1/8 teaspoon cayenne pepper
4 garlic cloves, peeled and finely chopped
1 tablespoon balsamic vinegar, optional
For the meatballs:
2 tablespoons onion, finely chopped
1 pound ground turkey
1 cup fresh breadcrumbs from two slices coarse bread, crusts removed
1/3 cup grated Parmesan cheese
1 teaspoon basil
1 teaspoon parsley
1/2 teaspoon kosher salt
1/4 teaspoon black pepper Pinch of red pepper flakes
1 clove garlic, minced
1 teaspoon Worcestershire sauce
1 egg
To make the sauce:
1. Heat the oil in a heavy pot. Add the onions and carrots and cook, covered, over low heat, until vegetables are tender, about 25 minutes. (Skip to meatball directions while sauce is cooking.)
2. Add the tomatoes, basil, salt, and cayenne pepper and cook over medium heat, stirring occasionally, for 30 minutes.
3. Use an immersion blender to puree the sauce, until the onions and carrots are incorporated.
4. Add the garlic and cook for 5 more minutes.
5. Taste and correct the seasoning. Add the balsamic vinegar if the sauce seems to lack intensity.
To make the meatballs:
1. Preheat oven to 400 degrees. Mix all ingredients by hand in a large bowl, using a light touch.
2. Take about 2 ounces of meat in hand and roll between palms to form a ball that is packed but not compressed. Each should be 11/2 inches in diameter.
3. Line a baking sheet with aluminum foil, Place the meatballs on the sheet without crowding. (The recipe should make 15 to 18 meatballs.)
4. Bake at 400 degrees for 20 to 25 minutes. Drain on paper towels, if necessary, then add meatballs to the sauce. Heat through and serve with pasta.
Note: For gluten-free version, use Udi's Gluten Free White Sandwich Bread for the breadcrumbs, and Ancient Harvest Quinoa Pasta for the pasta.
— Sauce adapted from The Silver Palate Cookbook; meatballs adapted from a recipe for Kim Severson's mother's meatballs.

Per serving (based on 8): 396 calories, 22 grams protein, 27 grams carbohydrates, 12 grams sugar, 24 grams fat, 85 milligrams cholesterol, 716 milligrams sodium, 4 grams dietary fiber.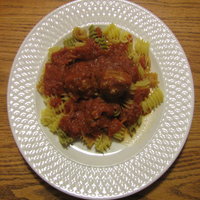 When my daughter and I decided to start a cooking blog, I wanted to teach her the recipes she remembered eating at home, along with good basics that she could make for herself, her friends, and, one day, her own family.
I think of recipes as alive and ever-changing, so I plan to update many of the recipes I made for my children when they were growing up. I'd like the recipes to reflect our current taste and, especially, our attempt to eat healthfully without sacrificing flavor.
I have always loved this tomato sauce from The Silver Palate Cookbook, which has a rich and rustic flavor that results from cooking onions and carrots together in olive oil to begin the sauce.
This recipe was made immensely easier with the invention of the immersion blender, which eliminated the mess of ladling hot tomato sauce from the pot to the Cuisinart to puree. (But honestly, I loved this sauce so much, I did it!)
The meatball recipe is a combination of a basic Betty Crocker recipe I used for years with tweaks from another recipe from Kim Severson, a New York Times food writer who shared her mother's meatball recipe.
Neither of those recipes calls for ground turkey, but in the interest of reducing the fat, I tried it with ground turkey (and with gluten-free breadcrumbs for my celiac daughter), and I have to tell you I preferred the turkey to the ground beef. I made both versions, since my husband said he would just eat the sauce and pasta, he would not be eating turkey meatballs.
But he couldn't help himself: "I didn't want to like them," he admitted. "But they really are terrific."
The evidence was the pyramid of turkey meatballs atop the pasta and sauce on his plate.
Wendy Blutstein, of Glenside, wrote that she enjoyed the story about the new blog, but had two suggestions:
"I thought it might be helpful to recommend to your daughter when she bakes that classic chicken, to forgo the melted butter and replace it with a little olive oil. And also to forgo all the salting of that chicken, both inside and out. Maybe just a touch of salt to the outside. Check out the website for Center for Science in the Public Interest, which also has a great nutrition/food magazine: http://www.cspinet.org/"
Thanks for the suggestions Wendy. I agree. I always use olive oil and should have made that adaptation of Ina's recipe. And Sally, easy on the salt!