Archive: January, 2012
There is nothing more universally loved than fresh-from-the-oven, homemade pizza. It appeals to adults and children alike; it can accommodate meat-eaters and vegetarians; it never fails to impress.
And, once you get the oven hot, you can keep the pizzas coming every 10 minutes! Special requests of more cheese or no onions, for once, are not the least bit annoying.
But it does require the advance prep of making dough the night before, so it is never a last-minute endeavor. If you remember to buy fresh yeast (yeast is not something that can hang around in the pantry for months), you probably already have the rest of the ingredients for dough: water, flour, olive oil, salt, sugar.
That being said, it takes years to perfect the perfect pizza crust. I have made lovely crusts over the years, chewy, nicely browned along the edges, with impressive yeasty air pockets — but not one can compete with the likes of the ethereal pies at Osteria, even though this time I tried Marc Vetri's recipe from his cookbook Rustic Italian Food.
My pizza is, however, a world above what I can order for take-out in my neighborhood, at a fraction of the cost. My favorite pie is the simple Margherita: marinara, fresh mozzarella cheese, and a few basil leaves. I also love the pistachio pizza made famous by Pizzeria Bianco in Phoenix: a simple mix of pistachios, olive oil, red onion, Parmesan cheese, and fresh rosemary.
A few notes: If you want to make pizzas regularly, buy a pizza stone and a pizza peel (available at kitchen stores — Sur La Table, Crate and Barrel, and the like). The stone is placed in the oven and heated for about an hour before the pizza is cooked and helps to produce a crispy crust. The peel is a wooden paddle that makes sliding the pizza onto the stone much easier.
Once you get over the initial intimidation, pizza-making becomes a pleasure: There is satisfaction in kneading the dough until its texture turns silky under the heels of your hands, magic in the rising of the dough, and joy in pulling a hot, beautiful pizza from the oven. It may not be perfect, but in the end, that is also part of its appeal.
Margherita Pizza
Makes 4 small pizzas
For the dough:
1 cup warm water
1 teaspoon instant active yeast
2 teaspoons sugar
2 tablespoons extra virgin olive oil
1 teaspoon salt
3 cups unbleached, all-purpose flour
For the sauce:
1 16-ounce can peeled tomatoes, preferably San Marzano
1/4 cup extra virgin olive oil
One bunch fresh basil leaves, for sauce and topping
1 teaspoon salt
Pepper to taste
1/2 cup fresh mozzarella cheese, for topping
1. To make the dough: Place the water, yeast, and sugar in large bowl. Add olive oil and salt and let sit for 5 to 10 minutes until it becomes foamy.
2. Add the flour a little at a time, stirring as you go, until all of the flour is absorbed and dough pulls away from the side of the bowl. Form the dough into a ball, place on a flour-dusted work surface, and knead it about five minutes until it becomes silky, adding more flour as needed so it does not become sticky.
3. Place the dough back in the bowl and cover tightly with plastic wrap. Allow it to rise in the refrigerator overnight.
4. Meanwhile, make the sauce. Crush the tomatoes, then mix in olive oil, salt, pepper, and about 5 basil leaves. Puree with an immersion blender.
5. Once the dough has risen and about an hour before you want to make the pizza, remove the dough from the refrigerator and let it come to room temperature. Place a pizza stone in the oven and preheat the oven to 500 degrees. (If you have convection, turn it on for better results.)
6. Divide the dough into four balls. Spread flour on the counter and press one of the dough balls into a flat circle. Continue pressing with the heel of your hand. (You can also use a rolling pin to get it uniformly flat.) Once the dough is about 6 inches in diameter, you can pick it up and turn it around the edges, allowing the weight of the dough to stretch it even further.
7. When the dough is nice and thin, about 8 inches in diameter, place it on a pizza peel. (Dust the peel with cornmeal so it slides off easily.)
8. Ladle a thin layer of sauce onto the dough. Top with 5 to 6 thin slices of mozzarella cheese.
9. Carefully slide the pizza from the peel onto the stone in the hot oven.
10. Bake for 8 to 10 minutes, until crispy around the edges. Remove from the oven. Immediately top with 4 or 5 basil leaves. Slice and serve.
— Adapted from Rustic Italian Food, by Marc Vetri
Note: For pistachio pizza, top dough with 1/4 cup grated Parmesan cheese, 1 tablespoon chopped pistachio nuts, 8 thin slices of red onion, a pinch of fresh chopped rosemary, and 1 tablespoon olive oil.
Per serving (based on 8 servings): 298 calories, 7 grams protein, 39 grams carbohydrates, 3 grams sugar, 2 grams fat, 4 milligrams cholesterol, 707 milligrams sodium, 2 grams dietary fiber'.
Sometimes, especially after a long day, the most satisfying meal is one that doesn't require a trip to the store. Indeed, everyone needs a few recipes that can be pulled together, even when it seems that there is nothing in the fridge. Or when the few ingredients on hand are nearing their expiration dates. As a lovely package of Baby Bella mushrooms stood out in my nearly empty refrigerator, I thought to myself: frittata.
This simple egg dish, also known as a "flat omelet," is essentially the same concept as an omelet — eggs and vegetables and cheese — but the frittata is so much more approachable for the beginning cook.
Indeed, its beauty lies not only in its simplicity, but also in its flexibility. It accommodates many leftovers, and is a great vehicle for those hunks of cheese or vegetables waiting for their useful moment.
A leftover wedge makes for a tasty lunch, and a frittata made in advance can be a simple substitute for sandwiches when eating on the run.
I have fond memories of a frittata I made for a picnic at my oldest son's college graduation, to tide over the starving family when I realized we'd have to go from one long ceremony to another without time in between for a stop at a restaurant.
For this recipe, I used the mushrooms that I had, along with a mix of grated Parmesan, Jarlsberg, and some crumbles of a mild French feta, also left in the fridge.
But do use whatever vegetables are on hand in your fridge, whether it be spinach, zucchini, onions, red peppers, or the like — just saute them before you add then to the eggs. A little leftover ham or prosciutto is also nice, and blends well with cheddar, Swiss, or even, if you are feeling indulgent, a bit of Brie.
Mushroom and Cheese Frittata
Makes 4 servings
2 tablespoons butter (or olive oil), divided use
8 ounces mushrooms, sliced thin (one-pint package)
6 eggs, lightly beaten
3/4 cup grated cheese (I used a mix of Parmesan,
Jarlsberg, and mild feta, but almost any cheese will do)
Salt and pepper to taste
1. Turn on the oven to 500 degrees.
2. Melt one tablespoon of butter in a 10-inch cast-iron or nonstick skillet over medium heat. (Be sure to use an ovenproof skillet.) Add the mushrooms and cook until they are brown. (I like mine well-done, but that is a matter of taste.) Remove the mushrooms from the skillet and set aside to cool slightly.
3. Melt the second tablespoon of butter in the pan.
4. Add the grated cheese and mushrooms to the beaten eggs; season with salt and pepper to taste, and gently stir.
5. Once the butter is melted, add the egg mixture to the pan and cover. Let the eggs cook, without stirring, until they are set in the pan (between 5 and 10 minutes) leaving only the top uncooked. When the edges start to brown, it's time to turn off the heat.
6. Transfer the skillet (uncovered) to the hot oven for about 5 minutes, or until the top is browned and puffy.
7. Remove from the oven, let cool slightly. Cut into wedges and serve.
Per serving: 252 calories, 15 grams protein, 3 grams carbohydrates, 2 grams sugar, 20 grams fat, 301 milligrams cholesterol, 227 milligrams sodium, 1 gram dietary fiber.
I've always loved my Momma's homemade veggie soup-- especially when I'm feeling under the weather. It is the ultimate comfort. I followed the recipe almost exactly, except I didn't soak the beans. (Did anyone really think I would??) Instead, I found a can of chickpeas in my pantry and decided to make do. (See, I am learning to adapt!) I peeled and diced the onion and carrots, then added them to the hot olive oil and sauted them for 15 minutes (stirring occasionally). Meanwhile, I chopped up the garlic and thyme. (I thought we had a spice jar of bay leafs, but I couldn't find it so I had to press on without it.) Next up was the chopping of the green beans, zucchini, tomatoes and chard. When the carrots and onions were softened, I tossed in the garlic, thyme, and salt and let that cook for 5 minutes longer. Next step was adding the water. Once it started to boil, (about 15 minutes-- time to chop up the last tomato), I added green beans and let it simmer another 5 minutes. Now, the zucchini, tomatoes, and chard were added. I mixed that all together and let it cook for 15 minutes more. Everything smelled AMAZING. Finally, I added the entire can of chikpeas-- I just dumped the entire can in (without draining) and let it cook for a final 5 minutes. My soup wasn't too thick-- in fact it was just right. I grated some Parmesan cheese and enjoyed my delicious dinner.
I reheated this soup last night, after coming home from a long day at work and my first piano lesson (another New Year's resolution!), and immediately felt better. This recipe is a keeper! I know I will make this soup when I have a family of my own, and hopefully it will bring my kids the same comfort it brings me.
I'd like to introduce a guest blogger, my friend, Catherine Hollander. She (unlike me) is an experienced and very good cook!! She came over to the dinner party I had the other week and made homemade egg pasta. Below is her experience! Thanks Catherine!! Enjoy!
Egg Pasta
When I turned eighteen, I begged my parents to let me spend a summer working in New York City. To my surprise, they said yes.
I spent the sticky summer packed into a two-bedroom Brooklyn apartment with four friends. Our spirits were high; our weekly food budgets were low.
Who among us does not dream of cooking like Alice Waters? The legendary San Francisco chef almost single-handedly changed the reputation of healthy eating by creating food at Chez Panisse that was local, organic, good for you, and tasted sensational.
In her cookbook The Art of Simple Food, Waters seeks to spread her gospel of great eating to those who don't have cooking degrees. And most of the recipes are eminently doable, even for beginners. But she does insist on doing things the right way.
For instance, she would never offer canned beans as an alternative in her minestrone soup recipe. (Even though I did suggest it as a time saver in the recipe below.)
I did take the time to soak the dried beans the night before and boil them for this soup, and there is no debate that the results are immeasurably better than canned.
But I am also a realist. Making this soup with fresh vegetables and canned beans is still a huge improvement over opening a supermarket can of minestrone soup. If you've never made your own before, you will not believe the difference. This soup is fabulous! (And honestly, for eight servings, it does not cost much more to make than buying it canned, about $10, or less if you already have the carrots and onion.)
I feel a little guilty that I did not make Waters' winter minestrone, with cold weather vegetables of turnips, potatoes, and cabbage. But I didn't feel like eating those heavy vegetables, so I went with her basic recipe, using green beans, carrots, grape tomatoes, and zucchini. Not the best of the local offerings, but with the weather unseasonably mild, it just doesn't feel like turnip-eating time!
Alice Waters' Minestrone Soup
Makes 8 servings
1 cup dried cannellini or borlotti beans (or 21/2 to 3 cups canned)
1/4 cup olive oil
1 large onion, finely chopped
2 carrots, peeled and finely chopped
4 garlic cloves, coarsely chopped
5 thyme sprigs
1 bay leaf
2 teaspoons salt
3 cups water
1 small leek, diced
1/2 pound green beans, cut into 1-inch lengths
1 medium zucchini, cut into small dice
2 medium tomatoes, peeled, seeded, and chopped, or 1 small can diced tomatoes (I used 1 cup of grape tomatoes cut in half)
2 cups chard, coarsely chopped
1 cup bean cooking liquid
Grated Parmesan cheese, for serving
1. Prepare the beans by soaking them overnight and then simmering them for two hours or until tender. Reserve cooking liquid. (Or use canned beans, drain and reserve liquid.)
2. Heat the olive oil in a large heavy-bottomed pot over medium heat. Add the onion and carrots, and cook for 15 minutes, or until onion is translucent.
3. Add the garlic, thyme, bay leaf, and salt, and cook for 5 minutes longer.
4. Add water and bring to a boil. When boiling, add the leek and green beans. Cook for 5 minutes.
5. Add zucchini, tomatoes, and chard. Cook for 15 minutes. Taste for salt and adjust as necessary.
6. Add the cooked/canned beans, along with 1 cup bean cooking liquid, or liquid from canned beans and enough water to make 1 cup.
7. Cook for 5 minutes. If the soup is too thick, add water. (I added another two cups of water at this point.)
8. Remove the bay leaf. Serve in bowls, each garnished with grated Parmesan cheese.
Adapted from The Art of Simple Food by Alice Waters (Clarkson Potter, 2007)
Per serving: 256 calories, 12 grams protein, 37 grams carbohydrates, 5 grams sugar, 7 grams fat, no cholesterol, 634 milligrams sodium, 14 grams dietary fiber.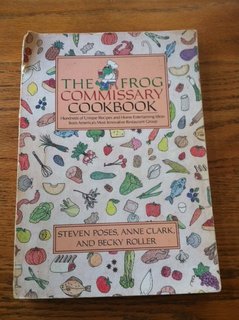 Several readers emailed to tell me that the Asian stir fry recipe from a few posts back was also one of their family's favorite recipes. I love the idea of so many famlies in the region unwittingly making the same recipe! And how uncanny, that we would all chose the same recipe to make over and over?
Here are notes from a few readers:
I loved your article about the Commissary's chicken stir fry, as that recipe has been one of our family's favorites for years… and it is one thing that everybody is excited about when I answer that daily question, "What's for dinner?" Awhile ago, a friend in my office shared that it was also a favorite in her household. She told me that the sauce freezes really well. Did you know that? I now will spend an afternoon making multiple batches of sauce for the freezer. (I quadruple the recipe for one dinner here, with my big eaters). Freezing the sauce makes the recipe that much more doable on a week night. We love it, and we were excited to imagine your family, too, happy eating the same dinner!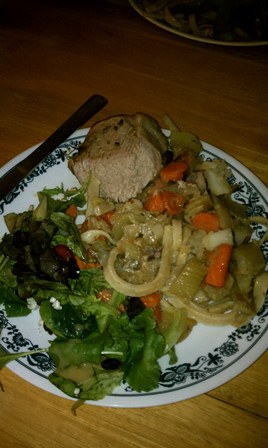 Each year, for the past four years since I graduated from college, my New Year's resolution has always been to cook more. As a result of this blog, for the first time ever in my life, I may actually keep a New Year's resolution.
My friend Catherine is a very good cook. Ever since starting the blog, she'd been asking about coming over and cooking with me. I've been pretty nervous about this, as I'm new to the cooking scene. But I figured-- it's a New Year-- what the heck? So, we started 2012 off right with a dinner party with good friends!
My mom picked out the Roast Pork Loin recipe and promised me I could handle it. (Even though I've been cooking for three months now, I still get stressed out at the idea of having people over and cooking for them). But in the end, (I say begrudgingly), my momma was right.
Sally requested a recipe for a small dinner party, and I suggested this roast loin of pork that I made for New Year's Eve dinner for friends. It is really not all that different than a roasted chicken. You put everything in the pot and let it roast in the oven.
It's a great Sunday family supper, but nice enough to serve guests. The house smells great, and you can enjoy a cocktail while the roast rests before slicing. And, as roasts go, pork is one of the bargains, especially compared with beef. I bought a lovely 3-pound pork roast, enough to feed 6 people, for about $8.
Roast Loin of Pork with Fennel
Makes about 6 dozen cookies
1 cup butter
1 1/2 cup sugar
I promised to post this recipes for cut sugar cookies for my friends Gail and Sarah. Apologies for not posting before the holiday... I was too busy baking and cooking and shopping!!
This is a simple recipe from the old Fannie Farmer cookbook, a book my mother passed down to me. It seems that no one wants to spend the time rolling out the dough, cutting and decorating these cookies anymore. But I started doing it with my kids when they were little, and letting them help decorate. Now, even though no one is around to help, the process has become so routine, it doesn't seem like work. It just seems like part of Christmas.
They key to these cookies is rolling the dough thin, about 1/4-inch or less, and keep the rolling pin and surface coated with a thin layer of flour so that the dough doesn't stick.