Hello --
I've been making a similar GF eggplant parm, also without dipping into flour, but putting slices of eggplant on non-stick foil covered
broiling pan, lightly spraying or brushing with olive oil, and broiling til golden on each side and soft when inserting fork.
Then I proceed to layer slices more randomly with shredded cheeses, etc., to avoid 'pizza' look.
Back into oven to cook through and meld the flavors, as you do too.
Does your way of searing taste better than broiling would?
It seems it would take more time (plus having a fry pan to clean.)
Just a thought.
Enjoyed reading your article on eggplant Parmesan. However, the version of not breading the eggplant is the traditional Italian method.
I grew up in an Italian household( my mothers family heritage from Naples and my fathers family heritage from Sicily) and that was the way my mother cooked the eggplant Parmesan.
At Christmas time, we spent a few days in Manhattan and visited an authentic Sicilian restaurant.
I think I'd call this more Eggplant Pizza than Eggplant Parm! After searing the eggplant in the cast-iron skillet, I just layered some marinara sauce and mozzarella cheese on top. I was truly shocked at how delicious this was.
To be honest, when my mom first suggested it, I thought it was going to be pretty bland and boring. Yet it really was delicious! (I am getting a little bit sick of my mom always being right.…)
It took all of about 45 minutes to prepare. I picked up another eggplant at the grocery store on Saturday and made this again Sunday! And it was just as good the second time.
Photo by Nicko Margolies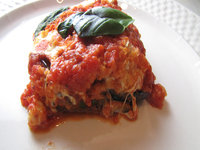 Eggplant parmesan has always been one of my favorite foods on this Earth. There are not too many versions I don't love, paper-thin slices stacked high, rounds breaded and fried and baked in a casserole, even thick chunks of eggplant roasted and drizzled with sauce and cheese. My daughter inherited my love of eggplant, but really preferred the traditional version, breaded and layered with cheese and sauce. But since she has celiac disease, we had to come up with a gluten-free version. She tried making bread crumbs with Rice Chex cereal, tossing it into a food processor until ground fine. She was not unhappy with the result, but it wasn't quite working for me.
So I suggested that we skip the breading altogether, and just sear the eggplant quickly in a hot pan, then layer with cheese and sauce, and, if crunch is desired, add some gluten-free bread crumbs on top. I threw on a few basil leaves for garnish and flavor.
We both loved the result, plus, it was so much quicker and simpler than all that dipping — in egg and then bread crumbs. And, if you look at the nutritional information, so much healthier, too.
Eggplant Parmesan
Makes 4 servings
2 medium eggplants, sliced into 1/4-inch rounds
2 to 3 tablespoons olive oil
2 cups tomato sauce, homemade or in a jar
1/2 pound mozzarella cheese, sliced into thin rounds
Fresh basil leaves, optional
1/4 cup bread crumbs, optional
1. Preheat oven to 350 degrees.
2. Heat 1 tablespoon olive oil in a cast-iron pan over medium-high heat until smoking hot.
3. Place as many eggplant slices in the hot pan as will fit without crowding. Sear the eggplant for about 2 minutes on each side. Repeat with the rest of the eggplant slices.
4. Meanwhile, spread a thin layer of tomato sauce in the bottom of a medium casserole pan.
5. Lay the eggplant slices on top of the sauce as you remove them from the stove, and lay a slice of cheese on top of each round. Top with more sauce.
6. Continue layering eggplant, cheese, and sauce.
7. Finish with a layer of cheese, and top with bread crumbs, if desired.
8. Bake for 30 minutes or until heated through, with the cheese melted on top.
— From Maureen Fitzgerald
Per serving: 326 calories, 16 grams protein, 21 grams carbohydrates, 10 grams sugar, 21 grams fat, 41 milligrams cholesterol, 950 milligrams sodium, 10 grams dietary fiber.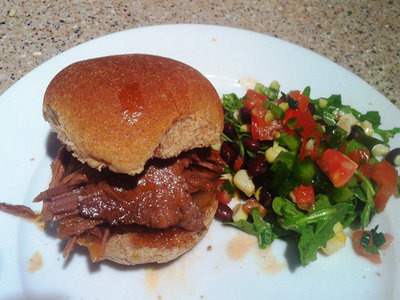 I arrived at my friends' (Karl and Allen's) apartment, with the 41/2 pounds of brisket, a 4-pack of Dogfish Head's new gluten-free beer, and some brown sugar. They supplied the ketchup — we were ready to go. I followed the recipe to a T. (OK, I actually did forget about the onions and added them after an hour in.)
After 3 hours, after cooking at 325 degrees, I let the meat cool for about 10 minutes. Sliced it in the sauce, everything smelled amazing. Then I plated the meat on mini-slider buns. The meat was a little overdone, a little bit tougher than I remembered my momma's being. When I mentioned this, my friend said his oven isn't really too accurate. It often is about 25 degrees hotter than it reads. Thanks guys — information I could have used 3 hours ago!
But it was still pretty good. And it smelled so great, I even got one of my vegetarian friends to try it! The next day she texted me, she was dreaming of my brisket … so it couldn't have been that bad.
So the plan for my daughter's Super Bowl viewing party was the white chili featured last week. But here is the joy of roommates and male friends: There is no such thing as making something in advance. And no such thing as leftovers. The chili was consumed within minutes — housed was actually the verb my daughter used — the night it was made. Thus the need for another game-day recipe, something easy that would feed a group.
I suggested the simplest of recipes: the brisket that is a family favorite. I got the recipe years ago from my friend and neighbor, Jan Rood-Ojalvo, an Earth mother if there ever was one. She made it for each of her six children's bar mitzvahs, served it at the parties she hosted in her backyard, with badminton and punch.
I've been making the recipe for years and have passed it along to many friends, who also make it regularly, because it's so easy and so delicious. And foolproof … well, practically foolproof. See Sally's post.
Beer and Brown Sugar Brisket
Makes 8 to 10 servings
1 large onion, cut in thick slices and separated into rings
1 4-pound beef brisket
1 cup of brown sugar
1 cup of ketchup
1 bottle or can of beer

1. Preheat oven to 325.
2. Lay onion rings on the bottom of a roasting pan.
3. Place brisket on top of the onions, fat side up.
4. Mix the brown sugar, ketchup, and beer together and then pour over the brisket.
5. Cover with foil and cook for three hours.
6. Remove from oven and let cool for about 10 or 15 minutes.
7. Trim off the fat, slice across the grain, and return to the sauce. Serve with a spoonful of sauce alone or with rolls.
— From Jan Rood-Ojalvo
Per serving (based on 10): 436 calories, 50 grams protein, 20 grams carbohydrates, 15 grams sugar, 11 grams fat, 161 milligrams cholesterol, 393 milligrams sodium, trace dietary fiber.
Even though the Super Bowl has never been a big event in our family (perhaps because the Eagles are so rarely involved), it's always a good reason to have a pot of chili simmering on the stove. That way, people can eat when they want, whether they are watching or not.
Chili is one of the all-time easiest one-pot meals for just such occasions, even for beginning cooks. I have made many versions over the years, from the basic ground beef and tomato and black beans to vegetarian versions with bulgur wheat and even a prize-winning Italian number with diced cherry peppers.
But my current favorite is this white chili, created by chef Jessica O'Donnell at the Good Dog Bar, better known for her mouthwatering blue-cheese burger.
She came up with the recipe in the summer, craving a lighter version of the winter favorite. But this interesting chili sold so well, she never took it off the menu.
It's built around tomatillos, jalapeños, white beans, cilantro, lime juice — and a splash of tequila, "just for fun," she said. It does add a lively kick to this hearty but not heavy chili. I substituted ground turkey for ground chicken, mostly because it seems to be more available in supermarkets now.
It is lower in fat than traditional chili, but not in flavor. And it meets my goal as a healthy, easy, and inexpensive dinner that my daughter can add to her repertoire.
When I e-mailed her the recipe, she was on her way to the grocery. She needed all the ingredients but one: the tequila. She already had that on her shelf. Great. Just what a mother wants to hear.
Good Dog White Turkey Chili
Makes 4 to 5 servings
3 cloves garlic, minced
3 small onions, diced small
1 jalapeño, sliced thin
1/4 cup canola or vegetable oil
1 pound ground turkey
Kosher salt and pepper
1/4 cup tequila
2 tablespoons fresh lime juice
3/4 pound tomatillos, peeled and cut into quarters
1/2 bunch cilantro, stems removed, leaves roughly chopped
1 teaspoon chili powder
1 teaspoon ground cumin
1 15-ounce can chickpeas or white cannellini beans, undrained
2 cups chicken stock (canned is fine if you do not have any homemade on hand)
1/4 cup cornstarch (optional)
Greek yogurt (or sour cream) and grated cheddar cheese for garnish
1. In a large, shallow, heavy-bottomed pot at medium heat, sweat (cook without browning) garlic, onion, and jalapeños in the canola oil.
2. Cook for about 5 minutes or until onions are translucent; do not brown. Increase heat to high and add the ground turkey. Season the meat with a generous amount of salt (I use a coarse kosher salt; if using regular iodized salt, use much less) and pepper.
3. Stir the turkey into the onion mixture, breaking up the turkey as it cooks so that it doesn't clump. Continue to cook, stirring occasionally, until all pink is gone from the turkey.
4. Drain any excess fat from the pot. Put back on medium heat and add the tequila (I use a silver tequila, but a gold would work as well), the lime juice, and the tomatillos. Stir this into the turkey mixture and cook until the liquid is reduced by half.
5. Then add the cilantro, chili powder, ground cumin, beans with liquid, and chicken stock. Stir all of this into the mixture. Increase heat to high and bring to a boil. Reduce heat and simmer for about 30 minutes.
6. Check the seasoning, add more cumin and chili powder for more heat. Adjust the salt and pepper to your taste.
7. The chili can be served as is, or if you prefer it thicker, add the cornstarch mixed with ¼ cup cold water. Stir this into the chili and simmer for 10 more minutes.
— Adapted from the recipe of chef Jessica O'Donnell, Good Dog Bar
Per serving (based on 5): 488 calories, 34 grams protein, 29 grams carbohydrates, 4 grams sugar, 23 grams fat, 93 milligrams cholesterol, 240 milligrams sodium, 12 grams dietary fiber
Since I was diagnosed with Celiac Disease in 2005, my mom and I have been on a quest to find a good gluten free pizza. We did find one AWESOME place out in Doylestown PA, called Jules Pizza, and sometimes when I'm home my mom and I will go out there for a special trip. (They also have delicious non-gluten free pizza. ) But I figured I've been cooking long enough now, why don't I try to make my own homemade pizza! I am not quite ambitious enough to try to make my own gluten-free pizza crust, (maybe in the next few months that day will come) but for now I bought Udi's Pizza Crust. (I like the Udi sandwich bread, so I thought I'd give the pizza crust a try.) I made two-12 inch margarita pizzas, with marinara sauce, fresh mozzarella cheese and basil and followed my mom's recipe. It was pretty tasty! I would have preferred the crust to be a little bit more crispy—but all and all a pretty good pizza!
If anyone has found a good gluten free pizza crust, please comment on the blog, because I'd love to hear about it!!
Breakfast is definitely my favorite meal of the day. (Seriously, there is nothing better than a good Sunday brunch.) Unfortunately, I'm always so frantic to get out the door in the mornings I rarely get to do breakfast right. So when my momma suggested the Frittata, I thought—what could be better than breakfast for dinner? I was in! When I was home at my parents' house over the Christmas holiday, my older brother Timmy was home as well. He kept talking about how high in cholesterol egg yolks are and that I should shift towards eating more egg whites. (This was information his coworker/ lifting mentor, had shared with him). So, in honor of Timmy, I decided to make my Frittata using egg whites—and it still turned out delicious!! So, good advice bro!
I had a carton of eggs in my fridge, butter and cheese. All I needed was the mushrooms. I set the stove to 500 degrees. Added one tablespoon of butter into my cast-iron skillet (over medium heat) and added the mushrooms. I let that cook until they are brown. Meanwhile, I started separating my egg whites. I would crack the egg on the side of the bowl, break it in half, and then move the yolk back and forth between the two halves of the shells—allowing all of the egg white to fall into the bowl and keeping the egg yolk out. I used the egg whites of 8 eggs, instead of 6.
When the mushrooms were done, I added them and the grated cheese to the bowl of egg whites. Then, seasoned with salt and pepper and mixed everything well. Then, turned the heat back on the skillet, melted the butter, and then added the egg mixture to the pan.
There is nothing more universally loved than fresh-from-the-oven, homemade pizza. It appeals to adults and children alike; it can accommodate meat-eaters and vegetarians; it never fails to impress.
And, once you get the oven hot, you can keep the pizzas coming every 10 minutes! Special requests of more cheese or no onions, for once, are not the least bit annoying.
But it does require the advance prep of making dough the night before, so it is never a last-minute endeavor. If you remember to buy fresh yeast (yeast is not something that can hang around in the pantry for months), you probably already have the rest of the ingredients for dough: water, flour, olive oil, salt, sugar.
That being said, it takes years to perfect the perfect pizza crust. I have made lovely crusts over the years, chewy, nicely browned along the edges, with impressive yeasty air pockets — but not one can compete with the likes of the ethereal pies at Osteria, even though this time I tried Marc Vetri's recipe from his cookbook Rustic Italian Food.
My pizza is, however, a world above what I can order for take-out in my neighborhood, at a fraction of the cost. My favorite pie is the simple Margherita: marinara, fresh mozzarella cheese, and a few basil leaves. I also love the pistachio pizza made famous by Pizzeria Bianco in Phoenix: a simple mix of pistachios, olive oil, red onion, Parmesan cheese, and fresh rosemary.
A few notes: If you want to make pizzas regularly, buy a pizza stone and a pizza peel (available at kitchen stores — Sur La Table, Crate and Barrel, and the like). The stone is placed in the oven and heated for about an hour before the pizza is cooked and helps to produce a crispy crust. The peel is a wooden paddle that makes sliding the pizza onto the stone much easier.
Once you get over the initial intimidation, pizza-making becomes a pleasure: There is satisfaction in kneading the dough until its texture turns silky under the heels of your hands, magic in the rising of the dough, and joy in pulling a hot, beautiful pizza from the oven. It may not be perfect, but in the end, that is also part of its appeal.
Margherita Pizza
Makes 4 small pizzas
For the dough:
1 cup warm water
1 teaspoon instant active yeast
2 teaspoons sugar
2 tablespoons extra virgin olive oil
1 teaspoon salt
3 cups unbleached, all-purpose flour
For the sauce:
1 16-ounce can peeled tomatoes, preferably San Marzano
1/4 cup extra virgin olive oil
One bunch fresh basil leaves, for sauce and topping
1 teaspoon salt
Pepper to taste
1/2 cup fresh mozzarella cheese, for topping
1. To make the dough: Place the water, yeast, and sugar in large bowl. Add olive oil and salt and let sit for 5 to 10 minutes until it becomes foamy.
2. Add the flour a little at a time, stirring as you go, until all of the flour is absorbed and dough pulls away from the side of the bowl. Form the dough into a ball, place on a flour-dusted work surface, and knead it about five minutes until it becomes silky, adding more flour as needed so it does not become sticky.
3. Place the dough back in the bowl and cover tightly with plastic wrap. Allow it to rise in the refrigerator overnight.
4. Meanwhile, make the sauce. Crush the tomatoes, then mix in olive oil, salt, pepper, and about 5 basil leaves. Puree with an immersion blender.
5. Once the dough has risen and about an hour before you want to make the pizza, remove the dough from the refrigerator and let it come to room temperature. Place a pizza stone in the oven and preheat the oven to 500 degrees. (If you have convection, turn it on for better results.)
6. Divide the dough into four balls. Spread flour on the counter and press one of the dough balls into a flat circle. Continue pressing with the heel of your hand. (You can also use a rolling pin to get it uniformly flat.) Once the dough is about 6 inches in diameter, you can pick it up and turn it around the edges, allowing the weight of the dough to stretch it even further.
7. When the dough is nice and thin, about 8 inches in diameter, place it on a pizza peel. (Dust the peel with cornmeal so it slides off easily.)
8. Ladle a thin layer of sauce onto the dough. Top with 5 to 6 thin slices of mozzarella cheese.
9. Carefully slide the pizza from the peel onto the stone in the hot oven.
10. Bake for 8 to 10 minutes, until crispy around the edges. Remove from the oven. Immediately top with 4 or 5 basil leaves. Slice and serve.
— Adapted from Rustic Italian Food, by Marc Vetri
Note: For pistachio pizza, top dough with 1/4 cup grated Parmesan cheese, 1 tablespoon chopped pistachio nuts, 8 thin slices of red onion, a pinch of fresh chopped rosemary, and 1 tablespoon olive oil.
Per serving (based on 8 servings): 298 calories, 7 grams protein, 39 grams carbohydrates, 3 grams sugar, 2 grams fat, 4 milligrams cholesterol, 707 milligrams sodium, 2 grams dietary fiber'.