Archive: November, 2011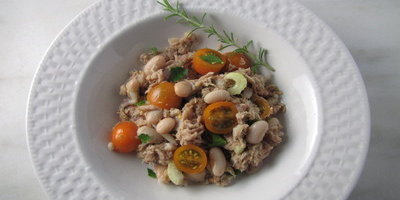 I promised my daughter when we started this learning-to-cook blog that I would provide simple recipes. On that pledge, I think I have delivered.
But I also told her that the recipes would be quick. And on that front, the first few recipes have not lived up. (As my daughter has so gently reminded me: Mom, you said they would be as quick as take-out!)
I guess I felt that a few basics were in order, to get her thinking like a real cook.
This past weekend I ran the National Race to End Women's Cancer with a group of my friends. A few months ago, my friend Marissa found out her mom was diagnosed with Ovarian Cancer and we ran on her behalf, raising money for The Clearity Foundation. Coming from a running family, I know the doctrine—night before a big race you must carbo load. So, my roommates and I decided we'd invite everyone over to our apartment for a pasta party. After my great success with the homemade sauce, Saucy Sally was drafted to make the tomato sauce! When I agreed, I didn't realize this meant cooking for 15 people!! Again erring on the side of too much instead of too little, I tripled the sauce recipe! I have to say it was a group effort with friends chopping onion, carrots, and garlic. When it was time to immersion blend, I cleared the kitchen afraid the sauce would splatter and I'd get sauce all over everyone! Luckily, I kept the blender submerged in the sauce, and it was fine. Also Momma, you will be proud to know that I used the appropriate amount of cayenne pepper!
Don't keep the sauce on low heat when making 3x the recipe—I went to taste midway through and the sauce was cold! I immediately cranked it up to medium to high heat for the last 15 minute of the 30 minute simmer. I think the sauce was a little more watery than the first batch, probably because at low heat the water in the tomatoes didn't evaporate off as much. Yet, all in all, it was a great success!! My roommates Kat and Sara made delicious garlic bread and our friend Leah brought over a big salad. I think we cooked 3 batches of spaghetti both gluten filled and gluten free.
We all completed the 8k, had a great time, and raised money for a good cause!! Thanks momma for the recipe!!
One of my daughter's co-workers, Kerry Goetz, made what she called "the working mama sauce version" of the Rustic Tomato Sauce. Here's what Kerry told us in an email:
So I didn't bother grating the carrots and just cut them into chunks and put them in the large pot with the oil and onion and cooked at medium heat until the onions were soft and releasing their juices (about 10 min). Then I followed the rest of the recipe. The carrots were soft by the time they hit the blender and all tasted just great in the end. Saved 15 minutes from the original recipe. I made it with garlic toast and some packaged salad. It was a hit and I have lots of sauce which I'll prob freeze for another time. Very very very good :).
Miss Sally,
The difference between stock and broth is that stock is made by simmering bones over a low flame for hours, while broth is made from meat. Also broth can be sipped on its own, while stock, which usually has a richer, deeper flavor, is meant to be used as the backdrop for soups and sauces.
I used stock made from the carcass of the first chicken we roasted together for this soup. But I think you would have been okay with either store bought broth or stock. (I like to keep a jar of Better than Bouillion organic chicken base on hand, in case Im out of stock, or the flavor of a soup needs a little help. You can find it at most grocery stores.
As the weather turned cold, there is nothing I wanted more than my mom's homemade lentil soup! It's days like this I wish Philly wasn't miles away. I know what some of you are thinking--lentil soup is bland and tasteless-- not this one! It's really delicious and filling (with chickpeas and lentils for protein!)
My mom's recipe calls for 6 cups of chicken stock. I went grocery shopping Sunday night and I almost bought chicken broth, then realized that chicken stock and chicken broth are two different things. Mother dearest, could you please elaborate for me the difference between these two? I ended up buying one carton of Kitchen Basics chicken stock and green French lentils from Whole Foods.
I got home from work Monday night and got right to work. Usually my roommates are around when I'm cooking and can give me pointers, but they were both out. I was very nervous- officially all on my own! I used a very fine strainer to rinse the lentils—so they wouldn't fall through the holes. I rinsed in cold water until no more bubbles appeared as I was rinsing—probably about a minute. Then I measured 1 cup and ¼ of lentils and poured them into a sauce pan. Then I chopped up the 2 garlic cloves and threw them in along with the 2 bay leaves. Finally I added the whole carton of chicken stock, which was about 4 cups. I know the recipe calls for 6—but that was all I'd bought so I had to go with it… I stirred that a bit and let it simmer on low heat for 30 minutes.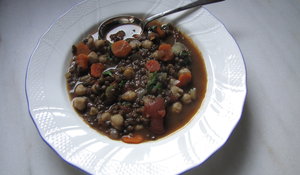 Makes 6 servings
1 1/4 cups small brown or green lentils
2 garlic cloves, smashed
2 bay leaves
6 cups chicken stock
1 onion, peeled
2 celery stalks
2 carrots, peeled
2 tablespoons olive oil
14-ounce can crushed tomatoes
14-ounce can chickpeas, drained
Sea salt and pepper
2 tablespoons chopped parsley
Freshly grated Parmesan cheese for serving
1. Rinse the lentils, then place in a pan with the garlic, bay leaves, and 6 cups chicken stock. Cook until almost tender, about 30 minutes, skimming off the foam occasionally.
2. In the meantime, finely slice the onion and celery and dice the carrots. Heat the olive oil in a large saucepan. Add the onion, carrots, and celery and cook, stirring often, for 10 minutes.
3. Add the tomatoes and stir well, then add the lentils and their cooking liquid. Simmer until nice and soupy, about 20 minutes.
4. Add the chickpeas, sea salt and pepper, and simmer for at least 10 minutes longer, adding extra water as necessary.
5. Stir in the chopped parsley and ladle into soup bowls. Serve with grated parmesan.
Note: Lentils from Abruzzi or Umbria in Italy or Puy in France are best, but regular supermarket lentils will do.
— From Good Cooking, The New Basics (Silverback Books)
Per Serving: 461 calories; no cholesterol; 988 milligrams sodium; 74 grams carbohydrates; 5 grams sugars; 27 grams protein; 31 grams dietary fiber.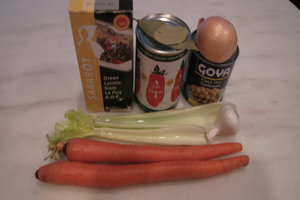 Lentil soup is one of those staples you can turn to as the weather turns chilly. If you have a few basics on hand, this is a soup you can throw together, with a soothing, hearty result. And it comes with a punch of protein without the heaviness of meat. It's exactly the kind of recipe I'm trying to pass along to my daughter — easy, healthy, and cheap. The soup comes together in about 40 minutes, and is oh-so-much-better than what you would get out of a can.
I've tried different lentil soup recipes over the years, even one with ginger, another with coconut. But I've always come back to the Italian classic, with onions, garlic, carrots, and celery. This recipe, from Jill Duplex, in Good Cooking: The New Basics, calls for a can of crushed tomatoes. I've made it without the tomatoes too, when I didn't have a can on hand, and I liked the result just as well.

I made this soup last weekend, after standing outside in the freezing rain and snow to watch my college son run a cross-country race. Those boys were so frozen after the race, I had to come home and make soup to get the image of frozen hair and bright red arms and legs out of my mind. But, not to worry, I did resist the temptation to drive the pot of soup right back to the dorm.