Abruzzese Lentil Soup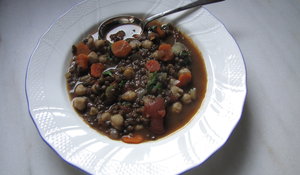 This easy soup recipe that will ease the transition to colder temps.
Abruzzese Lentil Soup

Makes 6 servings
1 1/4 cups small brown or green lentils
2 garlic cloves, smashed
2 bay leaves
6 cups chicken stock
1 onion, peeled
2 celery stalks
2 carrots, peeled
2 tablespoons olive oil
14-ounce can crushed tomatoes
14-ounce can chickpeas, drained
Sea salt and pepper
2 tablespoons chopped parsley
Freshly grated Parmesan cheese for serving
1. Rinse the lentils, then place in a pan with the garlic, bay leaves, and 6 cups chicken stock. Cook until almost tender, about 30 minutes, skimming off the foam occasionally.
2. In the meantime, finely slice the onion and celery and dice the carrots. Heat the olive oil in a large saucepan. Add the onion, carrots, and celery and cook, stirring often, for 10 minutes.
3. Add the tomatoes and stir well, then add the lentils and their cooking liquid. Simmer until nice and soupy, about 20 minutes.
4. Add the chickpeas, sea salt and pepper, and simmer for at least 10 minutes longer, adding extra water as necessary.
5. Stir in the chopped parsley and ladle into soup bowls. Serve with grated parmesan.
Note: Lentils from Abruzzi or Umbria in Italy or Puy in France are best, but regular supermarket lentils will do.
— From Good Cooking, The New Basics (Silverback Books)
Per Serving: 461 calories; no cholesterol; 988 milligrams sodium; 74 grams carbohydrates; 5 grams sugars; 27 grams protein; 31 grams dietary fiber.