Eagles training camp awards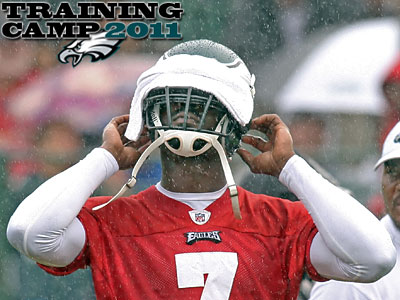 The Eagles wrapped up another summer here at Lehigh Tuesday morning.
Eagles training camp awards

The Eagles wrapped up another summer here at Lehigh Tuesday morning.
They'll face the Steelers Thursday night in Pittsburgh before returning to work at the Novacare Complex in South Philadelphia.
This is the fourth camp I've covered, and each one seems to be more eventful than the last.
Keeping that in mind, let's look back at the past few weeks and hand out some training camp awards.
MVP: MICHAEL VICK

By the time the second morning practice was over, it was clear that Michael Vick had become the face of the 2011 Eagles. Fans cheered and flocked to him. Teammates, both old and new, followed him. And the coaching staff/front office counted on him to be the team's spokesman. When no one else wanted to comment on DeSean Jackson's holdout, there was Vick, day-after-day, answering reporters' questions. He made it clear he was in Jackson's corner, but also kept management comfortable.
On the field, he acknowledged improvement was necessary in terms of pre-snap recognition and reading the blitz, and he put in the work. When the Eagles signed Vince Young as his backup, Vick welcomed him and now will be counted on to mentor him. It was two years ago last Saturday that the Eagles stunned the NFL world by signing Vick out of prison. Now he is the single biggest reason the team has Super Bowl aspirations.
LVP: JOE TOLEDO

The Eagles needed a camp body and signed the 28-year-old offensive lineman on Saturday. Buat at about 5:45 Monday evening, they announced his release. The poor guy never even got his name on a jersey. Here's to hoping Mr. Toledo's next stop is a longer one.
SCARIEST MOMENT: MIKE PATTERSON'S SEIZURE

I can honestly say Patterson convulsing on the ground was the scariest thing I've ever seen on a football field. I remember walking towards the end of the field where the linemen practice, and by the time I got there, seeing Patterson on his back. The players soon blocked my vision, but seeing their reactions and their emotion made me realize just how serious it was. While his football future really isn't important, Patterson seems to be on the road to recovery and has even been on the field in recent days with the rehabbing players.
MOST REGRETTABLE MOMENT: THE 'DREAM TEAM' MENTION

Vince Young was asked about the talent on the Eagles and made what seemed to be (at the time) a relatively innocent comment. But the words "Dream Team" did come out of his mouth, and the rest is history.
Young's teammates and coaches have now been asked about his comment on a daily basis. Same with coaches, front office members and reporters who cover the team. While I hate to say it, my guess is this is only the beginning. If the Eagles struggle early on, guess what people are going to bring up? When media from other cities interview Eagles players during the regular season, guess what they are going to ask about? That's right, my friends. We are going to be hearing the words "Dream Team" for months to come. Mark my words.
MOST MEMORABLE MOMENT: THE NNAMDI ASOMUGHA SIGNING

As many of you know, I went through a stretch where I happened to be driving when all the big news broke. I was behind the wheel when the Eagles traded Kevin Kolb to Arizona. And I was on the road the next day when they signed Nnamdi Asomugha. Before I left the practice fields at Lehigh, it looked like the race for Asomugha had come down to the Jets and Cowboys. And as I packed up my stuff in the bloggers' trailer, I saw a Tweet that the Jets were out. I commented to a couple other reporters that it looked like DeSean Jackson would have to face Asomugha twice a year when the Birds played Dallas.
I was listening to 97.5 The Fanatic in the car when host Jon Marks said they had breaking news regarding Asomugha. I was sure he was going to say the Cowboys' deal was done, but when he announced that the Eagles had swooped in, I nearly drove off the road. By the time I got to my destination, my phone had blown up with texts and e-mails.
Later that evening, the Phillies acquired Hunter Pence without giving up Domonic Brown or Vance Worley. I got more responses to something I Tweeted that night than ever before:
I picture Ruben Amaro Jr. and Howie Roseman smoking cigars on a rooftop in Center City tonight like Avon and Stringer.
Depending on how things work out with the Phillies and Eagles, that night has a chance to go down as one of the most memorable in Philadelphia sports history.
PLAYER WHOSE STOCK ROSE: JASON KELCE

You first saw Kelce's name surface in this space on April 12 when a report came out that the Eagles were planning on hosting him for a pre-draft visit. Projections I saw at the time had him listed as a late-round pick or an undrafted free agent. The Eagles took him in the sixth round, and to be honest, he was an afterthought (for me, at least) when practices started here.
But not anymore. He's been mixing in at center with the first team and has a chance to snatch away the starting spot from veteran Jamaal Jackson.
PLAYER WHOSE STOCK DROPPED: TREVOR LAWS

This one might surprise you, but because of his injury and the Eagles' personnel moves, this has been a tough camp for Laws.
He drew rave reviews in the offseason for working out and adding muscle, but Laws has missed many practices here with a hip flexor. Meanwhile, the Eagles added a pair of veteran defensive tackles in Anthony Hargrove and Derek Landri. Hargrove has been running alongside Cullen Jenkins with the first team, and Landri was impressive in the first preseason game. With Antonio Dixon in the fold and Patterson potentially returning, the Eagles are going to face tough roster decisions on Laws (who is in the final year of his deal) and the other defensive tackles.
MOST IMPORTANT STORYLINE: REVAMPING THE 'D'

It's tough to imagine the Eagles doing any more to overhaul a group that was historically bad in the red zone a year ago and allowed a franchise-worst 31 touchdowns.
The jury's out on Juan Castillo as Sean McDermott's replacement, but the Eagles went out and got Jim Washburn to coach the defensive line. The talent is night and day from a year ago, with Dominique Rodgers-Cromartie and Asomugha at cornerback, and Jenkins and Babin on the defensive line.
Adding more veterans should lead to better leadership. And while it's still early, the Eagles' pass defense has a chance to be one of the best in the league.
WHAT I'LL REMEMBER: THE CASTILLO HEAD-BUTT
I was on the sidelines when Castillo started chewing out second-year linebacker Keenan Clayton. And while his in-your-face approach was evident from Day 1, I was pretty shocked when I saw Castillo (without a helmet) head-butt Clayton (with a helmet). Later, during his press conference, Castillo had a mark on his forehead. Perhaps I had spent too many hours in the sun, but I didn't put two and two together right then. Luckily, Casey Matthews later clarified that the cut was indeed from the Clayton head-butt.
WHAT I'D LIKE TO FORGET: THE PORT-A-POTTY

There comes a time in every man's life when he questions the direction things are going. For me, that happened on a daily basis when I spent 30 seconds or so in the Port-A-Potty next to the fields before the start of morning practice. If there's a more unforgiving place to be at 7:45 a.m., I can't think of it.
---
You can follow me on Twitter or become a fan of Moving the Chains on Facebook.