Reid for Coach of the Year?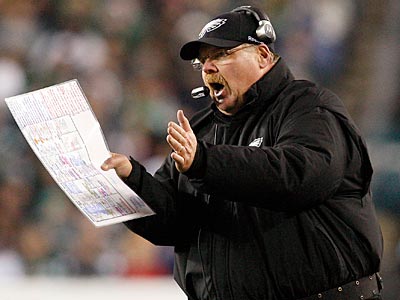 Should Andy Reid be considered the leading candidate for NFL Coach of the Year? One national columnist thinks so. Plus, a look at how Reid's teams close out the season.
Reid for Coach of the Year?

Michael Vick's name has been in the league-wide MVP conversation for much of the season.

And now, one national writer is making the case for Andy Reid as the league's top coach.

Michael Silver of Yahoo Sports lists his top candidates for NFL Coach of the Year, and he has Reid at No. 1:

In a business that tends to inspire ultraconservative behavior and a cover-your-butt mentality at all costs, Reid not only sensed the sea change but also seized the moment. He named Vick his unquestioned starter at a time when few others understood what was happening and stuck with the decision even after Vick hurt his ribs and Kolb played impressively during a stretch in mid-October.

By mid-November, when Vick crafted a Monday-night masterpiece against the Redskins which people will still be talking about a decade from now, it was obvious to everyone that Reid had played it perfectly all along.

Has any head coach ever handled a tricky quarterback situation so deftly? Not in recent memory – and Reid has done a terrific job with the rest of his young squad as well. From admonishing DeSean Jackson before the young receiver's discontent over his contract could become a locker-room liability to sticking with defensive coordinator Sean McDermott through rough times and seeing a marked improvement, Reid has pushed all the right buttons.

If I had to handicap it, I'd say Mike Smith of the Falcons and Todd Haley of Kansas City are probably the favorites. If Raheem Morris can get the Bucs into the playoffs, he will warrant serious consideration. Steve Spagnuolo might be there if the Rams take the NFC West, but probably not if they finish at .500 or below. No one saw the Jaguars potentially winning the AFC South under Jack Del Rio. And of course, Bill Belichick's name has to be in the mix with New England at 10-2.

But getting back to Reid, the consistency with which his teams close out the season is pretty remarkable. Take a look at this chart that details how the Eagles have finished in their final four games under Reid:
| | | | |
| --- | --- | --- | --- |
| | After 12 games | Final Four | Final record |
| 1999 | 3-9 | 2-2 | 5-11 |
| 2000 | 8-4 | 3-1 | 11-5 |
| 2001 | 8-4 | 3-1 | 11-5 |
| 2002 | 9-3 | 3-1 | 12-4 |
| 2003 | 9-3 | 3-1 | 12-4 |
| 2004 | 11-1 | 2-2 | 13-3 |
| 2005 | 5-7 | 1-3 | 6-10 |
| 2006 | 6-6 | 4-0 | 10-6 |
| 2007 | 5-7 | 3-1 | 8-8 |
| 2008 | 6-5-1 | 3-1 | 9-6-1 |
| 2009 | 8-4 | 3-1 | 11-5 |
| TOTAL | 78-53-1 (.591) | 30-14 (.681) | 108-67-1 (.614) |

In 10 of 11 seasons under Reid, the Birds have finished no worse than 2-2 in their final four.

In eight of 11 seasons, they have finished 3-1 or better. And that number is a little deceiving, considering the 2-2 record down the stretch in 2004 when the Eagles had locked up the No. 1 seed in the NFC.

Reid's winning percentage in the last quarter of the season (.681) is considerably better than his winning percentage (.591) in the first 12 games and even his overall winning percentage (.614).

The Eagles have only been better than 8-4 at this point in the season three times under Reid.

So if the Birds finish 2-2 or better down the stretch, they'll hit the 10-win mark for the eighth time in 12 seasons under Reid.

Of course, as I detailed earlier this week, 2010 is different because 10 wins might not be enough for the playoffs. Eleven wins might not be enough either.

The only two ways for the Eagles to ensure themselves a playoff berth is to finish with four straight wins (which has happened only once under Reid in 2006) or go 3-1 and beat the Giants in Week 15. Under any other scenario, they'll need some help from the other contenders.

The stretch run continues tonight against the Cowboys. As usual, you can join me for a live chat at 8:20 p.m.

And I had a couple posts Saturday in case you missed them: one on the Giants-Vikings game being moved to Monday night, and the roundup of who the national media are picking in Eagles-Cowboys.