Five Eagles numbers that matter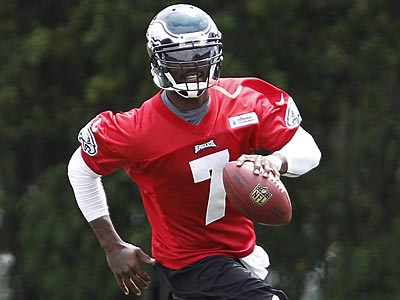 Here's another edition of Five Eagles numbers that matter:
Five Eagles numbers that matter

Here's another edition of Five Eagles numbers that matter:
5 - The number of times the Eagles had the lead entering the fourth quarter last year, only to end up on the losing end.
We've dissected, at length, the struggles of the defense. But in those games (against the Falcons, Giants, 49ers, Bears and Cardinals), the offense had 13 possessions in the fourth quarter and came away with points just once, on a field goal.
The Eagles were outscored 60-3 in the fourth quarters of those games. The offense turned it over on downs four times; the quarterbacks threw three interceptions; there were three punts; one missed field goal (a 33-yarder); one made field goal; and one fumble (by Jeremy Maclin). Yes, Juan Castillo and the defense deserve a lot of blame, but don't let the offense off the hook. They did nothing to help this team in the final 15 minutes.
0 - The number of game-winning drives and fourth-quarter comebacks led by Michael Vick in 2011. He was the quarterback on 10 of the 13 drives mentioned above, and the numbers were not pretty: He completed 59.8 percent of his passes, averaged 6.93 yards per attempt, threw three touchdowns and was intercepted three times for a quarterback rating of 77.7.
When we talk about the differences in the 2010 version of Vick, compared to the 2011 version, fourth-quarter performance stands out. In 2010, he completed 59 percent of his passes, but averaged 8.53 yards per attempt with six touchdowns and no picks for a QB rating of 106.8. Vick led four fourth-quarter comebacks and had three game-winning drives in 2010.
Obviously, the fourth-quarter struggles aren't all on him. I mentioned the missed field goal and the fumble above. Two of the three interceptions were thrown by Mike Kafka. And Maclin also had a costly drop. But Vick clearly needs to play better late in games.
22 - The number of runs by LeSean McCoy last year that resulted in a loss of 3 yards or more, according to Aaron Schatz of Football Outsiders. That was twice as many as any running back in the league, other than the Titans' Chris Johnson.
In many ways, McCoy was a hit-or-miss running back, as he led the league with 14 runs of 20+ yards. But the losses should cause some level of concern - not only for McCoy, but for the offensive line, which will have Demetress Bell and not Jason Peters at left tackle.
"The really good running backs are willing to take zero," running backs coach Ted Williams told Rich Hofmann last month. "When you're young, you think you can make a big play out of every play. That's kind of where he is. He's not, per se, not willing to run it up in there -- he just thinks he can make a play out of every play. There are time when that doesn't happen. It's my job to make sure he understands there are going to be days where that ain't going to happen, where you're not going to outrun 'em all, you're not going to fake 'em all out, they're not all going to miss you. What are you going to do then? We talk about that constantly."
McCoy is already one of the best running backs in the league, but it'll be interesting to see how much he's able to improve on the specific aspects of his game that still need work.
10 - The number of points the Eagles' defense allowed in their Week 11 matchup against the Giants. If you're looking for a ray of hope for Castillo, it's that game. The Giants averaged 24.6 points per game, ninth-best in the league, but they only managed 10 (tying a season-low) against the Eagles.
The defensive line led the charge for the Birds, hitting Eli Manning 10 times and notching three sacks. The damage was done almost exclusively with the front four, as the Birds blitzed just once on 39 dropbacks.
It took awhile, but we saw what the Eagles' defense was supposed to look like. Pressure up front, full effort for 60 minutes and big plays down the stretch (Jason Babin stripping Manning). The Giants, of course, went on to win the Super Bowl, averaging 26.8 points per game the rest of the way (counting the playoffs).
If the Eagles want to carry anything over from the 2011 season, forget the final four games. It should be that Week 11 matchup against the Giants they should look to build on.
29.9 - The percentage of pass plays Brent Celek was used as a blocker for in the first five games last year, according to Pro Football Focus. It's easy to forget now, but Celek was a non-factor in the passing game early in 2011, averaging just 14.6 receiving yards per game in the first five.
The final 11 games were a different story. Celek was used as a blocker on just 23.0 percent of the Eagles' pass plays, and he and Vick formed great chemistry, as his yards-per-game average jumped to 67.1.
These are important numbers as we look ahead to 2012. How much more help will Bell require than Peters in pass protection? Depending on the answer, Celek could be called on to stay in and block more, which would put more pressure on the Eagles' wide receivers and limit the tight end's receiving numbers.
---
You can follow me on Twitter or become a fan of Moving the Chains on Facebook.