Archive: September, 2010
Sheil Kapadia, Philly.com
Luckily, in 72 hours, we can stop discussing whether Donovan McNabb is going to get cheered or booed when he returns to Philadelphia.
But until then, everyone's going to chime in with what they think, including Terrell Owens.
When asked by his sidekick, Chad Ochocinco about what the fan reaction will be, here's what Owens said.
Sheil Kapadia, Philly.com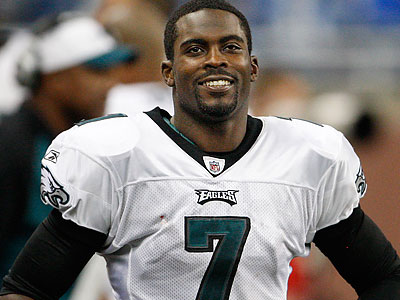 Not everyone is impressed with the way Michael Vick has performed in two and a half games this season.
Friend of the blog Bill Barnwell of Football Outsiders writes that Vick has simply benefited from facing two of the league's worst pass defenses in Jacksonville and Detroit.
If Vick's improved as a player, the last two games haven't indicated that through his level of production on the field. He remains inefficient and erratic. He's improved his timing, but it's not as a passer.
Sheil Kapadia, Philly.com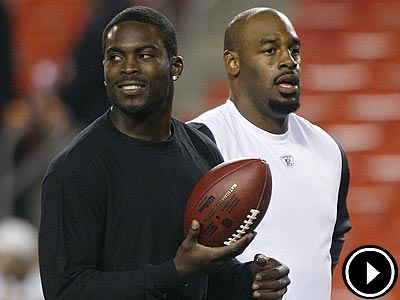 Video: What is the feeling in the Eagles' locker room about the return of Donovan Mcnabb? Here's a report from the NovaCare Complex.
---
You can follow Moving the Chains on Twitter or become a fan on Facebook.
---
And download the 2010 MTC app from the ITunes store.
Sheil Kapadia, Philly.com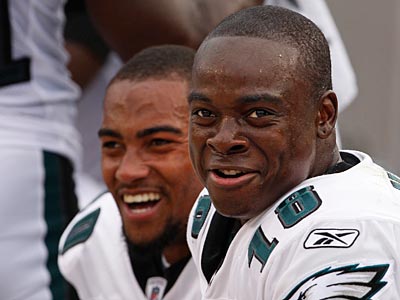 Here's the weekly player-by-player look at how the Eagles' offense performed Sunday against the Jaguars.
Michael Vick- I went over his performance in-depth in yesterday's post. A couple things to mention quickly though. His accuracy on deep balls has been tremendous. And Vick's TD run was very impressive. He broke a tackle behind the line of scrimmage and then darted for the end zone to score.
LeSean McCoy- He only had 11 carries, but averaged 4.9 yards per carry, totaling 54 yards. McCoy had a nice 13-yard run in the fourth where he broke a tackle, switched the ball to his outside hand and showed good awareness to stay in bounds. McCoy had some good moments as a blocker. On the 16-yard touchdown pass to Jeremy Maclin, the Eagles kept McCoy and Owen Schmitt in to block. Jaguars defenders, anticipating the running backs would be going out into pass routes, were stuck in no man's land. McCoy had a good blitz pickup against Sean Considine on the Vick TD run.
Sheil Kapadia, Philly.com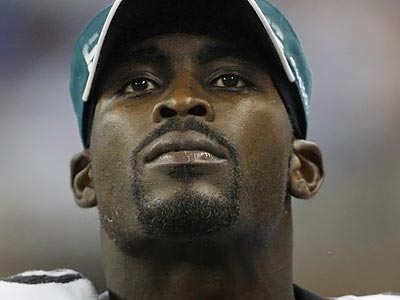 Here's the weekly roundup of of what the national media are saying about the Eagles as they prepare for Donovan McNabb and the Redskins.
Since McNabb's return will likely be written about all over the place as the week goes on, I'll do another roundup on Thursday.
SI.com's Peter King puts Michael Vick No. 1 on his MVP Watch list:
Sheil Kapadia, Philly.com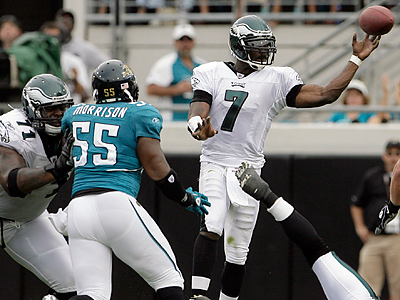 Well, I can officially announce that What About Kolb? is dead - for now, at least.

The plan was to write an in-depth feature on the Eagles' first-year starter as he led the franchise into the next era.

But things don't always go according to plan, so now the feature is Mike Check: Evaluating Vick.

Each week, I'll break down his performance beyond the basic stats.

On Sunday against the Jaguars, Vick completed 17-of-31 passes (55 percent) for 291 yards, three touchdowns and no interceptions. He also ran for a score.

The completion percentage really should have been higher. Vick spiked the ball during the 2-minute drill at the end of the first half. Brent Celek and Jeremy Maclin each had drops. And DeSean Jackson got careless on one play, failing to get his feet in-bounds on a fairly routine pattern near the sideline. Vick completed 55 percent of his passes, but that could have been up around 66 percent if he had gotten some help.

In fact, it could have been even higher had Vick not missed throws himself. By my count, there were at least three throws - one each to Jackson, Maclin and Jason Avant - that Vick missed. In other words, those were plays where he had an open receiver, but the throw was off-target.

I wrote at length about pass distribution, specifically as it pertains to Jackson and Celek, in a post yesterday, but here's a look at how it broke down against Jacksonville.
| | | | | | |
| --- | --- | --- | --- | --- | --- |
| | Targets | Catches | Yards | YAC | Drops |
| DeSean Jackson | 8 | 5 | 153 | 68 | 0 |
| Jeremy Maclin | 7 | 4 | 83 | 14 | 1 |
| Brent Celek | 6 | 4 | 42 | 22 | 1 |
| LeSean McCoy | 5 | 2 | 7 | 7 | 0 |
| Owen Schmitt | 2 | 2 | 6 | 3 | 0 |
| Garrett Mills | 1 | 0 | 0 | 0 | 0 |
| Jason Avant | 1 | 0 | 0 | 0 | 0 |
| Riley Cooper | 1 | 0 | 0 | 0 | 0 |
| TOTALS | 29 | 17 | 291 | 114 | 2 |

One target is in question. There was a play where Jackson and Celek ran into each other, and Vick threw it in their direction. The box scores I found online gave the target to Jackson so I went with that, but you could argue it belonged to Celek.

In terms of YAC, the Eagles' total (114) was slightly higher than last week's (107). Jackson has 111 yards after the catch on the season, which is third in the NFL among receivers, behind only Denver's Eddie Royal and Indy's Austin Collie.

STATS.com has Celek down for three drops. I have him down for two. Two for Maclin on the season also.

Against Detroit, eight different receivers had at least one catch. Against Jacksonville, only five. Avant and Cooper were shut out, and each was targeted once.

THE BLITZ, PRESSURE, SHOTGUN, ETC.

During the week, Marty Mornhinweg talked about the Eagles being feast or famine against the blitz, but that wasn't really true since the big plays they hit against the Lions weren't against the blitz.

Against Jacksonville, though, Vick made the defense pay for sending extra defenders.

The Jaguars blitzed Vick on 23 of 37 dropbacks (62.2 percent). Detroit blitzed him 48.8 percent of the time. Vick was outstanding against the blitz, completing 12 of 19 passes for 230 yards and two touchdowns. Overall, the Eagles had four passing plays of 25 yards or more. Three of those were against the blitz. The 61-yard touchdown to Jackson came against a zone blitz, where the Jaguars only rushed four, but tried to disguise their pressure.

The numbers could have been even better. Maclin dropped a well-placed bomb that would have picked up at least 35 yards. Maclin also drew a 27-yard pass interference penalty against the blitz.

Jackson was the most-targeted receiver against the blitz. Vick completed four of five passes to him for 128 yards against the blitz.

Vick was sacked three times and forced to scramble three times. Of those six plays, three were against the blitz. Two of the three sacks were against the blitz. But so was the 17-yard touchdown run.

Vick stayed in the pocket for 25 of 30 pass attempts and was 13-for-25 for 259 yards on those throws. Out of the pocket, he was 4-for-5 for 32 yards. In the last two weeks, he is 12-for-14 for 182 yards on throws outside the pocket.

From the shotgun, he was 10-for-19 for 154 yards. Under center, Vick was 7-for-11 for 137 yards.

THIRD DOWN, RED ZONE

As a team, the Eagles converted five of 13 third-down opportunities. Vick was 7-for-11 for 123 yards on third down. The Eagles hit on some big plays on third down. The 61-yard completion to Jackson was on 3rd-and-17. The 27-yard pass interference call on Maclin was on 3rd-and-19, and Celek had catches of 21 and 15 on 3rd-and-8 and 3rd-and-14, respectively.

According to STATS.com, Vick has converted eight of 14 chances on 3rd-and-8 or longer. That's the best percentage of any QB in the league under those circumstances.

Those numbers could be even better. The Eagles had a 3rd-and-15 where Vick hit Jackson, but instead of getting the first down, he ran backwards, and the Eagles had to punt.

The Eagles converted both their red-zone chances into touchdowns. They have now found the end zone on seven of eight red-zone opportunities this year. Vick only threw one pass attempt in the red zone (not counting a spike) - the 16-yard touchdown to Maclin. His 17-yard TD run was also in the red zone. On the season, LeSean McCoy has three TD runs in the red zone. Vick-to-Maclin has accounted for three more TDs. And the Vick run was the seventh score.

SUCCESS BY DISTANCE

Here's a chart of Vick's throws by distance. I used the same ranges that Football Outsiders uses so we'd have a point of reference. Short is 5 yards or less. Mid is 6 to 15 yards. Deep is 16 to 25 yards. And Bomb is more than 25 yards. These are measured from the line of scrimmage to the point where the ball is touched, hits the ground or goes out of bounds.
| | | | |
| --- | --- | --- | --- |
| | Completions | Attempts | Yards |
| Short | 8 | 14 | 59 |
| Mid | 4 | 7 | 47 |
| Deep | 2 | 4 | 37 |
| Bomb | 3 | 5 | 148 |

The numbers on Short throws were very similar to last week.

The big differences against Jacksonville were the Mid and Bomb throws. Last week, Vick was 9-for-13 for 139 yards on Mid throws. Six fewer attempts, five fewer completions and 92 fewer yards this week.

And those yards went to the Bomb throws. Vick completed two of four for 82 yards against Detroit. He completed one more this week, but had 66 more yards. Vick attempted two bombs to Jackson, and both were complete.

OVERALL

There is plenty to like about how Vick is playing. He's staying in the pocket and getting the ball to Eagles playmakers in spots where they can do damage. He's hitting on deep balls consistently. And he's being efficient with his legs. Consider that he escaped the pocket to run three times against the Jaguars. One of those yielded a touchdown. And another a first down.

Is there room for improvement? Yes. Vick misfired on some intermediate throws over the middle. He's also taking too many hits, like the time he tried to fight through defenders on a run instead of just going down.

As Vick faces tougher defenses that have seen more of him on film, he'll continue to be tested. But through 10 quarters, against three different teams, defenses have not found a way to stop him.
Sheil Kapadia, Philly.com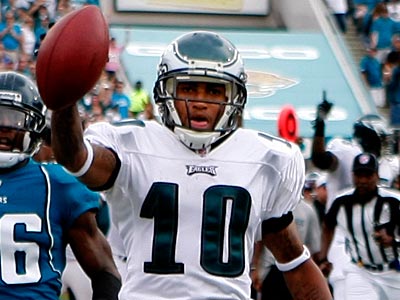 Back in June, I detailed what specifically made DeSean Jackson's 2009 season so impressive.

Earlier today, I took a look at some numbers, mostly because I was curious about the Eagles' pass distribution through three games, compared to last season.

What I found was that Jackson's start to 2010 is even more impressive than his performance in '09, which is saying something. It's a small sample size, but let's take a look at the numbers.

I took overall targets, receptions and yards from last year and broke them down by percentage. Note that these are just the top six pass-catchers. No other player had more than 10 catches.
| | | | |
| --- | --- | --- | --- |
| 2009 | % Targets | % Receptions | % Rec. Yards |
| Jackson | 21.1% | 18.5% | 26.4% |
| Celek | 20.2% | 22.7% | 22.2% |
| Maclin | 16.5% | 16.7% | 17.6% |
| Avant | 10.8% | 12.2% | 13.4% |
| McCoy | 10.1% | 11.9% | 7.0% |
| Westbrook | 6.1% | 7.5% | 4.1% |

Not surprisingly, Jackson was the most-targeted receiver last year and also accounted for the highest percentage of receiving yards. Brent Celek accounted for the highest percentage of receptions and was second in both targets and receiving yards. Maclin was third in all three categories.

Now, here's a look at how it breaks down through three games this season:
| | | | |
| --- | --- | --- | --- |
| 2010 | % Targets | % Receptions | % Rec. Yards |
| Jackson | 26.3% | 22.0% | 41.1% |
| Celek | 15.2% | 15.3% | 13.0% |
| Maclin | 18.2% | 18.6% | 19.0% |
| Avant | 13.1% | 11.9% | 9.6% |
| McCoy | 13.1% | 18.6% | 8.0% |
| Schmitt | 4.0% | 6.8% | 3.5% |

Jackson is still the most-targeted receiver. He is also first in receptions and receiving yards. Take a look at that last column. Jackson's accounting for over 41 percent of the team's receiving yards through three games. Maclin is second in all categories, and Celek third.

And now the difference from last year to this year:
| | | | |
| --- | --- | --- | --- |
| | Diff. in targets | % Receptions | % Rec. Yards |
| Jackson | +5.2% | +3.5% | +14.7% |
| Celek | -5.0% | -7.4% | -9.2% |
| Maclin | +1.7% | +1.9% | +1.4% |
| Avant | +2.3% | -0.3% | -3.8% |
| McCoy | +3.0% | +6.7% | +1.0% |
| Schmitt | N/A | N/A | N/A |
Sheil Kapadia, Philly.com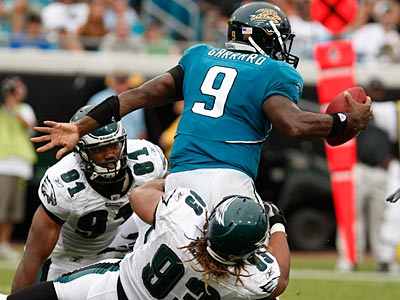 Here's the player-by-player look at the Eagles' defensive performance in their 28-3 win over the Jaguars on Sunday:
Brandon Graham- It was really a great group effort along the defensive line. Many of the six sacks were the result of everyone doing their jobs. For example, Graham rushed untouched from the edge, forcing David Garrard to step up into the arms of Trevor Laws for a loss in the second. Graham got good pressure on Garrard in the third, forcing him to scramble. He hit Garrard as he released the ball when the Jaguars tried to block him with a tight end. Graham dropped back into coverage more than any other lineman and got his hand on a pass on a fourth down in the fourth. I'd have to go back and double-check, but I believe Graham played exclusively outside.
Mike Patterson- Sean McDermott rotated the linemen, and the Eagles were in nickel quite a bit, so Patterson played about half the defensive snaps (not counting the final garbage time drive). Patterson hustled to bring Maurice Jones-Drew down on the other side of the field after a 5-yard gain in the first. He also made a good tackle on a 4-yard Jones-Drew run and dropped MJD for no gain in the third.