Archive: August, 2011
Sheil Kapadia, Philly.com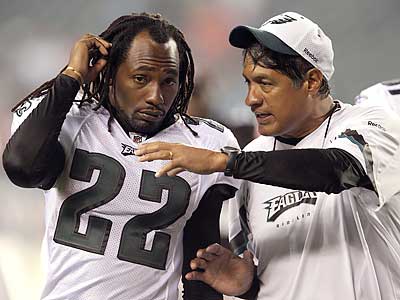 A week from Thursday, the Saints and Packers will open the 2011 regular season in Green Bay.
Three days later, the Eagles get started with a matchup against the Rams in St. Louis.
The Birds made sweeping changes on their coaching staff, their offensive line and their defense in this shortened offseason.
Sheil Kapadia, Philly.com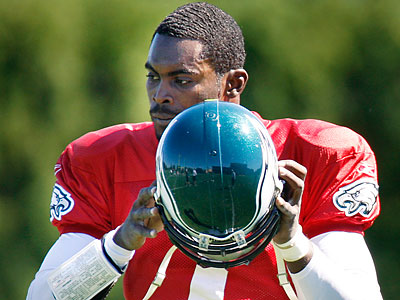 Here's a roundup of what the national media are saying about Michael Vick's new deal:
SI.com's Peter King writes that Vick's extension shows the Eagles think he's responsible, and he points out that Vick worked with Ravens backup quarterback and Virginia Tech product Tyrod Taylor in the offseason:
Vick told Taylor that when the lockout ended he had to be ready to step into a practice huddle with the Ravens and call plays confidently. "When the lockout's over,'' Vick would say, "You've got to go in and call the plays like you know them. There's not going to be any excuses.'' Because Taylor had been exposed to the Baltimore offense from offseason exposure to Ravens veterans, he had an idea of what the offense was, and what the terminology was, and Vick told him during every workout to make sure he did his homework on the Ravens' plays. And Vick would throw basic NFL concepts at him, like how to call protections and how to recognize certain blitzes and how to be sure to go through his progressions on a pass read.
Sheil Kapadia, Philly.com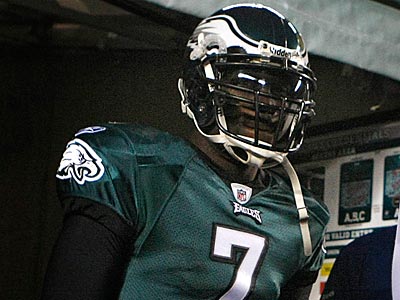 When Michael Vick takes the field in St. Louis in a couple weeks, we'll begin to assess once again where he is as a passer.
In 2010, he delivered the best year of his career in that respect, completing 62.6 percent of his passes with 21 touchdowns, six interceptions and a QB rating of 100.2.
But judging Vick by the same criteria we use for other quarterbacks doesn't make sense. And that's because his legs set him apart.
Sheil Kapadia, Philly.com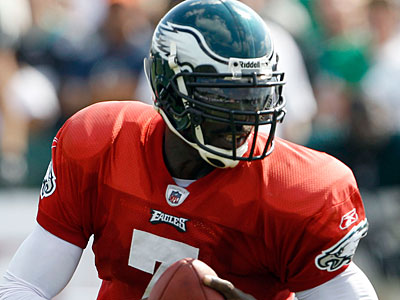 The unlikely story of Michael Vick going from prison inmate to the face of the Eagles' franchise took perhaps its biggest step Monday night when news broke of a new six-year deal for the quarterback.
Andrew Brandt of the National Football Post first reported the deal via Twitter, and the Inquirer's Jeff McLane confirmed the details - $100M with $40M guaranteed - over on Birds' Eye View.
Back in July, when the Eagles went on their signing spree, I wrote that Vick was at the center of all their moves. And I really believe that. When Andy Reid stuck with Vick last season, instead of going back to Kevin Kolb, he was giving him the opportunity to take control of this franchise.
Sheil Kapadia, Philly.com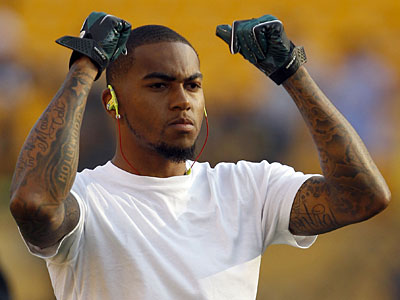 I did the first roundup Sunday before the power went out, but didn't get to all the links.
Here's the rest of what the national media are saying about the Eagles:
Elliot Harrison of NFL.com isn't buying the Eagles' hype just yet:
Sheil Kapadia, Philly.com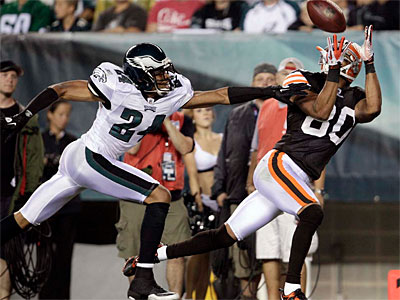 Soon after the Eagles surprised the NFL and signed Nnamdi Asomugha on that Friday evening in July, the question of what his role would be became a widely discussed topic of conversation.
Would Asante Samuel be dealt? Would Asomugha stay on the right side? Would he be moved around? What about Dominique Rodgers-Cromartie?
We are now through three preseason games, and while the real answers won't come until the regular season begins, we at least have some idea of what Juan Castillo wants to do with the three cornerbacks.
Sheil Kapadia, Philly.com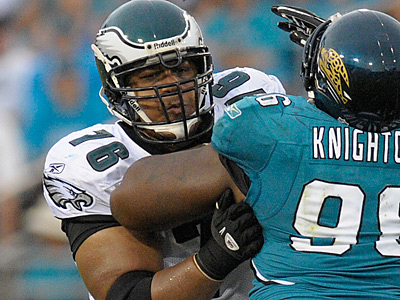 Join Philly.com's Sheil Kapadia for a live chat about all the latest Eagles news at 1 p.m. Monday.
if you're on a mobile device, click here to follow along and post questions.
---
You can follow me on Twitter or become a fan of Moving the Chains on Facebook.
Sheil Kapadia, Philly.com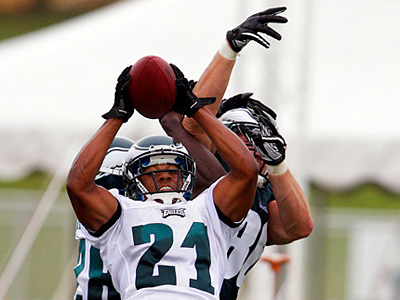 The Eagles will make their first round of cuts by this Tuesday at 4 p.m. That's when the roster has to get down to 80 players.
By Saturday, Sept. 3, that number has to get down to 53.
The Birds have played three preseason games, but as recently as yesterday, provided shakeups that are sure to affect roster decisions. Most notably, they moved Todd Herremans to right tackle, and Steve Smith and Jeremy Maclin returned to practice.