Archive: August, 2009
Sheil Kapadia, Philly.com
Update: Osi Umenyiora issued an apology for leaving practice:
"I made a mistake by leaving the facility today. I was wrong. I came in here this afternoon and met with coach Coughlin, coach Sheridan and coach Waufle and apologized and explained why I left the building; that will remain between us. I have no problem with our defensive coordinator Bill Sheridan or any of our coaches. That's the end of it, as far as I am concerned."
From earlier:
Sheil Kapadia, Philly.com
Based on unscientific philly.com poll results, the Eagles' fan base was largely divided on the addition of Michael Vick.
But it appears those fans who support the move are getting behind Vick whole-heartedly, well with their wallets at least.
According to CNBC's Darren Rovell, Vick came in at No. 4 on NFLshop.com's top-selling jersey list for the time period between April 1 - August 28.
Sheil Kapadia, Philly.com
The New England Patriots are among the "many teams" interested in Eagles backup quarterback A.J. Feeley, according to Jason La Canfora of NFL.com.
The St. Louis Rams are also said to be interested.
The Eagles, however, are unlikely to part ways with Feeley before commissioner Roger Goodell announces how many games Michael Vick has to sit out.
Sheil Kapadia, Philly.com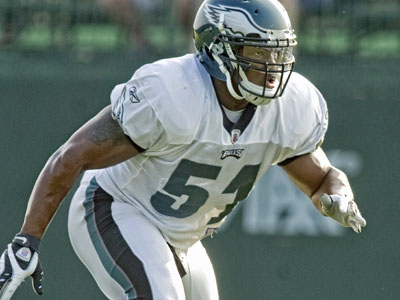 The Daily News' Paul Domowitch was the first to report last week that the Ravens and Jets were keeping tabs on the Eagles' wide receiver situation.
As has been well-documented, the Birds will have to get rid of either rookie Brandon Gibson, Reggie Brown or Hank Baskett. At this point, it would appear that Brown is the most likely to go.
Dave Hutchinson of The Newark Star-Ledger reports that the Jets are not "overly impressed" with Brown. Hutchinson says the price tag for Baskett might be too high.
Sheil Kapadia, Philly.com
Yesterday we did the defense. Today we move to the other side of the ball.
Here are my observations on the offense after re-watching Thursday night's Eagles-Jaguars game:
** Let's start with the good. MTC has made no bones about it since last season. We are huge Jason Avant fans. In fact, if we gave out an award to an Eagles player who epitomizes the way MTC thinks the game should be played, Avant would be given the trophy. Here's what you know. Avant was the leading receiver for either team Thursday with five catches for 92 yards against the Jaguars. But that's not what stood out to us. Listen, Avant is sure-handed, runs good routes and reliable. He's never going to make a Pro Bowl and probably will never have a 1,000-yard season. But you win games with guys like Avant. On the Eagles' second drive, Donovan McNabb found Jeremy Maclin on a wide receiver screen. Avant, lined up on the same side of the field, took Jaguars cornerback Brian Williams to the ground with a textbook block to open up running room for Maclin, who picked up 9 yards and a first down. Avant gives full effort on every play and battles until the whistle blows. To steal Larry Brown's favorite line, he plays the game the right way.
Sheil Kapadia, Philly.com
Above are photos from yesterday's game.
Just got done re-watching the first three quarters of last night's Eagles-Jaguars game.
And I have more notes and thoughts than I know what to do with. We'll start with the defense and offer up some items on the offense later today or tomorrow.
Sheil Kapadia, Philly.com
Donovan McNabb and the first-team offense had five possessions in the red zone tonight against the Jaguars.
They came away with two touchdowns, two field goals and a turnover. But in the first half, the Eagles came away empty on all three trips inside the Jaguars' 20 yard line. McNabb explained after the game that this was not their red-zone offense.
But then again, last year we saw their red-zone offense, and the results were not very good.
Sheil Kapadia, Philly.com
Well, that didn't take long.
Apparently some Eagles fans saw enough on five plays from Michael Vick to call for him to replace Donovan McNabb in the third quarter.
The "We want Vick" chants broke out at the Linc and could be heard on the TV broadcast after McNabb threw an interception.
Sheil Kapadia, Philly.com
Here are some things I'll be following during tonight's game:
** We get to see 60 percent of the offensive line in action. Usually that would be a bad sign, since two players are still missing, but this has not been a usual preseason. You could make the argument that we're actually seeing 80 percent of the line, if you think Shawn Andrews will be absent Week 1 and it'll be Winston Justice starting. I'll try to watch Justice closely as I've done during the first two preseason games. If he were the starting right tackle in Week 1, I'd be concerned. We also want to see Jason Peters deliver a better performance than he did in the first preseason game. And we get to see Stacy Andrews for the first time. There's no doubt in my mind that the Eagles' offense will be as good as the line allows it to be. The talent is there at the skill positions, but if the line does not protect Donovan McNabb, or open holes for Brian Westbrook and LeSean McCoy, it's going to be a long season.
** Speaking of Westbrook, it will be great to see him back on the field. His progress has probably been the most encouraging sign of the preseason. Westbrook's health was a major concern going into Lehigh, but he has been ahead of schedule all the way through, and tonight he will get knocked around a little bit before most likely sitting out the final preseason game. Just please don't let him get knocked around too much, Andy.
Sheil Kapadia, Philly.com
When we wrote about this earlier today, we just wanted to point out that the man organizing the pro-Michael Vick rally had ripped Donovan McNabb a few years ago.
Now all of a sudden, this is our third post on the topic. And yes, we're tired of it.
But in the purpose of getting things right, J. Whyatt Mondesire, president of the Philadelphia chapter of the NAACP, told the Associated Press this evening that he and other civil rights groups plan on going ahead with their pro-Vick march tomorrow evening.