Archive: July, 2009
Sheil Kapadia, Philly.com
The Eagles have wrapped up their afternoon practice at Lehigh, and the indoor session wasn't nearly as eventful as the morning one.
The players were in shorts and sneakers, without pads, as they went through the motions at the fieldhouse.
But there's always something to break down here at MTC, so let's talk screen passes.
Sheil Kapadia, Philly.com
Towards the end of practice when the Eagles closed with their special teams units working on kickoff returns and kickoff coverage, most of the offensive skill players took a knee on the sidelines.
But not Brent Celek.
The Eagles' tight end was on the sideline about 10 yards away from one of the assistants, practicing catching the ball and securing it. Over, and over, and over again.
Sheil Kapadia, Philly.com
This probably wasn't how Andy Reid envisioned the first full-squad practice playing out.
The beat guys from the Inquirer and Daily News have all the details, but here are some quick news and notes.
** The story we discuss every day is Jeremy Maclin's absence. During Reid's press conference, a reporter asked him if Maclin missing time is less of an issue because so few first-round picks have signed, but Reid didn't really seem to accept that as an excuse. He said Maclin is missing valuable time and the two sides are "not as close as we need to be."
Sheil Kapadia, Philly.com
Time to continue our Q&A with Bill Barnwell, managing editor of Football Outsiders.
If you missed our first part about the Eagles and short yardage, or are wondering exactly what Football Outsiders is, click here.
Also, last night, we updated news on Hollis Thomas, Derrick Burgess and more first-round picks signing.
Sheil Kapadia, Philly.com
Just got done reading every Tweet, blog post, article, column, etc. about the Cliff Lee trade and figured I better get back to football.
Some news and notes around the league before we call it a night here:
** Former Eagles DE Derrick Burgess is a holdout in Oakland. He was the only Raiders player under contract who didn't report to camp. Per David White of the San Francisco Chronicle, Burgess is owed $2 million in the final year of his contract. White suggests the holdout is not about money, but rather about Burgess wanting to be traded or cut so he can continue his career somewhere else. ESPN's Chris Mortensen suggested back in May that the Eagles could be a possible landing place for Burgess.
Sheil Kapadia, Philly.com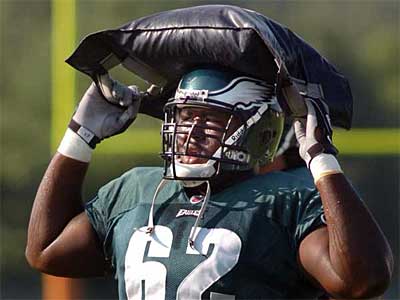 Join me for an Eagles chat at 2 p.m. Thursday, a little more than an hour before the players take the field at Lehigh.
Sheil Kapadia, Philly.com
According to the Eagles, all the veterans have reported to training camp.
And that includes Sheldon Brown.
This was my first time taking part in the exercise of waiting for veterans to report. Here's how it works: