Archive: May, 2012
Sheil Kapadia, Philly.com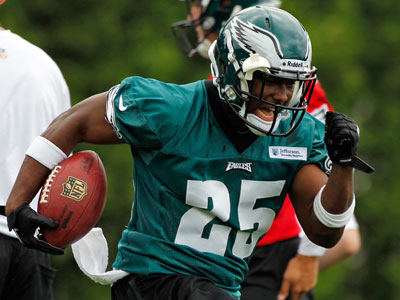 Apologies for the late post today, but here's a quick roundup of what the national media are saying about the Eagles this week:
ESPN.com's Dan Graziano gives the Giants' Hakeem Nicks the edge over DeSean Jackson as the NFC East's best wide receiver:
Nicks runs routes better. He separates from defenders better. He finds the ball in traffic better. He catches the ball better. He's just a better player, and it's really no slight against Jackson to say that. Assuming he recovers from the broken foot he suffered last week and is ready for the start of the season, Nicks belongs on a list of the top 10 wide receivers in the game right now. He might even belong at a higher spot than No. 10. He's the best wide receiver in the NFC East right now. As eye-popping as Jackson's first couple of years in the league were, (a) much of his damage was done in the return game and (b) his last couple of years haven't been worthy of a top-10 wideout.
Sheil Kapadia, Philly.com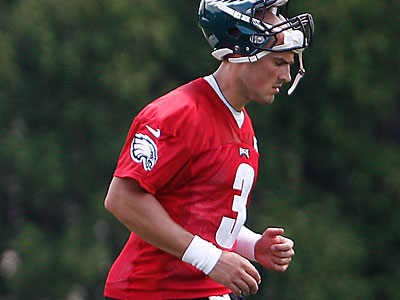 If the regular season started Sunday, Mike Kafka would be the Eagles' backup quarterback.
And while there's still a whole summer to get through, he's in place to get the call should Michael Vick suffer an injury in 2012.
As I've written before, backup quarterback is the biggest concern on the offense and one of the biggest concerns on this team. That's not meant to be a jab at Kafka, but it's important to look at the signs we've seen in the past couple years.
Sheil Kapadia, Philly.com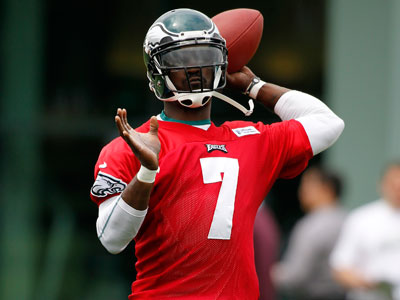 This week's edition of Five Eagles numbers that matter:
6 - The number of passes Drew Brees had tipped or batted at the line of scrimmage last year, according to Pro Football Focus. That comes out to one every 109.5 attempts.
So, why am I writing about the Saints quarterback when this blog focuses on the Eagles?
Sheil Kapadia, Philly.com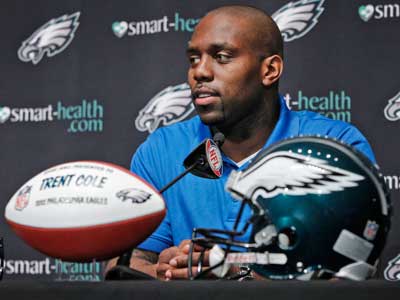 Before we get started on the Memorial Day links, thank you to all those who have given their lives to protect this country.
And also to all the service men and women who read MTC and have e-mailed over the years.
If you're looking for the usual Five Eagles numbers that matter feature, which usually runs on Monday, that will be posted Tuesday because of the holiday.
Sheil Kapadia, Philly.com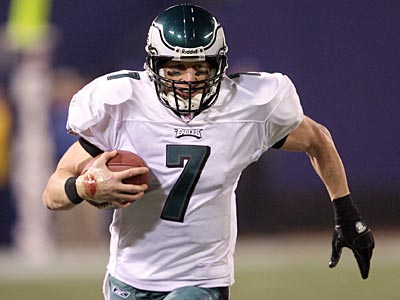 At 42 years old, Jeff Garcia isn't quite ready to call it a career.
And he wouldn't mind a third stint with Andy Reid and the Eagles.
Speaking to 94 WIP's Anthony Gargano and Glen Macnow, Garcia said he's in the best shape of his life and will be ready if a team calls.
Sheil Kapadia, Philly.com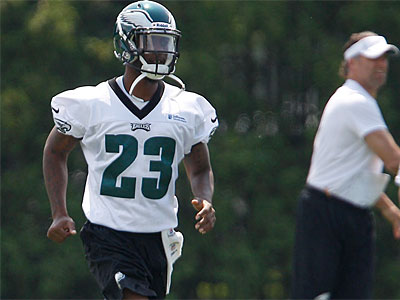 I attended two of the three Eagles OTA sessions this week. Below are some observations.
* The Eagles showed a look up front that we saw last year. The defensive ends moved to the middle, away from the line of scrimmage, standing up like rush linebackers, while the defensive tackles shifted outside with their hands on the ground. Today, Darryl Tapp and Brandon Graham were the defensive ends on one such snap, and Fletcher Cox and Derek Landri moved outside. The Eagles have some versatile linemen in Cox, Cullen Jenkins, Graham and Trent Cole. They were successful last year for the most part just lining up four defensive linemen and having them attack the quarterback, but perhaps we'll see more different looks this season.
* Jenkins and Jason Babin were excused absences this week, which drove home the point that the defensive line is probably the deepest unit on the team. The group has undergone quite a makeover in the past two seasons. Gone are guys like Brodrick Bunkley, Trevor Laws and Juqua Parker. In are Babin, Jenkins, Cox and Vinny Curry. The way the roster is currently constructed, no injury up front - except for probably Cole - would be devastating.
Sheil Kapadia, Philly.com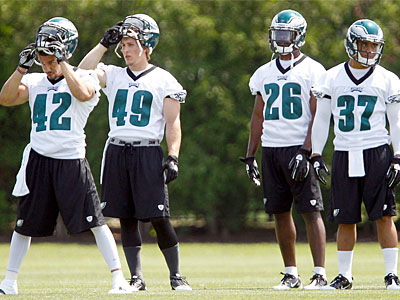 It looks like Vegas expects the public to have a pretty favorable opinion of the Eagles this season.
Cantor Gaming became the first Nevada sportsbook to release over/under win totals for NFL teams yesterday, and the Birds' number was set at 10:
Over (-135)
Under (+105)
Sheil Kapadia, Philly.com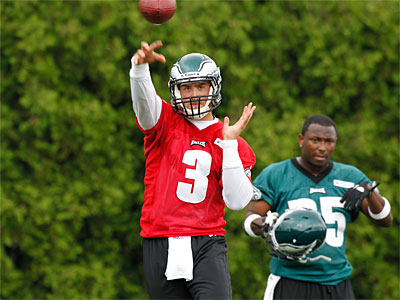 Here are three thoughts on the Eagles:
REALISTIC EXPECTATIONS FOR VICK

It comes as no surprise that Michael Vick has been in the headlines - both locally and nationally - this week, with full-team OTAs under way at the Novacare Complex. Since he became the starting quarterback during the 2010 season, one question has been asked repeatedly with Vick: Can he stay healthy?
Sheil Kapadia, Philly.com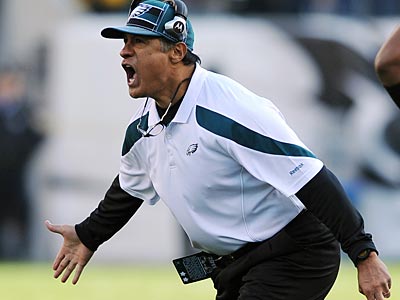 Here's this week's roundup of what the national media are saying about the Eagles:
SI.com's Peter King likes the Eagles' decision to lock up running back LeSean McCoy:
If the Eagles had waited a year and he had that kind of season, there's no way he'd be a $9-million-a-year player, which this contract defines him as. He'd be more costly. And with other backs (Ray Rice, Matt Forte) out there battling for new deals, there's no telling where the market would be then.
Sheil Kapadia, Philly.com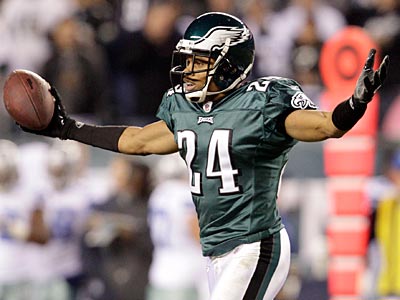 Here are this week's five Eagles numbers that matter:
10.2 - Michael Vick's average yards per carry on "improvised" runs when he got past the line of scrimmage last season. In other words, these were called pass plays where Vick left the pocket and ran. By my count, Vick carried 53 times for 538 yards on designed pass plays. The 10.2 yards per carry number is a huge one. To put it into perspective, Aaron Rodgers led the NFL, averaging 9.2 yards per pass attempt. But there's a catch. Vick was also sacked 23 times for -126 yards. Those were the plays when either he took off and didn't get past the line of scrimmage, or the pressure just got to him in the pocket.
Overall, the offense gained 5.4 yards per play on the 76 occasions in which Vick dropped back but never attempted a pass. That number is lower than his 7.8 yards per attempt average. Vick's decision-making on when to take off and run and when to get rid of the football will be something he'll have to continue to perfect until his career is over, and especially something to keep an eye on in 2012.