Archive: March, 2011
Sheil Kapadia, Philly.com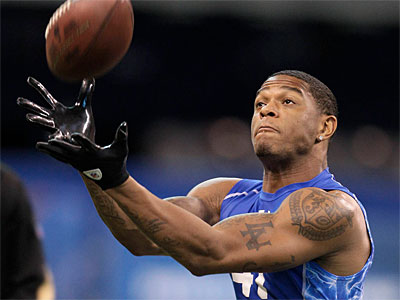 One of the players many draft pundits have the Eagles going with in the first round was in town yesterday, according to a report.
Colorado cornerback Jimmy Smith visited the Eagles on Wednesday, per Jason La Canfora of NFL Network.
I wrote about Smith at length in my earlier post yesterday. Greg Cosell of NFL Films said there are definite similarities between Smith and Jets cornerback Darrelle Revis. Mike Mayock of NFL Network has Smith ranked as his 30th player overall:
Sheil Kapadia, Philly.com
Earlier Wednesday, in an episode of That's What He Said, Bob Ford of the Inquirer and Marcus Hayes of the Daily News answered the question: Which NFL player would have the biggest impact if added to the Eagles' roster?
Bob chose Packers linebacker/defensive end Clay Matthews.
Well, he's not leaving Green Bay, but the Eagles are showing some level of interest in his brother, Casey.
Sheil Kapadia, Philly.com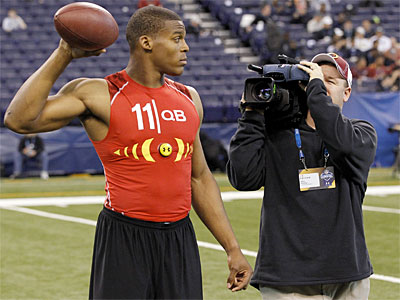 There has been much discussion in the past 48 hours about a Cam Newton scouting report from Nolan Nawrocki of Pro Football Weekly.
Here's what Nawrocki wrote:
Very disingenuous — has a fake smile, comes off as very scripted and has a selfish, me-first makeup. Always knows where the cameras are and plays to them. Has an enormous ego with a sense of entitlement that continually invites trouble and makes him believe he is above the law — does not command respect from teammates and always will struggle to win a locker room. Only a one-year producer. Lacks accountability, focus and trustworthiness — is not punctual, seeks shortcuts and sets a bad example. Immature and has had issues with authority. Not dependable.
Sheil Kapadia, Philly.com
Updated: 4/27
Back for another year, here is the list of reported Eagles draft workouts and visits.

This year (wait for it)... in chart form!

To review, NFL teams are allowed to have 30 prospects in to their facilities for official visits. However, there are no restrictions in terms of sending scouts or coaches to visit schools or prospects' home towns to work them out. And teams can have Local Days for players that are within the suburban area of the facility.

While it's true that the Eagles will work out several players who they will not draft (this is just what NFL teams do this time of year), it's interesting to take a look at the 2010 list of draft workouts and visits.

Several prospects on the list ended up getting drafted by the Eagles: Jamar Chaney, Ricky Sapp, Charles Scott and Daniel Te'o-Nesheim.

So it won't be altogether surprising if the Eagles end up selecting at least a couple of the guys listed below.

If you have reports that I'm missing, feel free to e-mail me (skapadia@philly.com) and I'll get them added. This post will get updated throughout the next month.
Prospect




Position




School




Ht.




Wt.




Source




Notes




Akeem Ayers

LB
UCLA
6-3
254
NFP
MTC

Allen Bradford

RB
USC
5-11
242
NFP
MTC

Curtis Brown

CB
Texas
6-0
185
Fox Sports
MTC

Jalil Brown

CB
Colorado
6-1
204

Sheil Kapadia, Philly.com

With the draft only a month away, the Eagles continue preparations with prospect workouts.

Slippery Rock center Brandon Fusco is the latest name to surface. He is scheduled to make an official visit to meet with Andy Reid and the coaches on April 5.

Fusco (6-4, 316) was a four-year starter and won the Gene Upshaw Division II Lineman of the Year Award as a senior.