Archive: February, 2011
Sheil Kapadia, Philly.com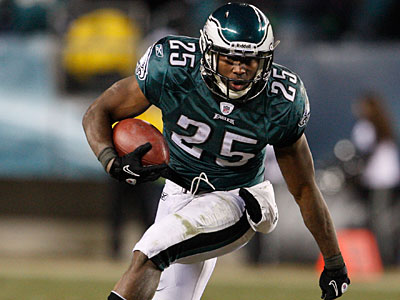 Right around this time a couple years ago, LeSean McCoy wasn't feeling too good.

After deciding to leave Pitt early, he didn't participate in drills at the combine because of a bout with the flu. An NFL.com article wrote at the time that the experience left McCoy battling "mild depression" and "major frustration."

He did meet with several teams in Indy, including the Eagles, who decided a couple months later to take a shot on McCoy in the second round (53rd overall), making him the heir apparent to Brian Westbrook.

Two years later, the McCoy pick looks like a home run. Three running backs were taken ahead of him back in '09: Denver selected Knowshon Moreno at 12; the Colts took Donald Brown at 27; and the Cardinals went with Beanie Wells at 31. McCoy has outperformed all of them after putting together a 2010 season that warranted Pro Bowl consideration.

Here's a look at the top 10 second-year running backs in terms of rushing yards last season:


| | | | | | |
| --- | --- | --- | --- | --- | --- |
| | Att. | Yds. | YPC | TDs | 20+ |
| Arian Foster | 327 | 1,616 | 4.9 | 16 | 12 |
| LeSean McCoy | 207 | 1,080 | 5.2 | 7 | 7 |
| Knowshon Moreno | 182 | 779 | 4.3 | 5 | 3 |
| Shonn Greene | 185 | 766 | 4.1 | 2 | 1 |
| Ryan Torain | 164 | 742 | 4.5 | 4 | 7 |
| Donald Brown | 129 | 497 | 3.9 | 2 | 4 |
| Rashad Jennings | 84 | 459 | 5.5 | 4 | 1 |
| Mike Goodson | 103 | 452 | 4.4 | 3 | 3 |
| Beanie Wells | 116 | 397 | 3.4 | 2 | 1 |
| Bernard Scott | 61 | 299 | 4.9 | 1 | 0 |

Foster, the guy who tops the list, went undrafted before breaking out with the Texans last season. McCoy was second to him in attempts, yards and rushing touchdowns among second-year backs. And McCoy was tops (among second-year players with at least 100 carries) with a 5.2 YPC average.

In fact, league-wide, only Kansas City's Jamaal Charles (6.4) and New York's Brandon Jacobs (5.6) averaged more yards per carry.

Of course, the numbers above don't even take into account McCoy's production as a receiver. He ranked third among all second-year players (not just running backs) with 78 receptions, behind only Hakeem Nicks (79) and (ready for this?) Danny Amenodola (85).

Foster (604) is the only back who had more receiving yards than McCoy (592).

The big-play ability was a big part of what launched him forward in his second season. As a rookie, McCoy had just one carry of 20+ yards in 155 attempts. Last season, he had seven (one every 29.5 attempts).

And while his elusiveness was what earned McCoy attention across the league, his toughness shouldn't go unnoticed. According to STATS.com, only two running backs were better in third-and-short situations. Miami's Lousaka Polite converted 12 of 13 chances. Green Bay's John Kuhn converted 10 of 12. And McCoy wasn't far behind, going 8-for-10 in those situations.

In the fourth quarter, he showed the ability to be a closer. McCoy averaged 6.1 yards per carry in the final 15 minutes, second to only Charles (6.3).

Despite carrying the full load for the first time in his NFL career, McCoy showed no signs of slowing down during the Eagles' stretch run, averaging 5.9 yards per carry in December. And he raised his level of play against divisional opponents, averaging 6.4 yards per carry in those matchups.

Football Outsiders ranked him as the sixth-best running back in 2010, behind Charles, Foster, BenJarvus Green-Ellis, Maurice Jones-Drew and Adrian Peterson.

McCoy will turn 23 in July and has two years left on his rookie contract. But after two seasons, it looks the Eagles made a great call with their 2009 selection.
---
Sheil Kapadia, Philly.com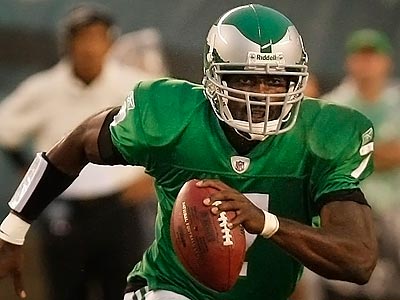 Here's a roundup of what they're saying about the Eagles:
In an ESPN.com article, Bill Barnwell of Football Outsiders takes a look at the Eagles' decision to hit Michael Vick with the franchise tag:
As we mentioned in our "Plugging the Holes" series, the Eagles' passing attack didn't budge from Vick's level of performance when Kevin Kolb got to play with the same receivers. One of the biggest reasons Vick did so well as a passer was his career-low interception rate of 1.6 percent; even if we ignore Vick's past and consider him to be a permanently-changed passer, it's close to impossible for any quarterback to sustain an interception rate that low over the course of multiple seasons.
Sheil Kapadia, Philly.com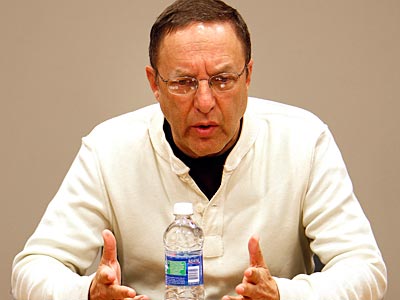 As Eagles general manager Howie Roseman met with reporters at the combine in Indianapolis, team president Joe Banner did one more radio interview yesterday and tried to clarify some of the comments he made last week.
In a previous interview on WIP with Howard Eskin and Ike Reese, Banner made comments that compared the Eagles' success to that of the Pittsburgh Steelers.
Yesterday, on 97.5 The Fanatic with Mike Missanelli, Banner was much more guarded. Several times, he prefaced comments by saying that his words would probably be misinterpreted. And when Missanelli began the interview by asking Banner about the Steelers comments, the Eagles' president was ready. He said he had last week's comments in front of him because he was expecting the question and wanted to point out exactly what he said the first time.
Sheil Kapadia, Philly.com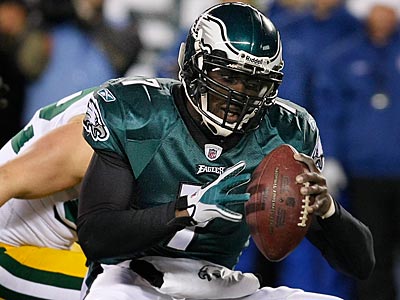 During the 2010 season, Eagles quarterbacks were sacked 49 times.
That was fourth-most in the NFL, behind the Bears (56), Cardinals (50) and Panthers (50). It was also tied for the most the Eagles had allowed since 1998 when Bobby Hoying, Koy Detmer and Rodney Peete were sacked 56 times.
While the offensive line certainly needs to improve, as I mentioned often during the season, there's more to sacks than just the five guys in front of the quarterback. Running backs and tight ends play an important role too.
Sheil Kapadia, Philly.com
When the Eagles traded up to nab Jeremy Maclin with the 19th pick in the 2009 draft, it came as a surprise.

The previous year, the Birds had taken DeSean Jackson, who surpassed all expectations as a rookie, catching 62 balls for 912 yards. A surplus of talent at wide receiver was unheard of during the first nine seasons of Andy Reid's tenure as the Birds' head coach. There was the season-and-a-half stint with Terrell Owens, but other than that, the lack of weapons for Donovan McNabb was an annual topic of discussion.

Now, nearly two years after the Birds selected Maclin, wide receiver is arguably the biggest strength on this team. Jackson is looking for a new deal as he enters the final season of his rookie contract. Jason Avant is signed through 2014. And Maclin still has three years remaining on his rookie deal.

In two seasons, Maclin has 126 catches for 1,737 yards and 14 touchdowns. Three receivers were taken ahead of Maclin in 2009, and six were taken overall in the first round. Here's a look at how they stack up:


| | | | | |
| --- | --- | --- | --- | --- |
| Player | Rec. | Yds. | TDs | YPC |
| Darrius Heyward-Bey (7th) | 35 | 490 | 2 | 14.0 |
| Michael Crabtree (10th) | 103 | 1,366 | 8 | 13.3 |
| Jeremy Maclin (19th) | 126 | 1,737 | 14 | 13.8 |
| Percy Harvin (22nd) | 131 | 1,658 | 11 | 12.7 |
| Hakeem Nicks (29th) | 126 | 1,842 | 17 | 14.6 |
| Kenny Britt (30th) | 84 | 1,476 | 12 | 17.6 |

Maclin's numbers play out favorably compared to his peers. He's tied for second in catches, and trails only Nicks in yards and touchdowns.

Of course, there are other receivers from the '09 draft class that have played well. Most notably, Pittsburgh's Mike Wallace, who was taken with the 20th pick in the third round. He has 99 catches through two seasons and beats out all the guys listed above with 2,013 receiving yards.

Here's how Maclin's numbers through his first two seasons compare to some other receivers that got off to good starts after the Eagles drafted them.


Sheil Kapadia, Philly.com
It's difficult to try and make sense of today's news that James Urban is headed to the Bengals to become their wide receivers coach, but let's give it a try and start with what we know.
Back on Feb. 8, the Eagles announced a plethora of coaching moves. One of them was Urban making the move from quarterbacks coach (for two seasons) to assistant offensive coordinator. What exactly that meant was unclear, but a team source told Les Bowen that it was a promotion which would give Urban the opportunity to work with other positional groups, not just the quarterbacks.
At the time, I figured the move probably put Urban in position to become an offensive coordinator in the not-too-distant future. Marty Mornhinweg did not get any serious consideration as a head coach elsewhere this offseason, but if the Eagles' offense puts together a successful 2011, it's possible that Mornhinweg could be moving on.
Sheil Kapadia, Philly.com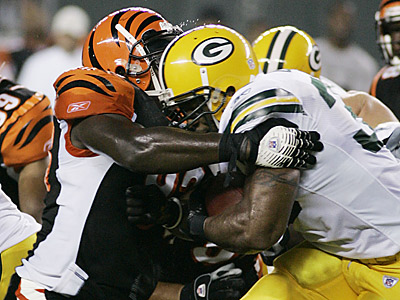 The Eagles announced today that they've signed linebacker Rashad Jeanty to a one-year deal.
Linebacker is probably the Eagles' most uncertain positional group, and there will likely be jobs to be won whenever the Birds prepare for the 2011 season.
Here are the linebackers currently listed on the roster: Stewart Bradley, Jamar Chaney, Keenan Clayton, Moise Fokou, Omar Gaither, Akeem Jordan, and Ernie Sims.
Sheil Kapadia, Philly.com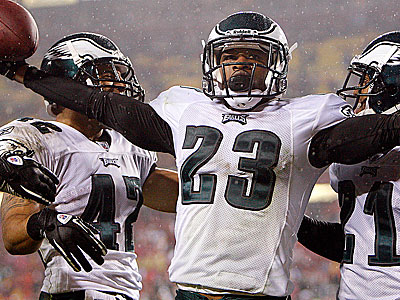 Throughout the 2010 season, the Eagles' horrible red-zone defense was a topic of discussion on a weekly basis.
I plan on taking a closer look at why it was so bad in the coming weeks, but Mike Tanier of Football Outsiders recently put up a post looking at the Birds' struggles.
Tanier examined six different red-zone drives where opponents scored touchdowns, and while he found that some of the Eagles' problems had to do with scheme, more had to do with personnel.