Archive: February, 2010
Sheil Kapadia, Philly.com
Some random thoughts this afternoon from watching the NFL Network's coverage of the combine:
* Not that it has anything to do with how he would potentially perform as a quarterback in the NFL, but Tim Tebow turned in a strong performance in the tests today. He ran the 40 in 4.72 seconds, fourth among quarterbacks. He also has the best vertical jump and the second-best broad jump among QBs.
* Pretty remarkable to see USC running back Stafon Johnson participate in the bench-press test. Back in September, Johnson was benching when the bar slipped from his hands and crushed his neck and larynx. He underwent seven hours of emergency throat surgery. And now, five months later, he's at the combine. I can't imagine what Johnson must have been feeling the first time he gripped the bar to bench during his rehab and recovery. Just an incredible story.
Sheil Kapadia, Philly.com
The fellas over at Eagletarian and Birds' Eye View are doing a tremendous job of or providing updates live from Indy at the combine.
Of note:
* John Harbaugh and the Ravens are showing some interest in Brian Westbrook and Terrell Owens.
* The Rams and Browns may or may not be interested in the Eagles' quarterbacks, but they're not allowed to say much without violating tampering rules.
* And Leonard Weaver's new deal may be close to getting done.
Sheil Kapadia, Philly.com
Cleveland Browns president Mike Holmgren does not understand the criticism aimed at Donovan McNabb.
Here's what he said when ESPN.com's Matt Mosley told him a segment of fans are ready to see McNabb go:
"I'm astounded by that," Holmgren said. "I'm like most of the folks around the league. With all that he's done for that team over the long haul...I guess part of it's that he hasn't been able to get over the hump [and win a Super Bowl]."
Sheil Kapadia, Philly.com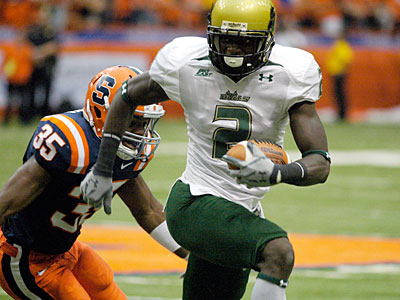 Carlton Mitchell's ride to the airport in Fort Lauderdale was scheduled to pick him up at 4:30 this morning.
Like more than 300 others, the South Florida wide receiver is headed to Indy for several days of testing, poking, prodding and interviewing at the NFL combine.
And he's taking us along for the ride.
Sheil Kapadia, Philly.com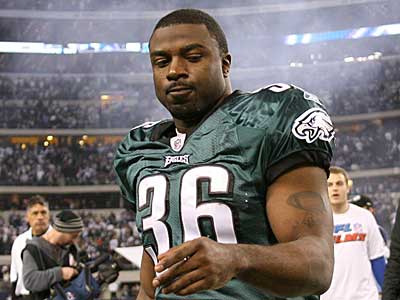 As Brian Westbrook walked off the field at Cowboys Stadium following the Eagles' playoff loss, he had a pretty good idea that his career in Philadelphia might be over.
Westbrook went without a carry and had just one catch in the Birds' 34-14 loss. It was then that he knew being released by the team that drafted him back in 2002 was a real possibility.
"Of course that last game of the season, the writing was on the wall, that I wasn't in their plans for any time to go forward so I accepted it as that," Westbrook told Mike Gill of The Sports Bash on 97.3 ESPN South Jersey.
Sheil Kapadia, Philly.com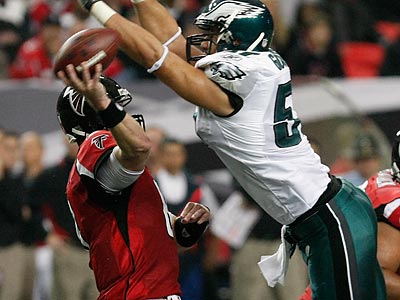 Some quick links to pass along this afternoon:
* Eagles linebacker Chris Gocong is scheduled to become a restricted free agent. He was benched towards the latter part of last season and didn't play well when he was on the field as the strong-side linebacker. Sean McDermott even tried him in the middle, which was a disaster, although in Gocong's defense, it was probably an unfair request at the time. The Eagles have never been able to figure out the right way to use him, which is why this note from Tom Curran of Comcast SportsNet New England is so interesting.
Curran covers the Patriots and thinks Gocong could be a perfect fit in their 3-4 defensive system:
Sheil Kapadia, Philly.com
I remember seeing Brian Westbrook sweat it out at training camp last summer.
Working on his footwork, running through drills with trainer Rick Burkholder, trying to show Andy Reid he was healthy enough to get back on the field.
Even when he was on the sidelines at Lehigh, Westbrook was in LeSean McCoy's ear, advising the Eagles' rookie running back, showing him the ropes.
Poll: Is releasing Westbrook the right move?

(11465 votes)
Sheil Kapadia, Philly.com
A few quick links to pass along:
* As you know by now, the Chargers have released LaDainian Tomlinson.
So the obvious question is: Where will he end up?