Archive: February, 2009
Sheil Kapadia, Philly.com
I just posted on Brian Dawkins' departure so be sure to check out that entry, which includes a YouTube highlight video of No. 20.
But this statement from the Eagles just popped in my inbox. Here are statements from Jeffrey Lurie and Andy Reid on Dawkins' departure.
From Lurie:
Sheil Kapadia, Philly.com
For the past 24 hours, we've been in search of truth and rumors in regards to Brian Dawkins' future.
The chase is now over.
About 90 minutes ago, Les Bowen of the Daily News confirmed that the longest-tenured Eagle has agreed to a deal with the Broncos.
Sheil Kapadia, Philly.com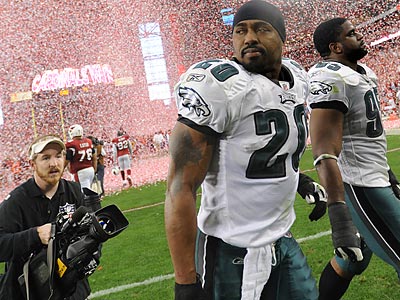 UPDATE: Les Bowen confirms on Eagletarian that the deal is done. Thanks to everyone who e-mailed when they heard it. Much more to come soon.
From earlier:
There continue to be conflicting reports this morning as to whether Brian Dawkins is officially a member of the Denver Broncos.
Sheil Kapadia, Philly.com
Here's the latest on what has been an unbelievably hectic day of Eagles offseason news.
Let's start with Brian Dawkins. We played it safe here at MTC, waiting to hear confirmation on the deal in Denver before going ballistic. And that has not happened yet. David White of the San Francisco Chronicle, who first reported that Dawkins and the Broncos had agreed to a deal, just e-mailed me. He has recently heard from Dawkins' agent, and the two sides are still in negotiations. In other words, Dawkins has not yet signed. It's not a done deal. I don't know if that's good news for Eagles fans or if everyone is bummed that it has even gotten this far. Maybe someone can direct Dawkins to the comments on today's blog posts, where we've seen nothing but an outpouring of support for him.
Just a few minutes ago, an e-mail from reader Jake:
Sheil Kapadia, Philly.com
I just got off the phone with David White, the San Francisco Chronicle reporter who posted a couple hours ago, saying Brian Dawkins had agreed to terms with the Denver Broncos.
Here's the deal: White is not reporting that Dawkins has signed a contract with the Broncos. He actually never reported that. White is told by a source that Dawkins has "agreed to terms" on a deal. Many of us took this to mean a deal had been finalized, but there is obviously a major difference if you look at the wording closely.
As of right now, no one (that I've found) has reported that Dawkins has signed a deal. And White is still the only reporter I've found that says Dawkins has agreed to terms. The bottom line is that it appears nothing has been finalized, although White sticks by his source that a deal is in place.
Sheil Kapadia, Philly.com
Last night, I pointed out that NFL Network's Steve Wyche was reporting that the Falcons would make a push for tight end L.J. Smith.
Today, Joe Fortenbaugh of the National Football Post says he's hearing a deal could be coming in hours.
It had been assumed that Smith wouldn't be back with the Birds after they slapped him with the franchise tag last year and he underperformed (37 catches, 298 yards, three touchdowns).
Sheil Kapadia, Philly.com
T.J. Houshmandzadeh has a visit planned with the Seattle Seahawks, according to Alex Marvez of FoxSports.com.
That's the only team reportedly bringing him in so far, as of 10:50 a.m. It was thought that Houshmandzadeh, the consensus top free agent receiver, would draw interest from several teams, but it hasn't happened yet. Or at least it hasn't been reported.
In my earlier post, I wrote about Houshmandzadeh appearing on ESPN late last night and mentioning the Eagles as one of the four teams he'd be interested in playing for. He also reportedly sent ESPN 950 a text message, saying: "I don't know what's gonna happen, if they want me I will be an Eagle tomorrow."