Archive: December, 2011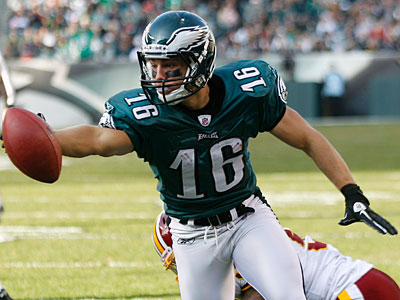 Join philly.com's Sheil Kapadia as he provides live updates and commentary as the Eagles take on the Redskins at Lincoln Financial Field in their' season finale.
On a mobile device? Click HERE to join the chat.
---
You can follow me on Twitter or become a fan of Moving the Chains on Facebook.
Sheil Kapadia, Philly.com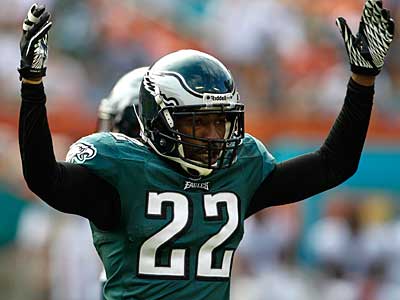 When the Eagles traded for Dominique Rodgers-Cromartie and signed Nnamdi Asomugha in August, they made it pretty clear that Asante Samuel was available for the right offer.
But apparently, no team matched their asking price.
When the trade deadline came around months later, a similar scenario played out.
Sheil Kapadia, Philly.com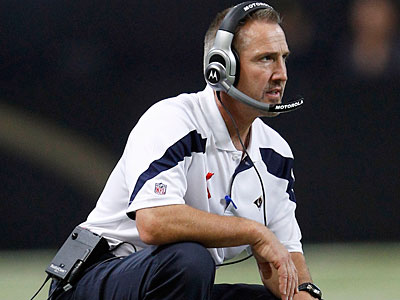 Here are three thoughts on a variety of Eagles-related topics:
1. After the season ends Sunday afternoon against the Redskins, the first decision the Eagles need to make is whether or not to keep Juan Castillo as their defensive coordinator. If Castillo is shown the door (or moved to a different position), it will mean the Eagles' defensive players will be playing for their third different coordinator in as many seasons. Why is that significant? Because it is a direct reflection of Andy Reid's decision-making.
The one factor that cannot get lost in all of this is that Castillo's failure is Reid's failure. Castillo's excuses (made by observers, not him) actually have some validity. He is coaching defense for the first time since 1989. He had never been a defensive coordinator before. The Eagles hired Jim Washburn and incorporated his system before hiring Castillo. The 'D' was dealing with several new players. And by the end of the season, the unit actually started to play better.
Sheil Kapadia, Philly.com
Andy Reid and the Eagles brought Jim Washburn to town for one simple reason: to improve the pass rush.
And despite the criticism surrounding the wide-nine and the defense overall, Washburn has done just that.
When a team goes through a disappointing season filled with failed expectations, there is a tendency to criticize everything and everyone that is associated with it, a refusal to acknowledge that anything worked out well.
Sheil Kapadia, Philly.com
Here's a roundup of what the national media are saying about the Eagles.
If you missed it from earlier, I posted Man Up on the offense, which took a look ahead at which pieces fit in 2012.
And now the links:
Sheil Kapadia, Philly.com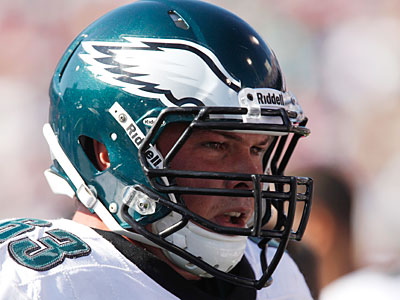 I did things a little differently this week. In addition to notes on how each offensive player performed against the Cowboys, I took a look at how each player fits into the Eagles' 2012 plans.
As always, this breakdown comes after having re-watched the game.
Michael Vick - I'll have the full breakdown in Mike Check, but Vick completed 18 of 32 passes for 293 yards and two touchdowns. Early on, he somehow got away from Anthony Spencer and found Riley Cooper for 28 yards. Vick made a nice throw on the 13-yard touchdown to Brent Celek in the first. He showed off his arm on the 33-yard out to DeSean Jackson in the second and made a good throw to Jeremy Maclin on the 5-yard touchdown. But Vick was far from perfect. He threw high to Jackson on a third down in the first and was nearly intercepted on a throw to Maclin in the first. In the fourth, with the Eagles up 20-0, Vick unnecessarily stepped right into a Spencer hit and got crushed. Those are the kinds of plays he has to avoid in 2012. Vick will lead the offense again next season, but the Eagles need to make sure they have a capable backup.
Sheil Kapadia, Philly.com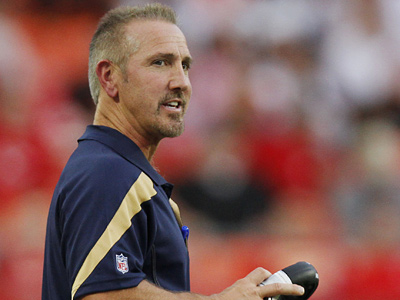 One of the first decisions the Eagles will have to make following Sunday's regular-season finale against the Redskins is what to do at defensive coordinator.
And more specifically, will Juan Castillo be back? Will they sell the idea that Castillo has improved as the season's gone on? That he's earned a full offseason to work with his players and show what he can do?
Or will they decide that some of their most talented defensive players - Jason Babin, Cullen Jenkins, Nnamdi Asomugha - are on the wrong side of the 30, and a proven defensive coordinator is necessary to make a Super Bowl run in 2012?
Sheil Kapadia, Philly.com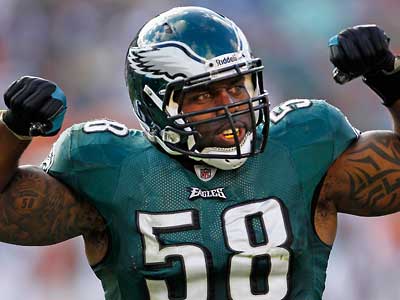 Here's the player-by-player breakdown of the Eagles' defensive performance against the Cowboys, after having re-watched the game.
For those of you who didn't tune in, Dallas lost Tony Romo in the first quarter, but left the rest of their starters in for the entire game.
Jason Babin - No sacks for Babin. He's tied with DeMarcus Ware for second in the league with 18, behind Jared Allen, who has 18.5. Babin got pressure on Romo and Stephen McGee throughout the game though. He looped behind Mike Patterson and Casey Matthews (who was blitzing) to hit Romo and knock him out of the game in the first. Babin and Trent Cole pressured McGee, forcing him to flip it to Sammy Morris short of a first down on 3rd-and-25 in the second. His pressure off the edge helped lead to Derek Landri's sack in the fourth. And Babin pressured McGee on a third down in the fourth.