Archive: October, 2009
Sheil Kapadia, Philly.com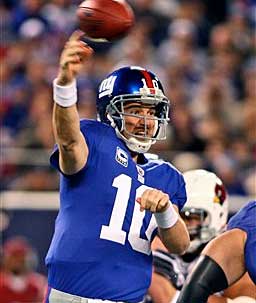 I got a chance to re-watch the Giants' loss to the Cardinals from last Sunday night. Here are some observations. I tried to relate them to the Eagles as best I could.
Giants on offense
** Brandon Jacobs looked great, carrying 13 times for 76 yards. I was a little surprised the Giants didn't go to him more, actually. On the season, he's averaging an underwhelming 3.9 yards per carry, but the Eagles' defense, and particularly the linebackers, face a major test.
Sheil Kapadia, Philly.com
Join me for a live Eagles-Giants chat Sunday at 1 p.m. We'll have updates and commentary live from the Linc.
Sheil Kapadia, Philly.com
Here's a look at who the national pundits are picking in this weekend's Eagles-Giants matchup.
I'll make my picks Saturday afternoon and will also have a closer look at the Giants once I finish watching the replay of their loss last week to the Cardinals.
SI.com's Peter King goes with the Eagles, 30-24:
Sheil Kapadia, Philly.com
Dave Staley of sportsbook.com breaks down the line and over/under for Sunday's Eagles-Giants game:
Q: What's the line for Sunday's matchup?
A: We opened the line at a pick 'em, and it just (Thursday) moved to Giants (minus-1). This line actually surprised me a little bit, as I thought the Eagles would be favored by a point or two. So far, 87 percent of the betting public is on the Giants. I am shocked that this game is so one-sided right now, but I am confident that these numbers will even out a little bit as we get closer to kickoff, especially since the Eagles are now 'dogs.

After five straight wins -- both straight-up and against the spread -- the Giants are coming off two very disappointing losses. Losing a third straight would be quite costly so I think that contributed to this game being closer to a 'pick' than I originally thought.

Interesting trend to note: The Giants are 18-4 ATS in their last 22 road games.

As everyone probably remembers, these two teams played three times last season, with Philly winning the last two games, including the 23-11 playoff victory. In both of those victories, the Eagles won despite being underdogs.
Sheil Kapadia, Philly.com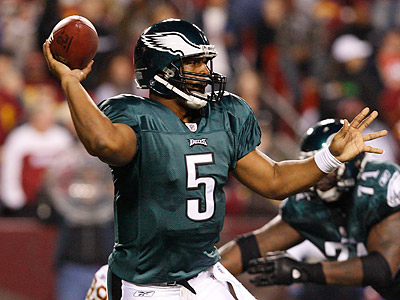 Time for our weekly player-by-player look at the Eagles' offense this week.
I've heard from some of you that you'd like a sentence, when possible, describing each guy's overall play. I attempted to do a little more of that.
Brian Westbrook - Looked good on three carries before leaving the game with a concussion. Obviously the team (and Westbrook) would be wise to be overly cautious before getting him back on the field.
Sheil Kapadia, Philly.com
Giants wide receiver Steve Smith has experienced a great amount of success through the first seven weeks of the 2009 season.
And he expects that to continue Sunday against the Eagles at the Linc.
Speaking to Giants reporters Wednesday, Smith didn't sound like he's expecting to be contained.
Sheil Kapadia, Philly.com
Not a good showing on the penalty front for the Eagles Monday night.
They were penalized 12 times for 66 yards and are now seventh in the NFL in penalties (45) and penalty yards (356).
Winston Justice was whistled for his first penalty of the season, a false start. Jason Babin, Todd Herremans and Mike Patterson were also flagged for the first times.
Sheil Kapadia, Philly.com
Last year in Washington, DeSean Jackson dropped what would have been the game-tying touchdown from Donovan McNabb.
This year, he carried the Eagles to a 27-17 victory.
On the Eagles' fourth offensive play of the game, Jackson took an end around 67 yards to the house for a touchdown, giving the Birds a 7-0 lead.
Sheil Kapadia, Philly.com
Update: Our friend Dave Staley of sportsbook.com informs us that the Eagles-Redskins line has moved to Birds (minus-8). When we spoke to Dave last week, it was Eagles (minus-7). But a lot of money seems to be coming in on the Birds. Currently, 88 percent of the action on sportsbook.com is on the Eagles to cover.
Some links to pass along as we wait for Monday night:
** Danny Amendola had five catches for 39 yards Sunday in the Rams' loss against the Colts. He has 13 catches in the past three weeks. Too bad the Eagles couldn't keep Amendola, who spent training camp here and was signed to the practice squad. He'd provide some nice depth, given the way their receiver situation has unfolded.
Sheil Kapadia, Philly.com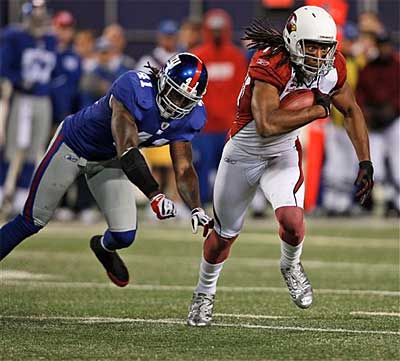 The Giants will come to Philadelphia next week on a two-game losing streak.
New York did not look good Sunday night, falling to the Cardinals, 24-17, at the Meadowlands.
The Giants turned it over four times, including three Eli Manning interceptions. After a hot start, Manning has completed less than 49 percent of his passes with two TDs and four interceptions in the last two weeks.