NFL Draft
Sheil Kapadia, Philly.com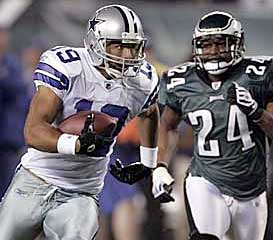 We start this week's edition with a text I received from friend and MTC reader Joe Monte. It came in at 10:33 p.m. Sunday night:
I think instead of breaking down each defensive player, just break down Fokou and his 13 penalties.
Ouch.
Sheil Kapadia, Philly.com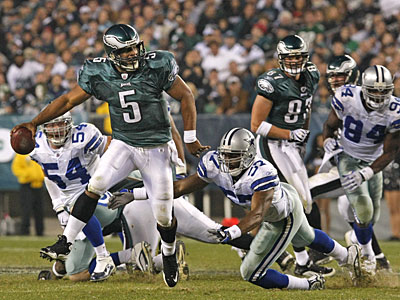 A player-by-player breakdown of the Eagles' offensive performance against the Cowboys:
Donovan McNabb - He just looked out of sorts all game. McNabb probably should have been picked off on a bad throw intended for DeSean Jackson on the first series. Did the Eagles have protection problems? Yes. But even when McNabb had time, he was off-target. In the fourth quarter, he had Jackson wide open and threw behind him. The couple bright spots were when he bought time and made plays -- on the screen to LeSean McCoy that went for 45 yards, and on the touchdown to Brent Celek. McNabb's 61.4 QB rating was his lowest of the season.

Michael Vick - We'll keep this one short: a 2-yard carry in the first and a handoff to McCoy later in the game. If the Eagles felt Vick could help them, they would be using him more. Consider it a failed experiment until you see proof suggesting otherwise.

LeSean McCoy - There were some real bright spots for McCoy, and also a couple mistakes. He broke a tackle and had a great individual effort on a 17-yard run in the second quarter. Overall, he did a decent job as a blocker. There was one play where he was supposed to get in DeMarcus Ware's way before going out into his route, but McCoy didn't do enough, and Ware forced a McNabb incompletion. The normally sure-handed receiver also had a couple dropped passes. He did take a screen 45 yards in the third quarter for the Eagles' biggest offensive play of the game. And as I said yesterday, he missed a chance to convert in short yardage in the fourth quarter. Overall, 13 carries for 54 yards and five catches for 61.

Leonard Weaver - Solid game for Weaver. Eight carries for 33 yards, and some punishing blocks. He showed great athleticism on a 17-yard reception in the first quarter, but it was called back because of a Todd Herremans penalty.

Winston Justice - Not his greatest performance of the season, but Justice did an OK job. He was overpowered by Cowboys defesive end Stephen Bowen on a third-down McCoy carry in the second. Justice also had some problems in protection, although he did not give up a sack. He false started on a 3rd-and-7 in the fourth quarter for his second penalty of the season.

Stacy Andrews - Nightmarish game for Andrews. He gave up a sack to Jay Ratliff in the first quarter and a second on 3rd-and-9 in the second. Andrews completely missed his block on Ware during Vick's 2-yard run. And he forced McNabb to escape the pocket after getting beat by Jason Hatcher. Andrews came in during the third possession and stayed in at right guard once Jason Peters went down. I don't believe he returned though after Peters came back in. I have to double-check though. He did make one nice block on Ratliff to open up a hole for a 5-yard McCoy run in the second.

Nick Cole - He had some serious problems in pass protection, particularly with Igor Olshansky. Cole moved over to left guard when Todd Herremans slid to left tackle. He went back to right guard once Peters returned. Hatcher beat him to sack McNabb in the fourth, but holding was called on Dallas away from the line of scrimmage.

Jamaal Jackson - Jackson had some trouble with Jay Ratliff, who really impressed me as I re-watched the game. Ratliff was disruptive in the interior all game. As analyst Cris Collinsworth pointed out, Jackson should have snapped the ball on 4th-and-1 when the Eagles had the Cowboys offsides in the third.

Todd Herremans - As I mentioned, he moved to left tackle when Peters went down. It was actually an interesting scene at the Linc. King Dunlap started to come on to the field as Peters came off, but was waved away. The Eagles gave him help with Ware on most plays, but when he was left by himself, Herremans had serious problems, which was to be expected.

Jason Peters - He was probably the offense's biggest bright spot. Peters completely neutralized Ware, both early on, and then later when he re-entered the game. Peters often pushed Ware upfield, past McNabb. Really an impressive performance. The one downside was the false start on 4th-and-1 in the third.

Brent Celek - Three catches for 39 yards, including a touchdown (his fourth of the season). The Cowboys moved Ware around, and Celek found himself on the losing end of a one-on-one battle with the Pro Bowl defensive end on a run play in the first. He made a nice block on Anthony Spencer during McCoy's 17-yard run. Celek had a drop on the Eagles' final drive.

Alex Smith - The throw from McNabb in the first quarter was high, although Smith had a chance at it. His blocking was not very good. Smith got beat by Spencer in pass protection in the third, leading to a McNabb incompletion. He didn't get the job done during the Eagles' short-yardage failures in the fourth quarter. Smith had an 11-yard grab in the third, picking up a first down.
DeSean Jackson - The Cowboys were successful in shutting him down and making other players beat them. Jackson had just two catches for 29 yards. He did deliver a good effort as a downfield blocker on the 45-yard screen pass to McCoy.
Sheil Kapadia, Philly.com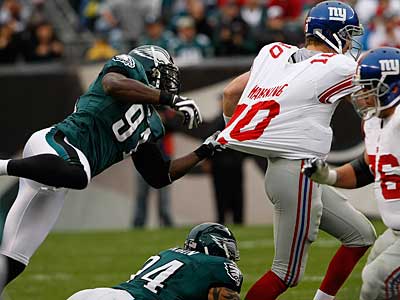 Yesterday, we did the offense.
Today, the defense.
A player-by-player look at the Eagles' defensive performance in their 40-17 win over the Giants on Sunday:
Sheil Kapadia, Philly.com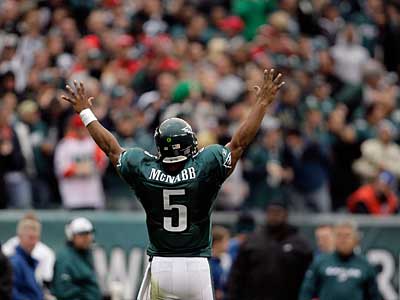 A couple weeks ago when we did Man Up following the Raiders loss, I had a tough time saying anything good about anyone on the Eagles' offense.
This week, it's the opposite.
Here's the player-by-player breakdown of the Eagles' offensive players in their 40-17 win over the Giants:
Sheil Kapadia, Philly.com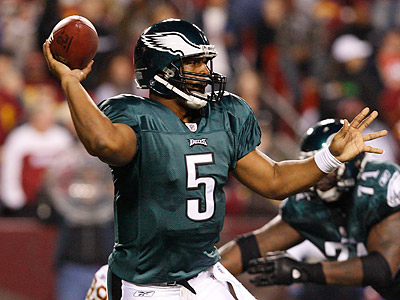 Time for our weekly player-by-player look at the Eagles' offense this week.
I've heard from some of you that you'd like a sentence, when possible, describing each guy's overall play. I attempted to do a little more of that.
Brian Westbrook - Looked good on three carries before leaving the game with a concussion. Obviously the team (and Westbrook) would be wise to be overly cautious before getting him back on the field.
Sheil Kapadia, Philly.com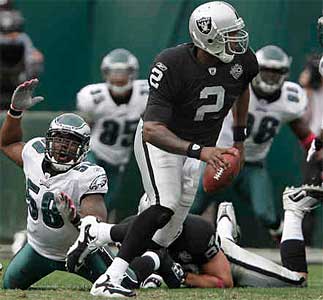 Yesterday, we did the offense.
Today it's the 'D.'
Our player-by-player evaluations of every player:
Sheil Kapadia, Philly.com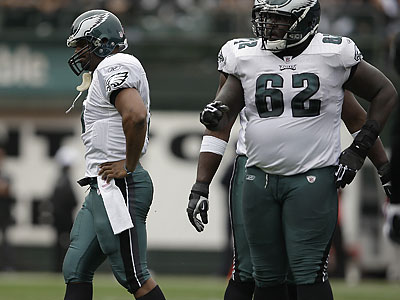 Time for our weekly player-by-player look at the Eagles' offense. We'll do the 'D' tomorrow.
Brian Westbrook – He was one of the only bright spots for the Birds on Sunday. Westbrook was Donovan McNabb's safety valve for much of the day, catching nine passes for 91 yards. He added 50 yards on six carries. Westbrook showed some burst on a 22-yard screen in the first quarter, and 18- and 34-yard gains in the second. He put together back-to-back runs of 25 and 9 in the third.
LeSean McCoy – Every week on Man Up, I say he needs to protect the ball better. McCoy fumbled in the first quarter, but the Raiders recovered. He did a nice job cutting down a blitzing linebacker in first quarter on an 8-yard pass to Brent Celek. It looked like he misread his blocking assignment on third down in the second quarter as Raiders linebacker Thomas Howard came untouched off the blind side to nail McNabb. McCoy had five carries for 13 yards, the highlight being a nice cutback run for a gain of 8 in the second.
Sheil Kapadia, Philly.com
We did the offense earlier this week, and now the defense. A player-by-player look at how Sean McDermott's unit performed against the Bucs.
Of note -- by my count, Moises Fokou was the only active defensive player to not see the field during the first half.
Victor Abiamiri – He was called for a 15-yard penalty for a blow to the head on Josh Johnson in the third quarter. Overall, a quiet game from Abiamiri. He picked up a sack in the fourth quarter and could have been credited with half a sack on the next play.