NFL Draft
Sheil Kapadia, Philly.com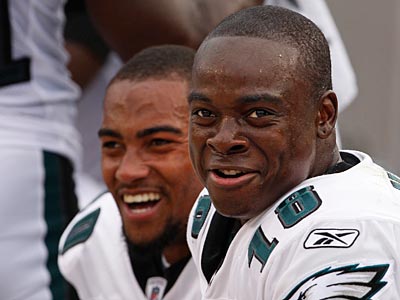 Here's the weekly player-by-player look at how the Eagles' offense performed Sunday against the Jaguars.
Michael Vick- I went over his performance in-depth in yesterday's post. A couple things to mention quickly though. His accuracy on deep balls has been tremendous. And Vick's TD run was very impressive. He broke a tackle behind the line of scrimmage and then darted for the end zone to score.
LeSean McCoy- He only had 11 carries, but averaged 4.9 yards per carry, totaling 54 yards. McCoy had a nice 13-yard run in the fourth where he broke a tackle, switched the ball to his outside hand and showed good awareness to stay in bounds. McCoy had some good moments as a blocker. On the 16-yard touchdown pass to Jeremy Maclin, the Eagles kept McCoy and Owen Schmitt in to block. Jaguars defenders, anticipating the running backs would be going out into pass routes, were stuck in no man's land. McCoy had a good blitz pickup against Sean Considine on the Vick TD run.
Sheil Kapadia, Philly.com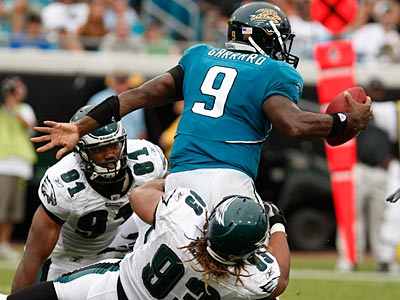 Here's the player-by-player look at the Eagles' defensive performance in their 28-3 win over the Jaguars on Sunday:
Brandon Graham- It was really a great group effort along the defensive line. Many of the six sacks were the result of everyone doing their jobs. For example, Graham rushed untouched from the edge, forcing David Garrard to step up into the arms of Trevor Laws for a loss in the second. Graham got good pressure on Garrard in the third, forcing him to scramble. He hit Garrard as he released the ball when the Jaguars tried to block him with a tight end. Graham dropped back into coverage more than any other lineman and got his hand on a pass on a fourth down in the fourth. I'd have to go back and double-check, but I believe Graham played exclusively outside.
Mike Patterson- Sean McDermott rotated the linemen, and the Eagles were in nickel quite a bit, so Patterson played about half the defensive snaps (not counting the final garbage time drive). Patterson hustled to bring Maurice Jones-Drew down on the other side of the field after a 5-yard gain in the first. He also made a good tackle on a 4-yard Jones-Drew run and dropped MJD for no gain in the third.
Sheil Kapadia, Philly.com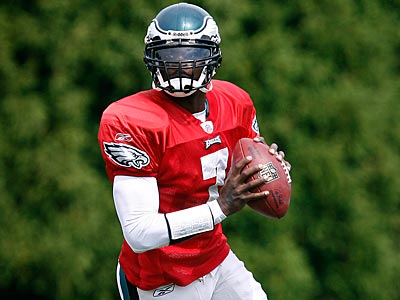 Since Andy Reid announced his decision to start Michael Vick on Tuesday evening, several different theories have been offered up, trying to explain his rationale.
One of them is that the offensive line is so shaky right now that Michael Vick and his mobility give the Eagles a much better chance to win than Kevin Kolb. In other words, Kolb has no chance to grow as a QB because of the protection issues.
Sorry, but I'm not buying that one.
Sheil Kapadia, Philly.com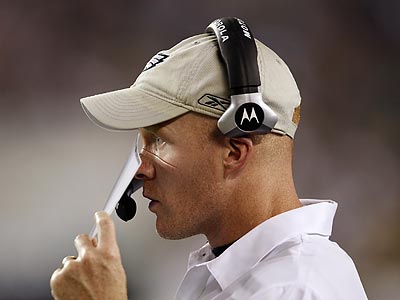 Here's a player-by-player look at how the Eagles' defense performed in the team's 35-32 win over the Lions on Sunday.
Brandon Graham- Graham was more active than Week 1, picking up the first sack of his career, but he looked vulnerable at times against the run. Graham played outside on about 69 percent of their snaps as the Eagles stuck with their base defense more than they did against the Packers. Graham's sack came from the inside. As a pass-rusher, he also got a good hit on Shaun Hill during the final minutes of the first half. Like the rest of the D-line, Graham got pushed around at times against the run. A big hole opened up between him and Mike Patterson on a 5-yard Maurice Morris run. Graham was blocked pretty soundly by a tight end on a 13-yard Jahvid Best run, which went to his side. He was also blocked on a 5-yard Aaron Brown run and was caught upfield on a 7-yard Brown run. On a positive note, Graham got in the backfield, helping to force a 3-yard Best loss in the third. And he showed good hustle, coming from the opposite side of the field to bring Best down on a screen pass. He left the game in the second half with a right shoulder injury.
Mike Patterson- It's rare to see him get manhandled the way he did on the Lions' six-play, 76-yard touchdown drive in the first that was all running plays. Patterson was blocked on several runs, including a 13-yard scamper by Best and the 14-yard touchdown run. The Lions' interior linemen really controlled him on that drive. Patterson was better in the second half, combining with Gaither to drop Best for a 3-yard loss in the third and stopping Morris after a gain of 2.
Sheil Kapadia, Philly.com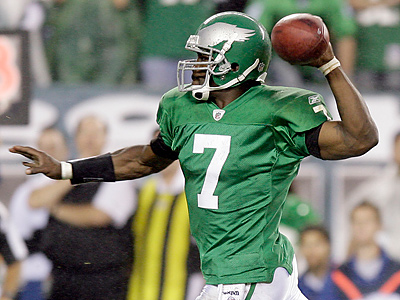 For those of you who are new to the blog, Man Up is my player-by-player look at the Eagles' offensive and defensive performance each week after re-watching the game.
It occurred to me yesterday that some might think I'm actually telling certain players to Man Up. That's not the case. It's just the name we came up with last year, and it'll be published on Mondays and Tuesdays throughout the season.
In case you missed it, here is the defensive breakdown.
Sheil Kapadia, Philly.com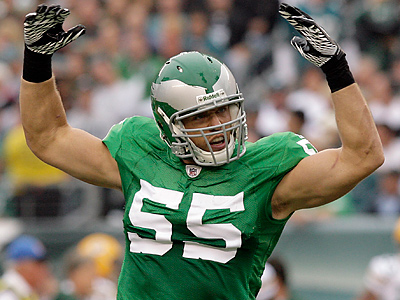 Here's a player-by-player look at the Eagles' defensive performance in their 27-20 loss against the Packers:
Brandon Graham- It was not a strong first showing for Graham, who failed to get pressure on Aaron Rodgers and looked vulnerable at times against the run. Graham played both outside and inside. He was blocked by a tight end on a 2-yard Ryan Grant run in the first half. Graham was blocked on a 7-yard Brandon Jackson run in the third. He got caught upfield, creating a hole on John Kuhn's 12-yard run in the third. And a big hole opened up between Graham and Trevor Laws on an 11-yard Jackson run. It wasn't all bad for Graham. He was quick off the ball, rushing from the inside on a 2nd-and-9 in the second, but couldn't finish the play. He got good penetration in the fourth, forcing Jackson to choose a different route before he was dropped for a 3-yard loss by Brodrick Bunkley. Graham played 49 snaps. Only Cole played more among defensive linemen.
Brodrick Bunkley- He might have been the Eagles' best defensive player on Sunday. Bunkley made several good plays against the run, stuffing Jackson in the second and dropping him for a loss on multiple occasions in the third. Really strong game from Bunkley.
Sheil Kapadia, Philly.com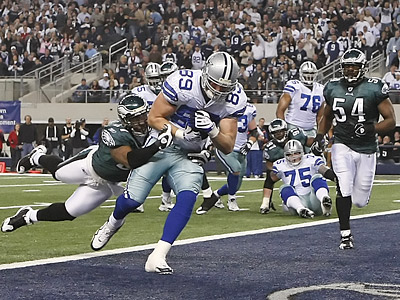 It is with great appreciation that I bring you the final Man Up of the year.
The feature originated on September 14 and was creatively titled Eagles' offense: Evaluating every player.
From there it became a weekly fixture. I asked you for suggestions on a name, ignored them (sorry) and then went with one of my own: Man Up.
Sheil Kapadia, Philly.com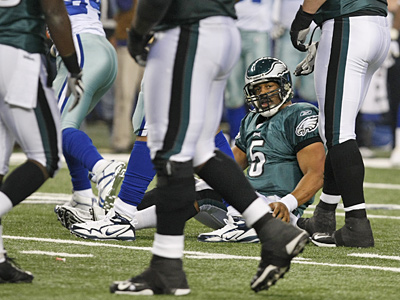 Here's the player-by-player breakdown of the Eagles' terrible offensive performance against the Cowboys:
Donovan McNabb - I never understood why it had to be one side or the other with McNabb. Either he's a terrible passer and every loss is his fault, or he's underappreciated, and the blame should fall on the line, coaching and weapons. McNabb did not play well yesterday. Neither did the offensive line. When McNabb had time, he was off-target with throws, throwing behind Reggie Brown, high to Brent Celek and high to Jason Avant on the interception. At times, he held on to the ball way too long. In the first, that was the case when he took a sack and was whistled for intentional grounding. On 3rd-and-7 in the third, when the Eagles were likely in four-down territory at the Dallas 42, McNabb took a sack for a loss of 8, and the Eagles had to punt. Replays clearly show he had Avant open on the sideline and LeSean McCoy open in the flat. Inexcusable for a guy in his 11th year to be making some of these mistakes. He twice had balls batted down at the line of scrimmage, and Al Michaels pointed out that he led the league in that category this season. The only time he looked comfortable was at the end of the first half when he made a couple nice throws to Avant before the Leonard Weaver fumble. So when you're debating McNabb's performance with your friends Monday morning, remember, it doesn't have to be McNabb OR everyone else, it can be McNabb AND everyone else.
Michael Vick - Flawless execution on the 76-yard touchdown pass to Jeremy Maclin. Great job selling the run and then delivering a perfect throw. Big fumble on the exchange to Weaver in the second. I'm still not sure how Vick didn't recover that ball.
Leonard Weaver - He was involved in two of the Eagles' four turnovers. The first one was probably on Vick, but the second one was big. As I mentioned, McNabb had made a couple nice throws on the drive. A TD there makes it 24-14 going into half with the Eagles getting the ball first in the third. Instead it was 27-7. Would the Eagles have come back without the fumble? All signs would point to no. But it still came at a bad spot. Overall, seven touches for 30 yards, including a nice 7-yard carry. Weaver was on the field for 21 snaps.
Brian Westbrook - He was on the field for only 16 snaps, the least among the three running backs, and did not have a single carry, which is remarkable when you think about it. The Eagles lined him up as a receiver. He drew a pass interference penalty in the second and looked good on a 27-yard screen in the third. Good blitz pick-up on the throw downfield to Celek that drew an unnecessary roughness penalty in the first.
LeSean McCoy - Played the most of any of the three running backs, with 32 snaps. But keep in mind 14 of those came on the final three possessions in garbage time. Five carries for 24 yards, including gains of 14, 9 and 6. McCoy also lined up as a receiver and took a screen 9 yards. Poor job as a blocker on third down during the first series, allowing a blitzing linebacker to get in McNabb's face on an incompletion.
Eldra Buckley - Good job by Al Michaels to know who he was. Buckley made the most of his one snap, delivering a great block on a third-down conversion to Alex Smith.
Winston Justice - Justice struggled quite a bit. In protection, he didn't block anyone on the sack/intentional grounding play. Tough to know whether that's his fault or just part of the overall confusion on the offensive line. He was beat by Anthony Spencer multiple times. Justice had a tough time as a run blocker too. Spencer was originally lined up against him before rushing inside on the Vick/Weaver fumble. He did a terrible job blocking Spencer on a McCoy run that got stuffed in the first. And Justice was beat by Marcus Spears on a third-quarter Weaver run.
Nick Cole - His is a tough one to write up. The concern the last two weeks was how Cole and the Eagles' interior linemen would match up with Jay Ratliff. He actually did a tremendous job in that respect. Ratliff was much more of a problem in the first meeting then he was in either of these two games. But in terms of leaading the offensive line, directing protection and minimizing confusion, Cole had a much more difficult time than he did a week ago. Spencer shot the gap between him and Max Jean-Gilles on the Vick/Weaver fumble. He also let a blitzer go untouched between him and Herremans in the fourth. Cole missed a block on Keith Brooking during a 6-yard McCoy run in the second. And he was beat badly in protection against Jason Hatcher on third down in the second. Cole also had the bad snap at the end of the first half, but McNabb recovered.
Max Jean-Gilles - He struggled also (noticing a theme?). Jean-Gilles didn't get a block on anyone on the Eagles' first third down of the game. DeMarcus Ware started outside and then rushed in between Cole and Jean-Gilles on the play, and it looked like MJG was supposed to pick him up. He was beat badly by Marcus Spears on the sack/intentional grounding play, although McNabb held on to the ball for too long there. Jean-Gilles was also beat by Spencer on a third-down throw in the second and a McCoy run in the third. He had a couple bright spots. A nice block on the 7-yard Weaver run in the second. And Jean-Gilles cut down Ware on the 76-yard touchdown pass to Maclin.
Todd Herremans - Probably was the Eagles' best offensive lineman Saturday. He was front and center with blocks on most of the Eagles' positive run plays. Herremans was decent in protection also, although he and Cole let a blitzer through on the fourth-down play in the third. Herremans was also called for a false start penalty.
Jason Peters - After handling Ware during the first two meetings, Peters was completely outplayed in this one. I counted four plays where Peters was beat badly in pass protection. One resulted in a sack; the other three incompletions. There was a moment that bothered me when Peters gave up the sack. Instead of helping McNabb up, Peters simply walked away. Doesn't that violate some kind of unwritten rule? It was also funny to see Peters point to the ground as if the runner was down on the Vick/Weaver fumble. He clearly did not see the play. Two false starts in this one, giving him four penalties over the last two weeks.
Brent Celek - Three catches for 59 yards. Celek was OK. No drops and I didn't see a missed blocking assignment. The Eagles tried to line him up all over the place, but didn't have much success.
Alex Smith - He played 13 snaps, briefly filling in for Celek when he left the game in the first half. Smith made a first-down catch on 3rd-and-1. Per Cris Collisnworth, it was the first completion for the Eagles on 3rd or 4th and one all season. Smith drew a tough blocking assignment against Spencer on a Weaver carry in the third and did not get the job done.
DeSean Jackson - As frustrated as we've seen him in his first two years. Jackson's first catch came with 11:03 left in the third quarter. Three grabs for 14 yards overall. Look for other teams to copy the Cowboys' strategy for bottling him up. Good hustle on the tackle/forced fumble after the McNabb interception. Jackson probably shouldn't have talked trash there, but he was clearly frustrated and looking to yell at someone. Better Mike Jenkins than McNabb, right? The struggles of the offensive line made it tough for McNabb to even look for him downfield.
Jeremy Maclin - One of the only bright spots. Can't say enough about the great job he did selling the run before going out into his route on the 76-yard touchdown. Overall, seven catches for 146 yards. He too was fired up late in the game, mixing it up with the Cowboys defensive backs.
Jason Avant - Quiet game and quiet end to the season for Avant. Five catches for 65 yards in the last three weeks.
Reggie Brown - Got the nod over Curtis once again. He was on the field for just four plays.