Man Up: Defense
Sheil Kapadia, Philly.com
Here's the player-by-player breakdown of the Eagles' defensive performance against the Cowboys, after having re-watched the game.
For those of you who didn't tune in, Dallas lost Tony Romo in the first quarter, but left the rest of their starters in for the entire game.
Jason Babin - No sacks for Babin. He's tied with DeMarcus Ware for second in the league with 18, behind Jared Allen, who has 18.5. Babin got pressure on Romo and Stephen McGee throughout the game though. He looped behind Mike Patterson and Casey Matthews (who was blitzing) to hit Romo and knock him out of the game in the first. Babin and Trent Cole pressured McGee, forcing him to flip it to Sammy Morris short of a first down on 3rd-and-25 in the second. His pressure off the edge helped lead to Derek Landri's sack in the fourth. And Babin pressured McGee on a third down in the fourth.
Sheil Kapadia, Philly.com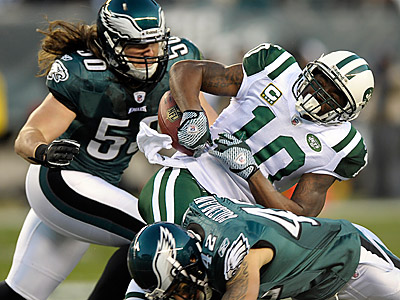 Here's the player-by-player look at the Eagles' defensive performance against the Jets on Sunday, after having re-watched the game:
Jason Babin - Three more sacks put him at 18 on the season; that's tops in the NFL. Babin went right around right tackle Wayne Hunter for his first sack. He lined up as a blitzing linebacker and looped between Mike Patterson (who was at right defensive end) and Kurt Coleman (who was blitzing) for his second sack. Babin looped behind Patterson on a stunt and chased Mark Sanchez out of the pocket in the red zone in the second. He pressured Sanchez again on third down in the third, helping to force an incompletion. Maybe more impressively, he let up on his hit and avoided drawing a penalty (OK, so he made up for it with a personal foul later, but still). It's amazing that in the third quarter, when Babin lined up again as a linebacker, starting in the middle and then rushing outside, the Jets let him go untouched for his third sack. It was a four-man rush. The Eagles had used that formation multiple times earlier in the game. Yet, it was as if the Jets' offensive line was caught completely off-guard.
Cullen Jenkins - Actually a pretty quiet game for Jenkins. Didn't notice him much, but the Jets averaged just 3.5 yards per carry, so it's safe to assume the defensive tackles were doing their jobs. Jenkins only played about 29 snaps.
Sheil Kapadia, Philly.com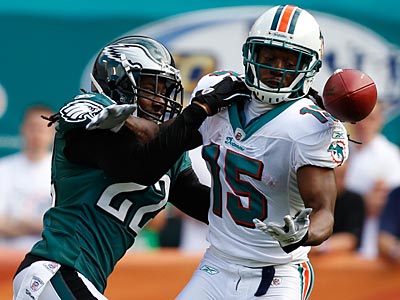 Here's the player-by-player breakdown of the Eagles' defensive performance in their 26-10 win over the Dolphins, after having re-watched the game.
Jason Babin - On Sunday morning, before the game, I wrote about how I thought Babin was being targeted for some unjust criticism. Against Miami, he had three sacks, bringing his season total to 15, which is tied for second in the NFL behind Jared Allen (17.5). Babin and Trent Cole got pressure on Matt Moore, forcing him to flee the pocket and throw the ball away on a third down in the first. On a couple occasions, Babin lined up inside, standing up, almost like a blitzing linebacker. His sack/forced fumble after the Curtis Marsh fumble in the second was big. Babin used a nice inside move to sack Moore in the second. And he got to J.P. Losman right before Cole for a sack on 4th-and-20 in the fourth.
Cullen Jenkins - Another good game from Jenkins. He stuffed a Daniel Thomas run for no gain in the first and again on 3rd-and-1 in the second. Great hustle to help Kurt Coleman finish off Reggie Bush short of the first down on 3rd-and-9 in the third. Good pressure in the fourth, forcing Losman to take off for a 1-yard gain. He lined up at right defensive end on the Dolphins' TD pass in the first and got decent pressure on Moore. On another play, he lined up at left defensive end and was the only player with his hand on the ground. Juan Castillo mixed up his looks up front, and Jenkins was used in a variety of ways.
Sheil Kapadia, Philly.com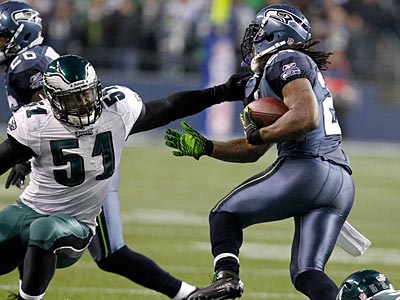 It's one thing to get picked apart by Tom Brady and the New England Patriots, as the Eagles did in Week 12.
But it's another thing to make Tarvaris Jackson (who was playing without wide receiver Sidney Rice) look like a Pro Bowler.
Jackson's final numbers: 13-for-16 for 190 yards and a touchdown. His 137.0 QB rating was the second-highest of his career; and Jackson's 11.88 YPA was a career-best. As I mentioned yesterday, Vince Young threw more interceptions (4) than Jackson threw incompletions (3).
Sheil Kapadia, Philly.com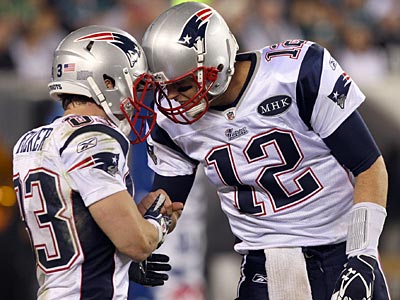 Before I get to the player-by-player breakdown, a few notes on the defensive performance overall.
The front four was OK. They got pressure early. But as the game went on, Tom Brady just consistently had answers. He scrambled for big chunks of yardage. He avoided pressure, got out of the pocket and found receivers downfield. And he got rid of the ball quickly.
The secondary was another story. There was confusion, miscommunication and blown assignments all game long. The injury factor is a bit overblown if you ask me. Nnamdi Asomugha was limited, but other than that, the Eagles were healthy back there. Dominique Rodgers-Cromartie didn't play, but just last week, everyone was of the opinion that Joselio Hanson was better than him anyway.
Sheil Kapadia, Philly.com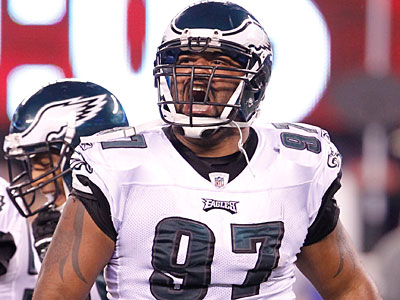 In many ways, this was the defense Juan Castillo had been telling us so much about.
The one that's showed up for a quarter, or two, or even three throughout the season. But also the one that's generally failed to show up for a full 60 minutes.
The charge was led by the front four. The Eagles had three sacks and 10 hits on Eli Manning, constantly creating disruption behind the line of scrimmage. They didn't blitz, sending extra pressure only once on 39 dropbacks.
Sheil Kapadia, Philly.com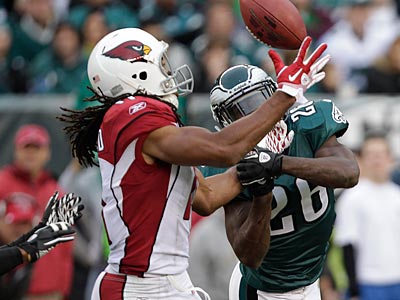 Through three quarters, the Eagles' defense had delivered a solid performance.
They had stopped the Cardinals' run game, and John Skelton was just 12-for-25 for 149 yards, a touchdown and an interception. That translates to a QB rating of 63.6. Larry Fitzgerald had been targeted five times and managed just two catches for 52 yards.
Yes, the Eagles benefited from two field goal misses by Jay Feely, but here's what the the Cardinals' first 11 possessions looked like: 6 punts, 2 missed FGs, 1 interception, 1 touchdown, 1 end of half.
Sheil Kapadia, Philly.com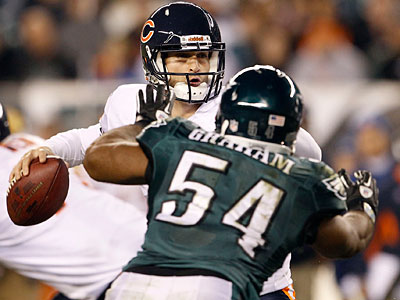 Entering Monday night's game, it looked like the Eagles would have a big advantage with their defensive line going up against the Bears' offensive line.
But, as the saying goes, that's why they play the game.
Jay Cutler was not sacked for just the second time in 41 games with the Bears.
Sheil Kapadia, Philly.com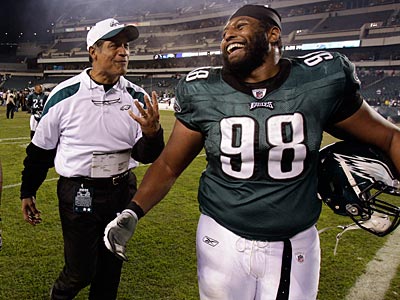 Before I get to the player-by-player breakdown, it's only fair to give some credit to Juan Castillo.
He's taken a lot of heat this season - some of it warranted, some of it not - for the defense's poor performance.
But Castillo's group appears to be coming together, having allowed just 20 points in the past two weeks. What caught my attention Sunday night was that Castillo tried some new things we hadn't seen all season: having the defensive ends and defensive tackles switch places on a couple plays; going with five defensive linemen and having Babin roam behind the line of scrimmage pre-snap; bringing the blitz in the red zone.
Sheil Kapadia, Philly.com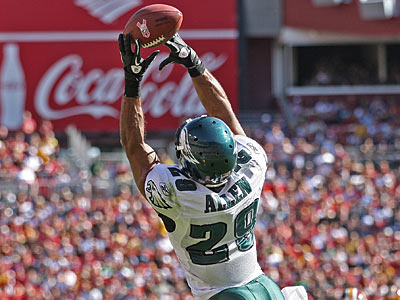 Here's a look at what we've seen from each Eagles defensive player in the first six games and what to expect in the final 10.
Click here if you missed the offensive breakdown.
Jason Babin - No Eagles defensive lineman has played more snaps than Babin through the first six games. When the Birds brought him back in the offseason, they wanted a defensive end to rush the passer opposite Trent Cole, and that's exactly what they got. Babin leads the team in sacks (7), QB hits (14) and hurries (24). Only three players in the NFL have more sacks. Even with Trent Cole sidelined, Babin piled up nine hurries against the Redskins, the most of any Eagles defensive lineman in a single game this season. Babin's had ups and downs against the run, but the same can probably be said for every defensive player on this roster. He's also been called for a team-high six penalties. In Week 1, Babin played less than 50 percent of the defensive snaps. But he's been on the field much more since then, given the team's injuries. The Eagles appear to be getting healthy along the defensive line, so don't be surprised if Babin gets more breathers in the coming weeks.