Archive: August, 2010
Sheil Kapadia, Philly.com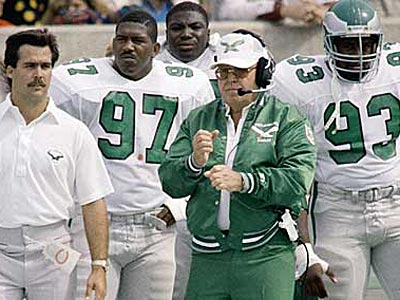 Sports Illustrated's Tim Layden is out with a new book: Blood, Sweat and Chalk; The Ultimate Football Playbook; How the Great Coaches Built Today's Game.
One of the coaches Layden catches up with is Buddy Ryan.
SI.com has posted an excerpt about Ryan and the 46 defense on its Web site.
Sheil Kapadia, Philly.com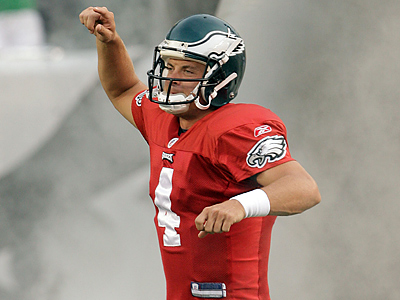 At 7:24 p.m., Kevin Kolb was introduced as the starting quarterback of the Philadelphia Eagles at Lincoln Financial Field for the first time.
It was Flight Night, not a regular-season game. And Kolb came out of the tunnel with a red jersey on, delivering three swirling fist pumps as he ran to join the rest of his teammates.
During practice, Kolb and the offense did not look sharp. In fact, it was probably as out of sync as they've looked in the last couple of weeks.
Sheil Kapadia, Philly.com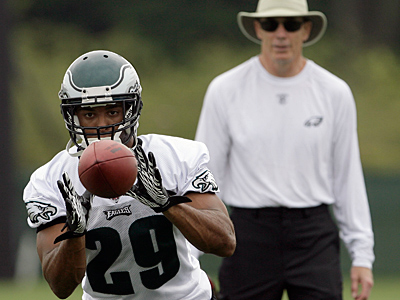 I've received quite a few Eagles questions via e-mail and Twitter over the last week or so. I haven't been able to respond to all of them so wanted to round them up here.
@deanlist: Haven't heard much about Trevard Lindley through camp. A product of not getting beat often, or not getting significant reps?
A: Lindley has been getting plenty of reps (with the second and third teams), and by all accounts, is putting in the work to get better. I've seen him more than once spending time with defensive backs coach Dick Jauron after practice. At this point, it doesn't look like he's going to be an immediate contributor once the season starts. I think the coaches like what they see. I just don't think he'll be ready. Injuries, of course, could force him into a more prominent role immediately.
Sheil Kapadia, Philly.com
Brandon Graham knows he'll have to take the defensive linemen out to dinner.
Other than that, he hasn't seen much hazing as a rookie with the Eagles.
But if his teammates asked Graham to carry their shoulder pads, he would - unlike Dez Bryant.
Sheil Kapadia, Philly.com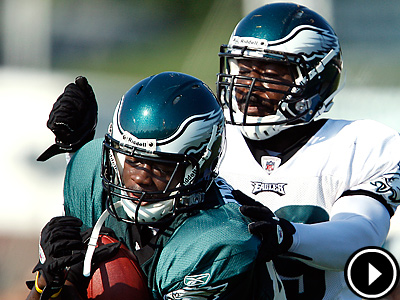 The battle for the backup tight end position is beginning to heat up between Cornelius Ingram and Clay Harbor. Philly.com's Sheil Kapadia reports from Eagles training camp in his daily video.
Sheil Kapadia, Philly.com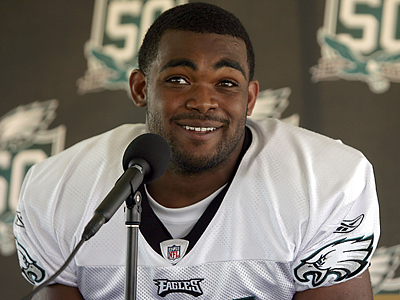 Another day, another morning practice at Lehigh.
Here are the observataions:
* I apologize for writing about some of the same guys every day, but I just try to write what I see. One of those guys is first-round pick Brandon Graham. I wouldn't say Graham stood out in this morning's session, but what's significant is that he got some extended time at left defensive end with the first team in the base defense. We've seen Graham work with the first team in nickel situations quite a bit, but I don't remember seeing him out there in place of Juqua Parker much in the base defense prior to today. All along, I've thought that Parker would start Week 1 against the Packers. I'm going to reserve the right to change my mind though for a couple weeks here.
Sheil Kapadia, Philly.com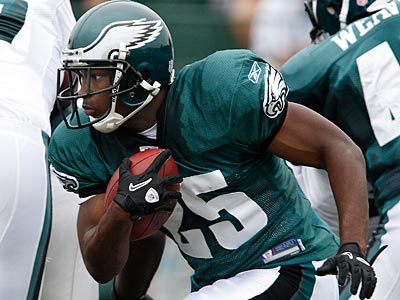 We continue with our questions for Bill Barnwell of Football Outsiders today.
Q: What did you find about the Eagles' running game? Are there any conclusions we can draw about the kind of back LeSean McCoy will be, based on his rookie season?
Barnwell: One interesting stat we found about the running game in 2009 is that it was much better without a fullback; the Eagles averaged 5.2 yards per carry with a single back, but only 3.1 yards per carry in two-back sets. That's a much larger difference than league average. Like with Kolb, I don't think you can say a lot about LeSean McCoy based on his rookie season. Think about Ray Rice, for example. Rice was the 55th pick in the 2008 draft, and McCoy was the 53rd pick in the 2009 draft. Rice had 107 carries as a rookie, but he only gained an unimpressive 454 yards on those carries, and he was mostly a safety valve in the passing game. As a sophomore, of course, he broke out and was one of the league's most valuable backs. McCoy had 155 carries to Rice's 107, but he played at a roughly similar level. That's not to say that McCoy is going to have a season like Rice's, but Rice was similarly unimpressive as a rookie.
Sheil Kapadia, Philly.com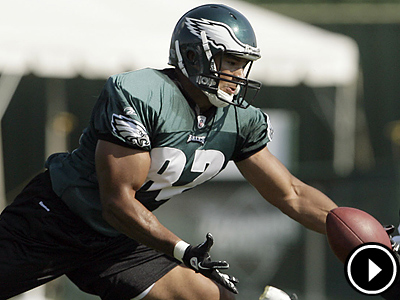 Eagles fourth-round draft pick, tight end Clay Harbor, has been getting more reps with the first- and second-units the last couple of days. I caught up with him today to get his thoughts on training camp so far and how he sees himself fitting in.
Note: This video will come down in 24 hours, per league regulations.