Archive: November, 2010
Sheil Kapadia, Philly.com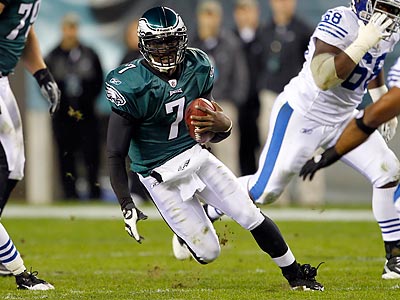 Join philly.com's Sheil Kapadia as he provides live updates and commentary as the action unfolds.
On a mobile phone? Click HERE to join the chat!
---
You can follow Moving the Chains on Twitter or become a fan on Facebook.
---
Sheil Kapadia, Philly.com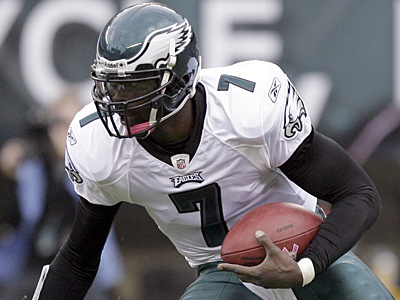 Here's a roundup of what the national media are saying as the Eagles prepare to host the Colts on Sunday:
SI.com's Peter King likes the Colts to pull out a 27-23 victory:
Very interesting game. Eagles are 11-0 under Andy Reid coming off the bye, which might be coincidental (maybe it was Donovan McNabb improving his cardiovascular endurance in all those off-weeks) and maybe not. Peyton Manning's first trip ever to the Linc -- he hasn't played in Philly since 2002, and may not play there again 'til he's 42, if he's still playing. This one will be a cool Manning-Mike Vick matchup. Look for a lot of Manning-to-Jacob Tamme.
Sheil Kapadia, Philly.com
If the Eagles' defense is going to have any success containing Peyton Manning and the Colts, it will have to create pressure from its front four.

And when the Eagles do blitz, they need to have a high success rate.

A couple weeks ago, when the Titans torched the Eagles' secondary, a lot of the damage was done when the Birds only rushed four. By my count, the following Titans plays were against a four-man rush: the 80-yard touchdown, the 16-yard touchdown, a 42-yard completion, a 21-yard completion and another 16-yard completion.

It wasn't all bad though. Both of the Eagles' interceptions came on plays where they didn't blitz.

When the Eagles did blitz, they still gave up a couple big plays: a 34-yard completion and a 26-yard completion. But they also came up with a couple big plays - two of the three sacks came on blitzes.

Which brings us to this week. Dimitri Patterson will make his first career start at cornerback. And Nate Allen struggled big-time in coverage a couple weeks ago. Keeping those two things in mind, and also understanding that confusing Manning for a full game is nearly impossible, blitzing is not the answer.

The pressure will have to come from the front four. Here's an updated look at playing time for the defensive linemen:
| | |
| --- | --- |
| Player | Pct. of snaps |
| Trent Cole | 89.4% |
| Mike Patterson | 54.7% |
| Brandon Graham | 54.1% |
| Juqua Parker | 50.5% |
| Trevor Laws | 48.2% |
| Antonio Dixon | 36.3% |
| Darryl Tapp | 30.9% |
| Brodrick Bunkley | 26.6% |
| Antwan Barnes | 11.7% |
| Daniel Te'o-Nesheim | 1.6% |

Parker and Dixon have seen the biggest jumps in playing time from the start of the season. If Graham is healthy, it will be interesting to see if he can steal that starting job back from Parker. And according to the beat guys, Andy Reid just said Bunkley is ready to go.

As I've detailed several times, Dixon has been great, specifically against the run. In terms of getting a push up the middle on pass plays, he had a sack and batted a pass down against the Titans. He also had a sack against the 49ers in Week 5.

As for the blitz, here's an updated look at who's blitzed, and how often:
Sheil Kapadia, Philly.com
If you've been paying any attention at all to this week's matchup with the Colts, you've heard this stat: Andy Reid is 11-0 after the bye in the regular season since becoming the Eagles' head coach.

Which got me wondering what kind of teams the Birds have beaten in those games. It's an impressive stat, regardless. And 11 games seems like enough data to label it as more than a coincidence.

But here's the list of teams the Eagles have beaten after the bye, along with the opponent's record at the time:
| | | |
| --- | --- | --- |
| Year | Team | Record |
| 1999 | Rams | 13-2 |
| 2000 | Bengals | 4-11 |
| 2001 | Giants | 3-2 |
| 2002 | Bucs | 5-1 |
| 2003 | Bills | 2-1 |
| 2004 | Panthers | 1-3 |
| 2005 | Chargers | 3-3 |
| 2006 | Redskins | 3-5 |
| 2007 | Jets | 1-4 |
| 2008 | Falcons | 4-2 |
| 2009 | Bucs | 0-4 |
| TOTAL | | 39-38 |

As you can see, the combined record of the Eagles' opponents when they face the Birds is 39-38 (.506). Of the 11 teams they've faced, five were above .500 at the time. The Bucs are the only team the Eagles have faced more than once.

The numbers are slightly deceiving, though. The first win came against a 13-2 Rams team that had already locked up the top seed in the NFC. Kurt Warner and Marshall Faulk did not play the whole game. If you take away 1999, the total record of Eagles opponents in the past 10 years is 26-36 (.419). Not great, but again, still impressive that Reid's teams have won every year after the week off.
Sheil Kapadia, Philly.com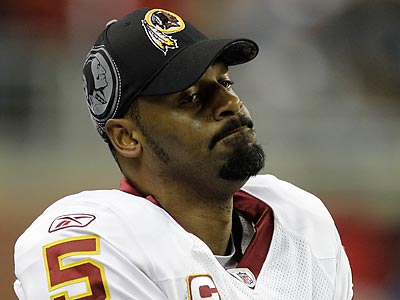 I hate starting posts with disclaimers, but it's probably necessary here.
If you don't care about what's going on with Donovan McNabb, Mike Shanahan and the Redskins, click away. I'll have a more Eagles-focused post later.
But if you have any interest in what's been the most talked about story in the league this week, here's a roundup of what people are saying around the country:
Sheil Kapadia, Philly.com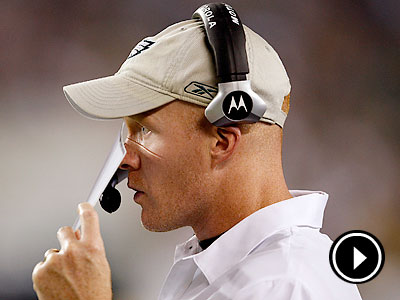 Video: Dimitri Patterson will make his first career start at cornerback Sunday against the Colts. Does the Eagles' secondary have any chance to contain Peyton Manning and the Indy offense? Philly.com's Sheil Kapadia discusses with Cinesport's Noah Coslov.
---
You can follow Moving the Chains on Twitter or become a fan on Facebook.
---
And download the 2010 MTC app from the ITunes store.
Sheil Kapadia, Philly.com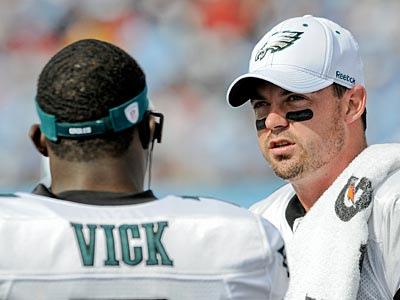 Yesterday, I looked at how Kevin Kolb and Michael Vick compared in a number of different categories - pass distribution, third down, red zone, etc.

In part two, the focus is on how successful each quarterback has been by distance and against the blitz, plus some intangibles.

Let's start with throws by distance for Vick. As always, I used the same ranges that Football Outsiders uses so we'd have a point of reference. Short is 5 yards or less. Mid is 6 to 15 yards. Deep is 16 to 25 yards. And Bomb is more than 25 yards. These are measured from the line of scrimmage to the point where the ball is touched, hits the ground or goes out of bounds.
| | | | |
| --- | --- | --- | --- |
| | Completions | Attempts | Yards |
| Short | 32 | 47 | 247 |
| Mid | 18 | 26 | 241 |
| Deep | 3 | 10 | 54 |
| Bomb | 6 | 10 | 257 |
And now Kolb:
Sheil Kapadia, Philly.com
As reported by the beat guys on Birds' Eye View and Eagletarian, Dimitri Patterson is expected to get the start at right cornerback Sunday in place of Ellis Hobbs.
The 27 year old joined the Eagles in 2009 after stints with the Redskins, Vikings and Chiefs.
Patterson played in 11 games last season and has never started a game at cornerback in the NFL.