Archive: August, 2009
Sheil Kapadia, Philly.com
I talked to Winston Justice for about three minutes after this morning's practice, and I think he set a new record for most times saying "sense of urgency" during that short of an interview.
With the banged-up offensive line, Justice has been getting plenty of reps with the first team at right tackle.
Since no one seems to know when Shawn Andrews is going to return, and three of the other four projected starters have missed at least some time during the past two weeks, Justice's role with the 2009 Birds is uncertain.
Sheil Kapadia, Philly.com
Update: Les Bowen of the Daily News and Bob Brookover of the Inquirer have more details on the injuries. Bowen reports it's a sprained left shoulder for Trent Cole and a sprained left knee for Kevin Kolb.
Brookover just came over to report that Kolb's injury is the more serious of the two, and he will have an MRI later today.
Cole came out of the locker room in a t-shirt and shorts after practice. He talked briefly to athletic trainer Rick Burkholder, pointing to his shoulder, but did not seem to be too concerned.
Sheil Kapadia, Philly.com
Mike Potter reporting from Lehigh:
Special teams was a significant storyline during Eagles training camp last year, with DeSean Jackson and Quentin Demps being counted on to upgrade a return game that was dreadful in 2007.

But there hasn't been nearly as much talk about special teams at Lehigh this year, partly because of the holdouts, injuries and drug busts that have turned training camp into a soap opera, and partly because the kick and return teams don't inspire the same groans of dread that they briefly did.

There seems to be little doubt that those units will be, at worst, steady and reliable, with a reasonable expectation that they'll end up being, well … special.

There certainly were a lot of positive signs this weekend.

David Akers put on a show yesterday, ending what amounted to a field-goal-kicking clinic with a 60-yarder from the left hash that split the uprights with plenty of room to spare.

Akers said afterward that he expects big things under new coordinator Ted Daisher.

"I think we're gonna have very good special teams units this year," Akers said. "Ted, one thing he says is that being average is unacceptable."

It seems Daisher, who came to the Eagles after two season running special teams for the Cleveland Browns, has quickly earned the respect of the players. He's been universally praised by players I've spoken to.

"We love Ted," Demps said after practice today. "He's an extremely passionate guy about special teams. We love him."

Demps, who averaged 25.3 yards on kickoff returns last season, is in the mix with corner Ellis Hobbs and rookie wideout Jeremy Maclin for the job this year. All three have the ability to break long returns routinely. Hobbs excelled at the job during his time in New England, and Maclin was one of the top return men in the nation during his college career.

Demps, Hobbs and Maclin split reps during Saturday's special teams session. All three looked mighty explosive in their returns. If the blocking comes together, the Eagles will be starting with good field position often after kickoffs.

It seems like only yesterday that Greg Lewis and J.R. Reed were fumbling away that 2007 game against Green Bay, doesn't it? The Birds have gone from dragging Reno Mahe out of retirement in desperation to having a trio of home-run hitters.

Demps seems unlikely to be the primary returner now that he's expected to start defensively.

"In my heart I want to return for Ted Daisher," Demps said. "I really do, because I believe I could be really good for him. At the same time, I've got to face reality knowing that it's hard to be a defensive starter, especially a safety, and return kicks."

Hobbs may end up being the guy, having averaged 27.7 yards per kickoff return with three TDs during his four seasons with the Patriots.

So, who do you want to see win the job? Or would you be comfortable with any of the three?
Sheil Kapadia, Philly.com
With the loss of middle linebacker Stuart Bradley for the season with a torn ACL, and yesterday's announcement that rookie tight end Cornelius Ingram will sit out the year after suffering the same injury, the training camp storyline seems to be stuck on the injury bug that just won't stop biting the Birds.

Mix in the continued absence of Shawn Andrews, nursing the back injury that never dies, and the fact that fellow offensive linemen Stacy Andrews and Jason Peters are still not going full speed with just four days left before the preseason opener, and Andy Reid found himself entrenched in injury updates following today's soggy morning practice at Lehigh.

The coach (as always) began with what seems to be an ever-expanding roll call of the wounded, providing updates on Bradley (knee surgery set for Tuesday), Ingram (no surgery date yet) and wide receiver DeSean Jackson (held out of this morning's practice after hyperextending his knee yesterday).

New to the list was guard Todd Herremans, who missed the morning session with a swollen knee. Max Jean-Gilles ran with the first-team offense in his place.

Eagles fans tend to do their best Chicken Little impersonation at times like these, but the sky isn't necessarily falling in this case. Let's keep in mind that the Eagles season opener against Carolina is still more than a month away. There's plenty of time for the o-line to get healthy, and plenty of opportunity for young players to step up and fill the void left by the losses of Bradley and Ingram – and for the Birds to go out and bring in outside help (especially at the tight end position).

There was doomsday talk today about fullback Leonard Weaver sliding over to play some tight end in an emergency situation, but unless the Birds find themselves on the receiving end of the punishment in a replay of "The Body Bag Game," I seriously doubt that little scenario ever comes into play.

Rookie free agent Rob Myers – signed after Ingram's injury was announced late yesterday – took the field for the first time today and showed that he can catch the ball. Not much else you can take from one practice though, and there's a high probability that he won't be much more than a camp body when all is said and done.

"We've got to keep our eyes open I think – which we've been doing," Reid said of possibly bringing in another tight end. "We'll see how it works out."

As far as the offensive line goes, things are improving (although the continued absence of Shawn Andrews grows more ominous by the day). Peters participated in live action today, and looks like he could play Thursday night against the Patriots. Stacy Andrews was held out of full contact again but took part in some "thud" drills.

Reid admitted he's kept track of Jon Runyan's rehab from knee surgery, but didn't go much beyond that. Big Jon likely remains an option for the Eagles if Shawn Andrews doesn't progress as they hope. And let's not forget that this group of Eagles o-linemen is probably the deepest they've had under Andy Reid. Jean-Gilles and Nick Cole both played well as injury replacements last season, and either can slide in at guard without too big of a drop-off.

True, their top reserve at tackle is still Winston Justice. If I had something to make you feel better about that, I would throw it out there. Coming up empty at the moment though.

--- Mike Potter
Sheil Kapadia, Philly.com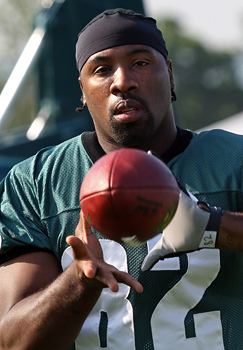 Eugene Bright was a busy man today.


The Eagles' undrafted rookie tight end didn't get much in the way of breaks during practice today as one of only two healthy tight ends on the field (along with starter Brent Celek). With veteran Matt Schobel and fellow rookie Cornelius Ingram sidelined with injuries, Bright was forced to work overtime during the more than two-hour session.


Bright should be used to the extra workload by now. He's been called upon to fill in the gaps in an injury-shortened tight end rotation ever since rookie camp back in May. With Ingram still recovering from a knee injury that claimed his entire senior season at Florida, Bright was given more than his share of the reps.


Now it looks like that trend will continue on a permanent basis. With today's news that Ingram will miss the season after tearing the ACL in his right knee for the second time in as many years, Bright suddenly finds himself in a position not only to earn a roster spot, but to contribute as a first-year player.

Bright certainly doesn't have Ingram' pedigree, but he showed good hands today and a strong work ethic in camp. If he was tired at all from all the extra reps this morning, it certainly didn't show in his play – he caught seemingly every ball thrown his way.


"I'm just trying to get better every play out there," Bright said as he came off the field. "I'm just trying to get my timing down. I didn't get to go to Arizona with these guys

(for Donovan McNabb's annual passing camp)

."


Bright doesn't have Ingram's speed or game-breaking potential, but he has the kind of frame (the Eagles list him at 6-4 and 268 pounds) that should allow him to be an effective blocker for a team that saw its tight ends struggle mightily in the run game last season.


Many fans wanted the Eagles to draft a strong, wide-bodied tight end like Oklahoma State's Brandon Pettigrew to shore up the edge blocking. Well, they didn't draft Pettigrew, and Ingram's biggest question mark has always been his ability to block after coming out of a spread offense in college. But the Birds just might have acquired a blocking tight end in April after all.


Bright, a local guy from Bryn Mawr, played high school ball with Andy Reid's sons Garrett and Britt at Harriton. He played multiple positions, including tight end, at Harriton, but played exclusively at defensive end during his college career at Purdue.


He is also a former high school basketball player – a background that has been championed as an asset for NFL tight ends ever since former hoops players like the Chargers' Antonio Gates began having success. (In fact, one of the arguments for Ingram's star potential was that he played basketball at Florida.)


The extra time Bright's gotten on the field because of Ingram's injuries have no doubt been a boon to his transition back to offense, and it seems that he's come a long way since the Eagles signed him as a free agent in the days leading up to the draft. He looks fluid and comfortable running routes, and shows an ability to use his body to get position on defenders.


Maybe the Birds still have a promising rookie tight end that will make an impact this season – it just isn't the one they thought it would be.


** I've imbedded a YouTube highlight reel below of Bright's greatest hits at Purdue. It might not speak much for his pass-catching ability, but you can see the kid's a football player.


-- Mike Potter
Sheil Kapadia, Philly.com
Sheil Kapadia, Philly.com
Despite the dark clouds that seem to have formed over the Eagledom after DeSean Jackson' knee injury, this morning's practice actually wasn't all bad. In fact, It was pretty good. (For what it's worth, the Jackson injury didn't look too serious from what I saw on the field. Then again, I'm still about 8 years of schooling and a Mercedes away from being an M.D.)
The players looked crisp during the morning workouts, and there was some positive injury news with the return of marquee offseason acquisition Jason Peters at left tackle and the reappearance of right guard Stacy Andrews following a day off. Neither took part in live hitting, but Peters said after practice that he was about 98 percent recovered from the quadriceps injury that has sidelined him since his first day at Lehigh.
Sheil Kapadia, Philly.com
We're getting to that point in training camp when the heat and hitting start to really take a toll, when injuries start to pile up and every player seems to have a nick or a strain. So, here's the big injury news off the day.
Eagles wide receiver DeSean Jackson, in the midst of what everyone from the media to the groundskeepers at Lehigh agree is a stellar training camp, left practice today with what we're told is a hyperextended knee suffered while going against cornerback Asante Samuel in 7-on-7 drills. Jackson limped off to the side after the play and was attended to by a trainer before walking gingerly off the field. He did not return.
Samuel, who has had a friendly head-to-head rivalry with Jackson during camp, could be heard calling after Jackson after the play in an attempt to make sure he was OK.