Archive: December, 2010
Sheil Kapadia, Philly.com
With 50 seconds left in the third quarter and the Eagles down by 4, it looked like the offense would have to carry the Birds if they wanted to avoid a second straight loss.
And that's exactly what happened as they escaped with a 34-24 victory to improve to 8-4 on the season.
Michael Vick led the Eagles on a six-play, 61-yard drive that resulted in a fourth-quarter touchdown, putting the Birds back up, 27-24.
Sheil Kapadia, Philly.com
The Eagles' defense will be without Asante Samuel for the second week in a row.
That means Dimitri Patterson and Joselio Hanson will start once again, and rookie Trevard Lindley will enter the game in nickel situations.
Those three are joined by Jorrick Calvin as the four active cornerbacks. Lindley was on the field for over half the snaps last week and struggled. Jay Cutler targeted him often in the second half of the Eagles' loss.
Sheil Kapadia, Philly.com
Video: What kind of loyalty will Michael Vick show to the Eagles when his contract's up?
Andrew Brandt of the National Football Post joins me to answer that question.
And if you missed the first part of our discussion about Vick's contract situation, click here.
---
Sheil Kapadia, Philly.com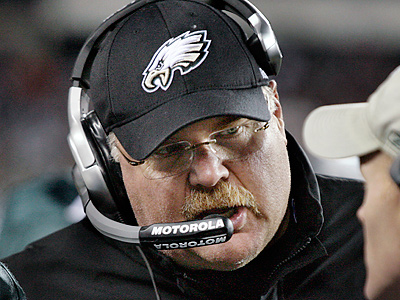 Here's the weekly roundup of who people are picking in Thursday night's Eagles-Texans matchup, along with some other links sprinkled in.
And if you missed it earlier, I posted Mike Check.
I'll be chatting live from the Linc tonight during the action so join me around 8:20.
Sheil Kapadia, Philly.com
Michael Vick threw his first interception of the season last Sunday, and the Eagles went 1-for-5 in the red zone in their 31-26 loss to the Bears.

Here's the breakdown of how he performed, with a look ahead to tonight's game against the Texans.

As always, let's start with pass distribution.
| | | | | | |
| --- | --- | --- | --- | --- | --- |
| | Targets | Catches | Yards | YAC | Drops |
| Jason Avant | 9 | 8 | 83 | 33 | 0 |
| LeSean McCoy | 9 | 8 | 67 | 59 | 0 |
| Brent Celek | 7 | 3 | 50 | 5 | 0 |
| Jeremy Maclin | 6 | 4 | 47 | 17 | 0 |
| DeSean Jackson | 4 | 2 | 26 | 5 | 2 |
| Riley Cooper | 2 | 1 | 29 | 5 | 0 |
| Clay Harbor | 2 | 2 | 27 | 7 | 0 |
| Jerome Harrison | 1 | 1 | 4 | 4 | 0 |
| TOTALS | 40 | 29 | 333 | 135 | 2 |
Let's start with the guy everyone is talking about today: DeSean Jackson. And a quick look at his numbers, on a per/game basis, compared to last season. I took out the Falcons game (since he played only one quarter) and the Titans game (where he was inactive). Jackson missed a game last season also.
Sheil Kapadia, Philly.com
Join philly.com's Sheil Kapadia as he provides updates and commentary on Eagles-Texans game.
On a mobile phone? Click HERE.
---
You can follow Moving the Chains on Twitter or become a fan on Facebook.
---
Sheil Kapadia, Philly.com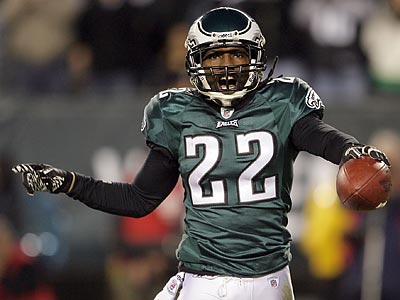 The Deion Sanders-Asante Samuel back and forth continued Tuesday night on (of all places) the T. Ocho Show.
Last week, Sanders called Samuel the best "off corner" in the game. Samuel responded to reporters, saying, "I would take that as an insult. I would rather you tell me I'm not the best, or I'm the best. Anybody else pick a ball off or do some good things, he'd got something good to say."
Samuel also Tweeted:
Sheil Kapadia, Philly.com
Video: When is the right time for the Eagles to sign Michael Vick? Andrew Brandt, president of the National Football Post, joined me to talk about the quarterback's contract situation in a three-part series.
In the first part, we discuss the different factors that go into signing Vick - both from his perspective and the Eagles' perspective.
---
You can follow Moving the Chains and Andrew Brandt on Twitter.
---
Sheil Kapadia, Philly.com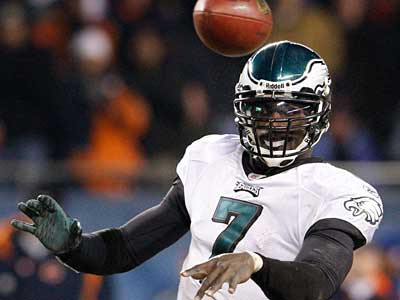 I did part one on Tuesday night in case you missed it.
And now, more of what the national media are saying about the Eagles as they prepare to take on the Texans.
ESPN.com's Chad Millman writes that the Eagles being favored by 3 last week was a classic public perception line. Here's what he meant: