Archive: November, 2010
Sheil Kapadia, Philly.com
Think the Eagles were excited after Sunday's win against the Colts?
Here's a must-see video posted from the team's Web site.
---
You can follow Moving the Chains on Twitter or become a fan on Facebook.
---
Sheil Kapadia, Philly.com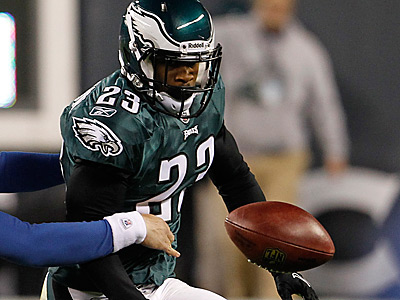 Dimitri Patterson had a group of reporters around him in one corner of the Eagles' locker room.
At 27 years old, the veteran cornerback had just made his first career start. As he was in the middle of explaining how he had competed against Peyton Manning, Reggie Wayne and company, a couple noisy friends appeared from behind the reporters.
Asante Samuel and Quintin Mikell.
Sheil Kapadia, Philly.com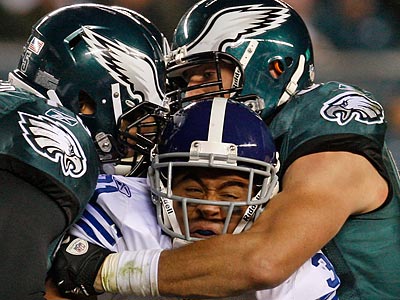 Going into halftime, it seemed like Peyton Manning had figured out the Eagles' defense.
The Colts scored on their final three offensive possessions of the first half to take a 17-16 lead. The Eagles started the game hot, but seemingly lost all momentum.
However, a defense that has stumbled in the second half all season came out and contained Manning and the Colts, as the Birds came away with a 26-24 victory to improve to 5-3 on the season.
Sheil Kapadia, Philly.com
Here's a YouTube video of the Eagles' hit on Colts wide receiver Austin Collie in the second quarter of Sunday's game.
As of this writing, the Colts had announced that Collie was sitting up in the locker room and had movement after sustaining a concussion.
The Eagles were whistled for a 15-yard unnecessary roughness penalty on the play, although it's not entirely clear at this time whether the flag was on Kurt Coleman or Quintin Mikell.
---
Sheil Kapadia, Philly.com
Running back Jerome Harrison is active for the first time as a member of the Eagles.
The Birds acquired Harrison from the Browns for Mike Bell on Oct. 13, but he was inactive in the two games leading up to the bye against the Falcons and Titans.
Here are the Eagles' other inactives: Mike Kafka (third QB), Chad Hall, Joique Bell, Ellis Hobbs, Daniel Te'o-Nesheim, King Dunlap, Reggie Wells and Clay Harbor.
Sheil Kapadia, Philly.com
Eagles quarterback Michael Vick sat down with James Brown of CBS for an interview that aired during today's pre-game show.
Here's a recap of what he said.
Q: Has this year been a roller coaster for him?
Sheil Kapadia, Philly.com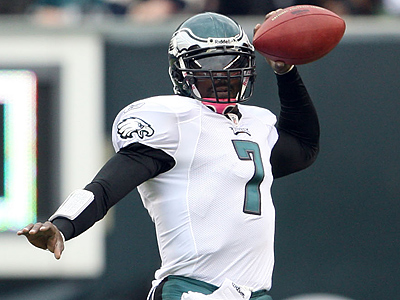 I took another look at the Colts' win against the Texans Monday night. Here are my observations on what you can expect today:
When the Colts have the ball...
* Only Vince Young has a higher QB rating than Peyton Manning. Man, I never thought I'd type that sentence. Manning is completing 65.9 percent of his attempts, and his 16 touchdown passes are second to only Drew Brees.
Sheil Kapadia, Philly.com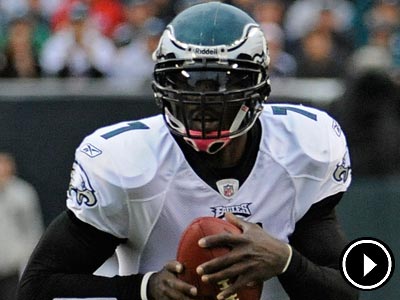 Philly.com's Sheil Kapadia explains why Michael Vick is Andy Reid's favorite quarterback this week, and moving forward, and explains why this week's offense may look different - but it has nothing to do with who's under center.
---
You can follow Moving the Chains on Twitter or become a fan on Facebook.
---
And download the 2010 MTC app from the ITunes store.