Archive: October, 2010
Sheil Kapadia, Philly.com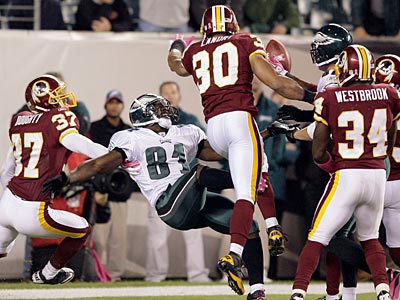 The Eagles delivered a sloppy performance in Donovan McNabb's return to Philadelphia, falling to the Redskins, 17-12.
Here are some observations:
* The Eagles could not get anything going down the field. DeSean Jackson and Jeremy Maclin combined for two catches for 21 yards. Jackson's longest reception was just 9 yards. Maclin was tarageted just two times all game.
Sheil Kapadia, Philly.com
Linebacker Omar Gaither is active today after not dressing for last week's game against the Jaguars.
Here's the list of Eagles inactives: Joique Bell, Trevard Lindley, Antwan Barnes, Daniel Te'o-Nesheim, Keenan Clayton, Austin Howard, Clay Harbor and Mike Kafka.
The only difference from last week is that Gaither is dressing over Bell. Against Jacksonville, the Eagles decided to go with four running backs and a fullback for some reason, even though J. Bell never got on the field.
Sheil Kapadia, Philly.com
Here's the weekly roundup on who people are picking in today's Eagles-Redskins matchup.
SI.com's Peter King likes the Eagles, 33-20:
Nice day for Donovan McNabb; I feel a loud cheer coming when he makes his way onto the Linc field Sunday. Better day for Michael Vick, who will whisper in McNabb's ear after the game: "I owe you so much for helping me get here.''
Sheil Kapadia, Philly.com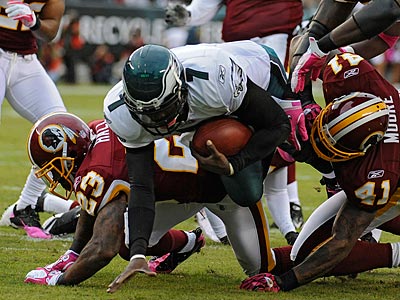 Join philly.com's Sheil Kapadia for live updates and commentary from the Eagles-Redskins game this Sunday.
On a mobile phone? Click here.
---
You can follow Moving the Chains on Twitter or become a fan on Facebook.
---
Sheil Kapadia, Philly.com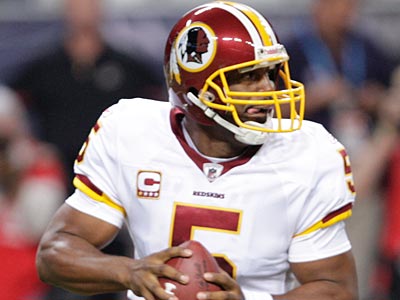 Opinions continue to trickle in from different sources about Donovan McNabb and his return to Philadelphia.
Charles Barkley, a long-time McNabb supporter, thanks owner Daniel Snyder for sending him a Redskins No. 5 jersey, which he plans on wearing to Sunday's game.
"I've always said that Donovan's never gotten the respect he deserves in Philadelphia, and before Michael Vick got in the game, I didn't know that," Barkley said during an interview with Howard Eskin and Ike Reese on 610 WIP. "But I'm wearing my Donovan McNabb Jersey and I can't wait until Sunday at 4:15 Eastern."
Sheil Kapadia, Philly.com
Another Friday, another attempt to gauge the state of the Eagles.

This week, I wanted to take a look at the numbers through three games. How is the defensive line rotation shaping up? Who is Michael Vick targeting the most on third down? And others.

Let's start with the defense. Here's a chart that counts the percentage of plays for each defensive lineman through three games:
| | |
| --- | --- |
| Player | Percentage of snaps |
| Trent Cole | 88.2% |
| Brandon Graham | 68.0% |
| Trevor Laws | 48.8% |
| Mike Patterson | 47.8% |
| Brodrick Bunkley | 39.9% |
| Juqua Parker | 38.9% |
| Antwan Barnes | 25.6% |
| Antonio Dixon | 24.6% |
| Darryl Tapp | 19.2% |

What stands out here? Cole and Graham are the only two linemen to play at least 50 percent of the snaps. In other words, Sean McDermott's defensive line rotation is as alive as ever, with guys shuffling in and out quite a bit. This was even more the case against the Jaguars, presumably because of the high temperatures.

Graham played both inside and outside the first two games of the season, but I caught up with him this week, and he confirmed that last week, he was used exclusively at defensive end.

Juqua Parker has been extremely productive while playing less than 40 percent of the snaps. As I've mentioned before, he not only has four sacks of his own, but Parker's pressure has led to sacks by his teammates.

I'd be stunned if Barnes dressed on Sunday. Tapp played too well in his first action last week. Keep in mind that the two don't play the same role. If Barnes is on the field, it likely means Graham moves inside. If Tapp is on the field, he usually plays inside, and Graham or Parker line up at DE.

THE BLITZ

Here's a chart of how many times each Eagles defender has blitzed through three games:
| | |
| --- | --- |
| Player | Number of blitzes |
| Ernie Sims | 30 |
| Stewart Bradley | 8 |
| Nate Allen | 8 |
| Joselio Hanson | 7 |
| Quintin Mikell | 7 |
| Omar Gaither | 5 |
| Akeem Jordan | 4 |
| Asante Samuel | 3 |
| Moise Fokou | 1 |
| Dimitri Patterson | 1 |
| Ellis Hobbs | 1 |

How about those numbers? Sims has blitzed 30 times, while no other player has blitzed more than eight. Hanson blitzes a couple times from the slot every game, and good things seem to happen when Allen blitzes.

The Eagles have commonly dropped linemen into coverage. Here's a look at who's dropping back the most:
| | |
| --- | --- |
| Player | No. of times dropping back |
| Trent Cole | 10 |
| Brandon Graham | 6 |
| Trevor Laws | 4 |
| Antwan Barnes | 3 |
| Juqua Parker | 3 |
| Antonio Dixon | 1 |
| Brodrick Bunkley | 1 |