Sheil Kapadia, Philly.com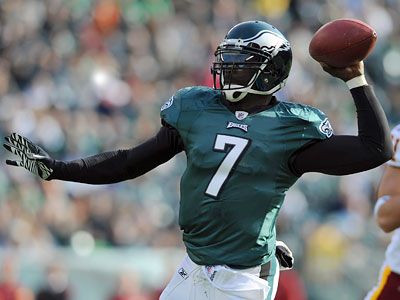 I have received quite a bit of feedback from yesterday's post on Michael Vick's injuries. Thanks to everyone who commented, e-mailed, Tweeted, etc.
Some of you thanked me for pointing out that all four of Vick's reported injuries last season occurred while he was in the pocket. Others ripped me for "defending" Vick and his style of play.
And others posed questions/topics worth exploring further.
Sheil Kapadia, Philly.com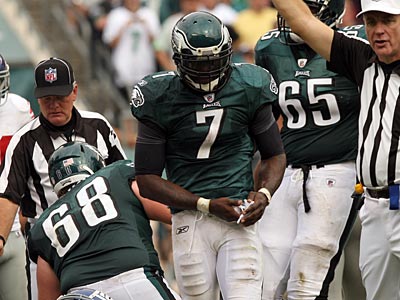 Update: Lots of good feeback on this post, so I answered some questions in a second post.
***
I was doing some research over the weekend for an offseason project and came across a couple Michael Vick nuggets worth sharing.
Sheil Kapadia, Philly.com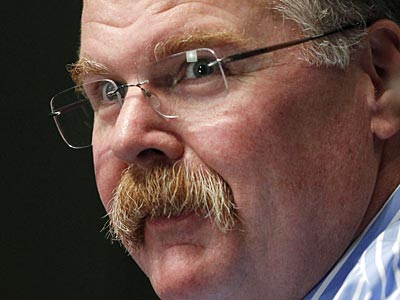 A few links to get to on this quiet Saturday...
Joe Fortenbaugh of the National Football Post put out his coaching power rankings. You may be surprised to see he's got Andy Reid all the way down at No. 15:
If this were merely a ranking of head coaches based on success over an extended period of time, Reid's resume would warrant a spot higher up the list. But he dropped the ball in 2011 with an unimpressive 8-8 record despite a roster that was oozing at the seams with talent. Still, it's tough to overlook five trips to the NFC Championship game and a regular season record of 126-81-1 (.609) in 13 years on the job.
Sheil Kapadia, Philly.com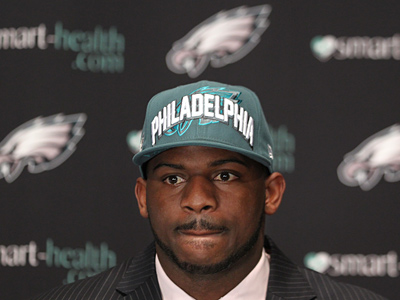 Last week, we asked you, the philly.com readers, to grade the Eagles' draft - both individual picks and the team's overall performance.
The (non-scientific) results are in, and fans have given Andy Reid, Howie Roseman and company a collective nod of approval.
Below is a breakdown of the results, along with a quick point or two from me. Voting numbers varied, but generally, between 2,500 and 3,500 votes were tallied. Note that I rounded the percentages, so they may not add up to 100 in each instance
Sheil Kapadia, Philly.com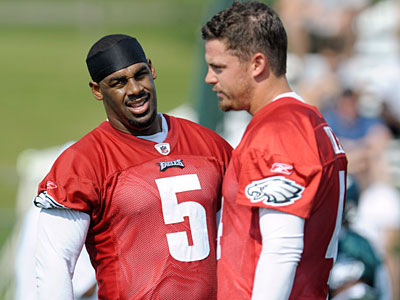 The Eagles' last playoff win came on January 11, 2009 against the New York Giants.
Donovan McNabb was the starting quarterback for 16 regular-season and three playoff games that season as the Birds snuck into the playoffs with a 9-6-1 record, advanced to the NFC championship game and eventually fell to the Arizona Cardinals.
McNabb's backup was Kevin Kolb, a second-year player who had attempted 34 passes and had to wait until the following season to make his first NFL start.
Sheil Kapadia, Philly.com
Junior Seau died of an apparent self-inflicted gunshot wound at his home in Oceanside, Calif. according to the Associated Press and other outlets.
Seau, 43, was a 12-time Pro Bowler and 6-time first-team All Pro. He spent 13 seasons with the San Diego Chargers, three with the Miami Dolphins and four with the New England Patriots.
Below is a roundup of reaction on Twitter from current/former players (including Eagles) and others in the NFL community.
Sheil Kapadia, Philly.com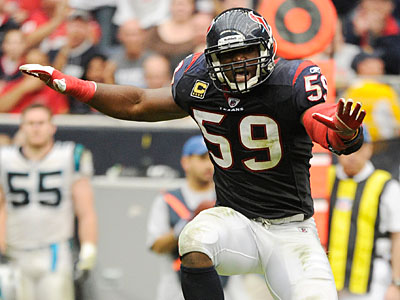 After spending a second-round pick on Mychal Kendricks and trading for DeMeco Ryans, the Eagles now have 10 linebackers on their roster.
Of the eight returnees, six (Jamar Chaney, Brian Rolle, Casey Matthews, Moise Fokou, Akeem Jordan and Keenan Clayton) saw significant playing time at one point or another last season.
So how will the pieces fit in 2012?
Sheil Kapadia, Philly.com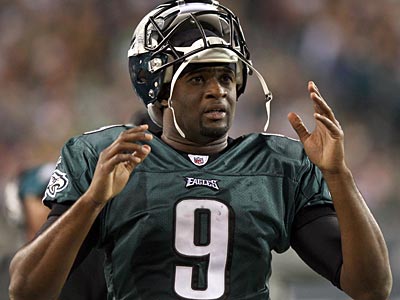 Vince Young is still without a team, but according to reportS, that could change soon.
The Buffalo Bills will work Young out Wednesday, according to the team's Web site. In one season with the Eagles, Young started three games. He led a comeback against the Giants, but did not play well against the Patriots or Seahawks (to be fair, the defense stunk in those losses too).
Overall, Young completed 57.9 percent of his passes for 866 yards. He threw four touchdowns and nine interceptions.