Archive: April, 2009
Sheil Kapadia, Philly.com
The Eagles have been mentioned several times this offseason as a potential suitor for Bills offensive tackle Jason Peters.
However, a league source tells ESPN.com's Tim Graham that the Eagles haven't had any discussions with the Bills about the Pro Bowl left tackle.
NFL sources tell Graham that it's "highly unlikely" the Bills will deal Peters before the draft, but there's still a chance a trade could go down in the next two weeks.
Sheil Kapadia, Philly.com
The word constantly associated with Maryland wide receiver Darrius Heyward-Bey is speed.
And for good reason.
He turned in the fastest 40-time of any player at the Scouting Combine, running a 4.30.
Sheil Kapadia, Philly.com
Last week, a reader asked me to compile a list of draft prospects the Eagles have reportedly shown interest in.
Since we're a blog for the people here at MTC, I've decided to do just that.
In parentheses, I've included the date of the report. Each item attributes the report to a specific source.
Sheil Kapadia, Philly.com
Quick little nugget before we call it a night here at MTC.
ESPN's Michael Smith said on NFL Live tonight that he's hearing the Eagles have interest in Bengals wide receiver Chad Johnson.
Rather than paraphrase what Smith is reporting, here's exactly what he said so you can decide for yourself whether this is just a rumor or something more.
Sheil Kapadia, Philly.com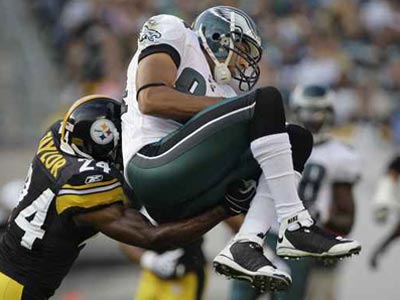 Count Hank Baskett among those who think the Eagles are just fine at the wide receiver position.
In a video interview on the team's Web site, Baskett said the Eagles have an advantage over other teams because they can throw five different talented receivers at defenses.
"When you have just one receiver, yeah that one receiver can make a lot of plays, but in the NFL, injuries happen," Baskett said. "What if you put all your eggs in one basket and that big-play receiver gets hurt? Then what? Then it's a widespread panic."
Sheil Kapadia, Philly.com
A new feature we're excited to start today here at MTC.
With the draft just 19 days away, we're going to run draft profiles of several first-round prospects.
I've contacted beat writers, who covered the players in college for a set of questions and answers. Then we'll run through some mock draft projections, and hopefully a YouTube highlight video.
Sheil Kapadia, Philly.com
A roundup of news around the league as you count down the hours until first pitch.
By the way, as many of you know, while I write the NFL blog, I also pitch in with our Phillies chats. And I'll be hosting tonight at 7:45 so join me if you're sitting on your couch watching the game.
And now on to some NFL nuggets: