Archive: September, 2011
Sheil Kapadia, Philly.com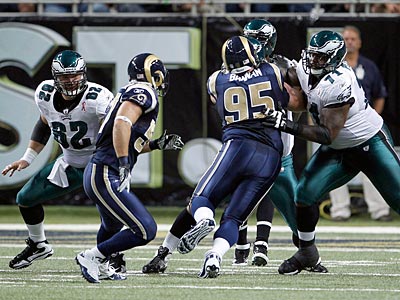 If you missed the defensive writeup, click here.
Moving on to the offense, here's the player-by-player breakdown after having re-watched the Eagles' 31-13 win over the Rams:
Michael Vick - I'm going to do the complete Vick breakdown on Tuesday, but this was a throwback game. He used his athleticism and legs to create big plays and demoralize the Rams' defense. In terms of progressing as a passer, reading the blitz and getting the ball out quickly? Well, we didn't see a whole lot of that here. Vick finished 14-for-32 for 187 yards and two touchdowns. He also carried 11 times for 97 yards (numbers vary, but that's according to NFL.com). The Eagles did a good job of trying to get him out of the pocket, although at times he ran right into pressure on the rollouts. Vick made an excellent throw to Jackson on the one deep ball, but the Eagles' speedy receiver couldn't hang on. The touchdown throw to Jackson in the second half was on the money. And Vick should make just about every highlight reel this week with the one run where he looked like he was going to be sacked, escaped pressure and picked up 17 yards. He was the single biggest reason the Eagles won the game. At the same time, plenty to work on with a long season ahead and better defenses on the schedule.
Sheil Kapadia, Philly.com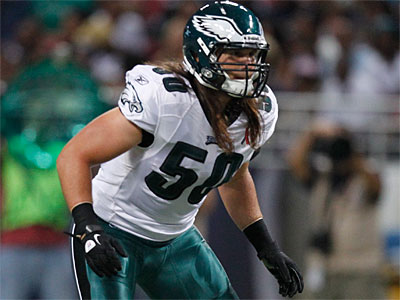 It's that time again. Below is my player-by-player breakdown of the Eagles' defense, after I re-watched their 31-13 win against the Rams.
But first, I want to thank reader, Excel whiz and Eagles fan Mark, who has helped me put together spreadsheets to chart a lot of the data you'll see in MTC features throughout the week and throughout the season. Not sure what I'd be left to write about this season without Mark's help.
Now on to the breakdown: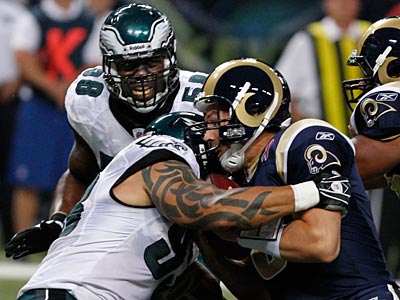 Join philly.com's Sheil Kapadia as he takes your Eagles questions in a live chat, beginning Monday at 1 p.m.
On a mobile phone? Click HERE to join the chat!
---
You can follow me on Twitter or become a fan of Moving the Chains on Facebook.
Sheil Kapadia, Philly.com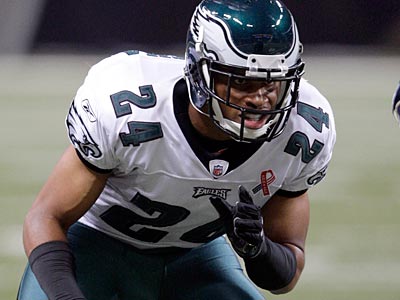 There were a lot of questions coming into this game about how Juan Castillo would use Nnamdi Asomugha and the Eagles cornerbacks.
I just took a look at the defensive plays, and from what I could gather, Castillo kept things pretty vanilla for the opener.
The Eagles played nickel (three cornerbacks) on just 20 of 66 defensive snaps, by my unofficial count. On 18 of those 20 snaps, it was Asante Samuel, Asomugha and Dominique Rodgers-Cromartie on the field together. And on all 18 of those snaps, Samuel lined up at left cornerback, Asomugha at right cornerback and Rodgers-Cromartie in the slot.
Sheil Kapadia, Philly.com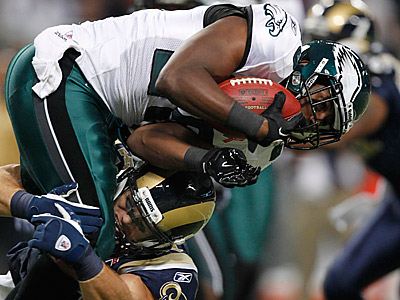 Here are my observations from today's Eagles-Rams game:
* Michael Vick's final numbers: 14-for-32 for 187 yards and two touchdowns. He also added 100 yards on eight carries on the ground. Overall, Vick accounted for three touchdowns. It wasn't always pretty, but he found his playmakers downfield and demoralized the Rams' defense with his legs. The Eagles finished an impressive 8-for-12 on third down. And they converted two of three red-zone chances into touchdowns.
This was a throwback game for Vick. I need to re-watch to see how he did against the blitz, but overall, he just did what he does best: make plays. The Eagles designed plays to get him out of the pocket, and Vick escaped on his own many times.
Sheil Kapadia, Philly.com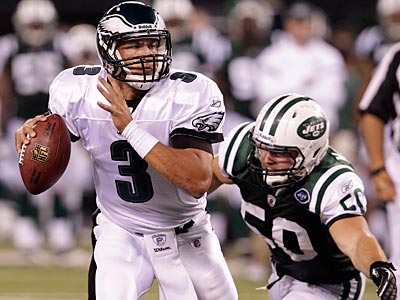 The Eagles have announced their inactives for Sunday's game against the Rams: Vince Young, Jaiquawn Jarrett, Curtis Marsh, Danny Watkins, Julian Vandervelde, Winston Justice and Phillip Hunt.
What stands out here?
Let's start with the offense. With Young sidelined, Mike Kafka will have to be ready if Michael Vick goes down. Rams defensive end Chris Long had 42.5 QB hurries last year, according to Football Outsiders. That was tops in the league. He'll line up opposite Todd Herremans, who gets the start at right tackle.
Sheil Kapadia, Philly.com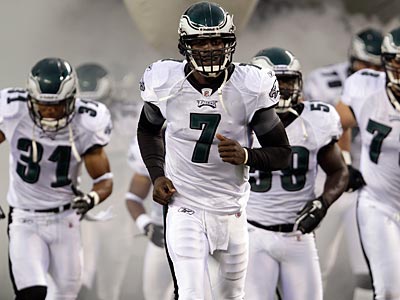 Leading up to the opener, I will go position-by-position and player-by-player to preview what could be in store for all 53 members of the current Philadelphia Eagles. Click here for the breakdown of the running backs, here for the linebackers here for the wide receivers here for the defensive line here for the defensive backs, and here for the offensive line and tight ends. Moving on to the quarterbacks and specialists...
Michael Vick - Since the Eagles signed him in the summer of 2009, Vick has won over many fans in the Delaware Valley. But there are certainly those who can never forget what he was a part of before he arrived. And that's OK.
From a football perspective, though, Vick's development will be one of the most intriguing story lines in the league this year. In 2002, he became the full-time starter for the Atlanta Falcons, leading them to the playoffs and making the Pro Bowl by piling up 777 yards on the ground. In five seasons as the starting QB, he led the Falcons to the playoffs three times. He went into Lambeau and beat the Packers. He got to the NFC championship game. He signed a $100M contract.
Sheil Kapadia, Philly.com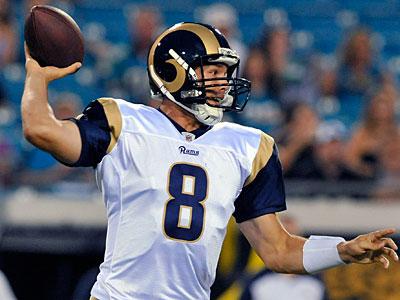 Here are 10 thoughts on Sunday's Eagles-Rams matchup:
1. In his new spot at right tackle, Todd Herremans will get a tough matchup in Chris Long. The Rams' left defensive end had 8.5 sacks last year, a respectable number, but one that doesn't tell the whole story. According to Football Outsiders, he led the NFL with 42.5 hurries. Herremans will have his hands full, and the Eagles would be wise to keep Brent Celek on that side to help him out.
2. But it won't just be Long the Eagles have to worry about. Right defensive end James Hall had 10.5 sacks a year ago, and the Rams spent a first-round pick on defensive lineman Robert Quinn out of North Carolina. Steve Spagnuolo will of course send extra rushers too. According to Football Outsiders, the Rams sent six or more defenders at the quarterback 17.1 percent of the time. That was second-most in the NFL. And they zone blitzed 10.8 percent of the time, third-most. Michael Vick will face a test right away in recognizing what he's looking at pre-snap, adjusting and getting rid of the ball quickly.