Archive: August, 2011
Sheil Kapadia, Philly.com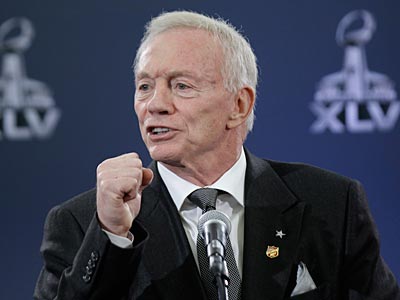 The way Jerry Jones sees it, the Cowboys wanted Nnamdi Asomugha, and Asomugha wanted the Cowboys.
But it just didn't work out.
"We had known that he really wanted to be a Dallas Cowboy," Jones said Thursday on a pre-game show, according to The Dallas Morning-News. "And that's a fact. There, for about an hour, I thought he was going to be a Dallas Cowboy. You do that because you can do it and should do it, and take advantage of the opportunity."
Sheil Kapadia, Philly.com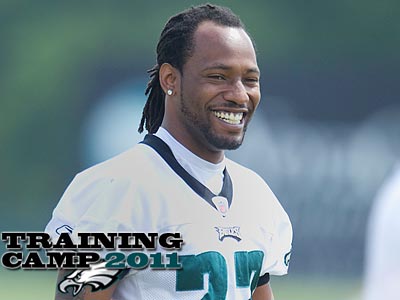 The roar from the crowd grew increasingly louder as DeSean Jackson walked over to Michael Vick to get the play.
Wide receiver vs. cornerback one-on-ones just have not been the same this summer.
With Jackson holding out and Jeremy Maclin dealing with an illness, the new talent in the secondary was left to take on guys like Rod Harper and Johnnie Lee Higgins.
Sheil Kapadia, Philly.com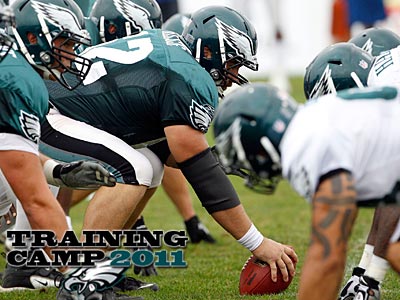 Here's the player-by-player breakdown of the Eagles' offense in their first preseason game against the Ravens Thursday night.
Note that I did not include their final two drives, and while I got to most of the players, some are missing if they didn't do anything to stand out one way or the other.
Here's the link to the defensive Man Up in case you missed it.
Sheil Kapadia, Philly.com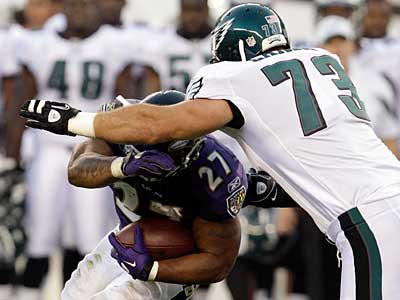 Here's the first Man Up of the year. If you're new to MTC, this is the player-by-player breakdown after having re-watched the game.
Today is the defense, and I'll post the offense on Saturday.
For preseason, I got to most of the players, but admittedly slowed down in the fourth quarter, so everyone is not included:
Video: Philly.com's Sheil Kapadia breaks down the Eagles 13-6 victory over the Baltimore Ravens in their preseason opener Thursday night.
---
You can follow me on Twitter or become a fan of Moving the Chains on Facebook.
Sheil Kapadia, Philly.com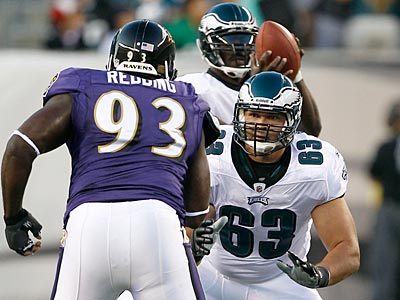 Here's are my instant observations tonight's Eagles-Ravens game:
+ Michael Vick has looked good at Lehigh, and he looked good in his only drive tonight. Vick completed four of six passes for 74 yards as the Eagles went 80 yards on eight plays. He hit Brent Celek for a 3-yard touchdown and finished with a QB rating of 148.6.
+ As for Celek, I get a lot of questions about the Eagles needing more weapons in the red zone. Celek had a down year in 2010, but he was excellent in the red zone the year before, scoring six times from inside the 20. Maybe he can get back to that in 2011.
Sheil Kapadia, Philly.com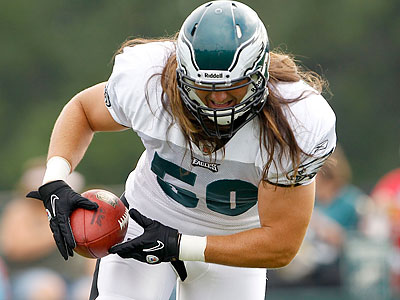 I went through the offense on Tuesday, and yesterday I got distracted with: What is DeSean worth?, Finley takes jab at Young and How Steve Smith fits in.
Check those items out if you haven't had a chance yet.
Tonight, I'll be live at the Linc chatting the game, so be sure to join me at 7:30.
Sheil Kapadia, Philly.com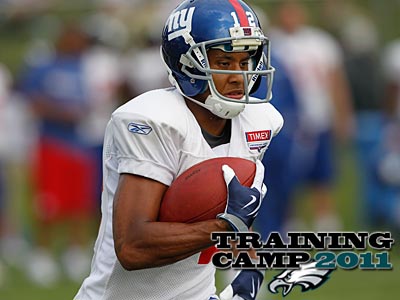 The Eagles surprised us again Wednesday evening, signing wide receiver Steve Smith to a one-year deal.
Before we try to figure out how Smith fits in, let's break down what we know about him.
He was a second-round pick in the 2007 draft (51st overall). That was 15 picks after the Eagles selected Kevin Kolb and six picks before they took Victor Abiamiri.