Archive: December, 2011
Sheil Kapadia, Philly.com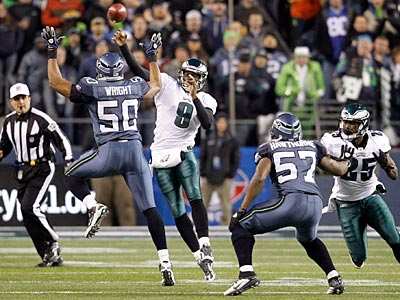 Here's what I saw during tonight's Eagles' 31-14 loss to the Seahawks.
OFFENSE
* Vince Young threw four interceptions and finished with a quarterback rating of 52.7. He made a baffling decision on the Eagles' first offensive play and was picked off on a throw to the sideline intended for DeSean Jackson (I think). Analyst Mike Mayock was in disbelief, calling it a "horrific" interception. The second INT was on on Riley Cooper. Young hit Cooper in the hands, but he couldn't hang on. The third interception was probably the most costly. The Eagles were driving, down 14, and Young looked for McCoy on a swing pass. Linebacker David Hawthorne picked it off and took it to the house for a 77-yard touchdown. The final pick was a desperation throw to Riley Cooper down the sideline.
Join philly.com's Sheil Kapadia as he provides live updates on Thursday's Eagles-Seahawks game, schedule to start at 8:20 p.m.
On a mobile phone? Click HERE to join the chat!
---
You can follow me on Twitter or become a fan of Moving the Chains on Facebook.
Sheil Kapadia, Philly.com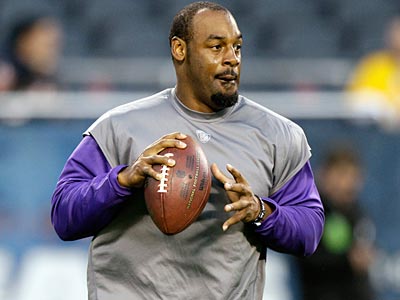 Donovan McNabb won't have to wait until the offseason to part ways with the Minnesota Vikings.
The Vikings have released him. ESPN's Adam Schefter was the first to report the move earlier today.
Why now?
Sheil Kapadia, Philly.com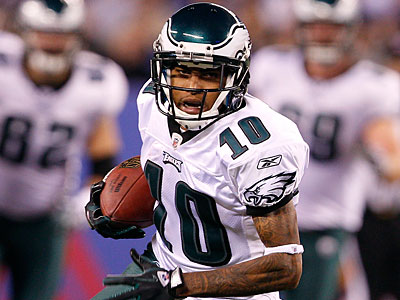 DeSean Jackson turns 25 years old today.
Less than a year ago, he delivered his signature moment as a pro, returning a punt 65 yards to the end zone to cap off a 38-31 comeback win over the Giants.
Now, Jackson's future with the franchise that drafted him in the second round of the 2008 draft is very much in question.