Archive: October, 2011
Sheil Kapadia, Philly.com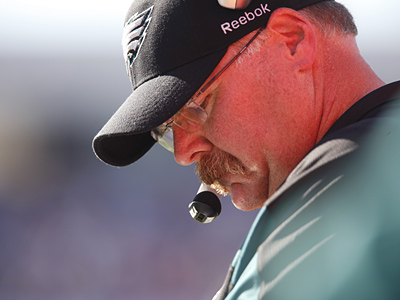 Here's a roundup of what the national media are saying about the Eagles after their loss to the Bills Sunday night.
And in case you missed it from earlier Monday, check out Man Up on the defense.
SI.com's Peter King took aim at the Birds in his Monday Morning Quarterback column:
Sheil Kapadia, Philly.com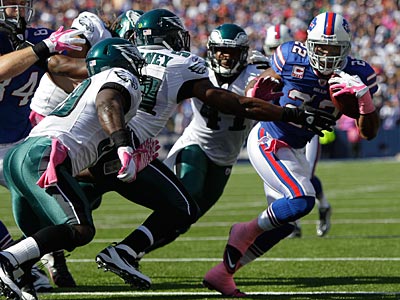 In case you missed it from Sunday, I counted 13 missed tackles by the Eagles and charted all of them.
Meanwhile, here is the player-by-player breakdown of the Eagles' defensive performance during Sunday's loss to the Bills.
Jason Babin - He didn't have a sack for the first time all season, but I'd argue that had more to do with the Bills' gameplan and Ryan Fitzpatrick than the Eagles' lack of a pass rush. Babin had a pair of QB hits and had ups and downs against the run. He got pressure on Fitzpatrick on a third down, but the Bills QB found Stevie Johnson for an 8-yard gain. Babin got to Fitzpatrick on the Jamar Chaney interception too. Against the run, he hustled to bring Fred Jackson down after a couple of 4-yard gains. And Babin dropped Jackson for a 2-yard loss in the second. However, Jackson found a big hole between Babin and Cullen Jenkins for a 9-yard gain in the second. Later, the right tackle sealed him, and Jackson got around the edge for 22 yards in the third. The 5-yard Brad Smith touchdown went right between Babin and Derek Landri. He was also called for offsides in the second.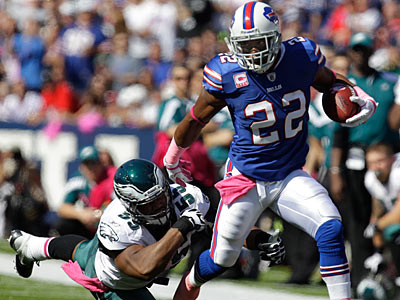 Join philly.com's Sheil Kapadia as he takes your Eagles questions in a live chat, beginning Monday at 1 p.m.
On a mobile phone? Click HERE to join the chat!
---
You can follow me on Twitter or become a fan of Moving the Chains on Facebook.
Sheil Kapadia, Philly.com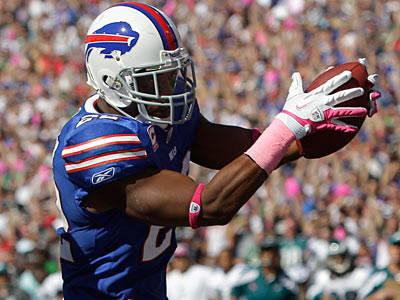 We hear Andy Reid and Juan Castillo say on a weekly basis that they need to put the players in better positions to succeed.
There are plenty of examples this year where they have not done that.
But there are also instances when the players are in positions to make plays and fail to do so.
Sheil Kapadia, Philly.com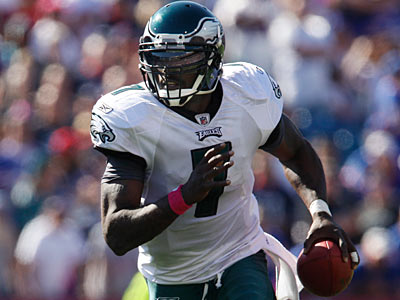 Here's what I saw during today's Eagles-Bills game.
OFFENSE
* It comes down to turnovers. Michael Vick threw four interceptions, and Jason Avant added a fumble for a grand total of five giveaways. That adds up to 15 turnovers in five games. This was the third straight game the Eagles had at least three turnovers. In addition to the fumble, Avant, who finished with nine catches for 139 yards, couldn't hold on to a Vick pass late in the fourth quarter, and he was picked off.
Sheil Kapadia, Philly.com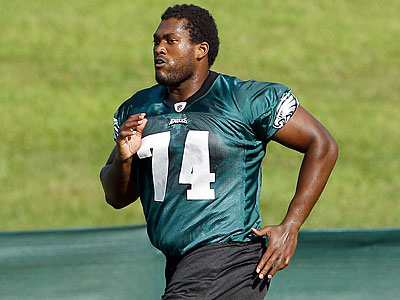 Here are the Eagles' inactives for today's game against the Bills: Mike Kafka, Jaiquawn Jarrett, Curtis Marsh, Trent Cole, Kyle DeVan, Jason Peters, and Julian Vandervelde.
What stands out? Winston Justice is active for the first time this season. King Dunlap starts for an injured Jason Peters at left tackle, but Justice is the only reserve offensive tackle on the gameday roster. The only other Eagles backup offensive lineman is Jamaal Jackson. Danny Watkins gets his first start of the season, and Kyle DeVan, who started the first three weeks, won't even dress.
Meanwhile, Kafka is inactive for the first time all season. That means Vince Young is the backup quarterback.
Sheil Kapadia, Philly.com
Here are 10 things to know about today's Eagles-Bills matchup:
1. Ryan Fitzpatrick gets rid of the football. He's been sacked just two times all season, the least of any quarterback who's attempted at least 100 passes. What I noticed when watching last week's Bills-Bengals game was that Fitzpatrick is not afraid to throw to receivers who are covered; he lets them make plays. He'll also simply throw incomplete rather than take a sack. On the season, he's completing over 63 percent of his passes with nine touchdowns and three interceptions. Fitzpatrick has a 117.5 QB rating in the fourth quarter. Not a good sign for an Eagles defense that has consistently come up short in the final 15 minutes.
2. Fitzpatrick spreads the ball around. According to Football Outsiders, the Bills used four or five receivers on 25 percent of their plays last year, second-most in the league. And they went with an empty backfield 15.1 percent of the time, tops in the NFL. Fitzpatrick's favorite target is Steve Johnson, who's averaging 78.5 receiving yards per game.