Archive: September, 2010
Sheil Kapadia, Philly.com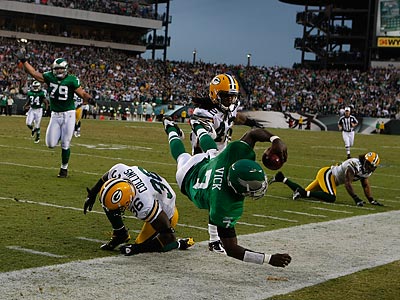 Clay Matthews' teammates gave him a hard time when the Packers linebacker knocked Kevin Kolb out of Sunday's game and they had to face Michael Vick, according to Jason Wilde of ESPN Milwaukee.
"We said, 'What are you doing man?' We'd rather have (Kolb) in there," defensive lineman Ryan Pickett said with a laugh. "Vick, he's a headache for anybody who plays him. We came out (of college) together, and I think I've played him every other year and he's a headache to stop every year for a defense. He just showed he's back in form. But our defense answered the call."
Defensive lineman Cullen Jenkins agreed.
Sheil Kapadia, Philly.com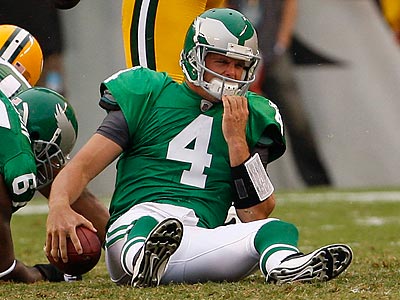 For those of you who are new to the blog, Man Up is my player-by-player look at the Eagles' offensive and defensive performance each week after re-watching the game.
It occurred to me yesterday that some might think I'm actually telling certain players to Man Up. That's not the case. It's just the name we came up with last year, and it'll be published on Mondays and Tuesdays throughout the season.
In case you missed it, here is the defensive breakdown.
Sheil Kapadia, Philly.com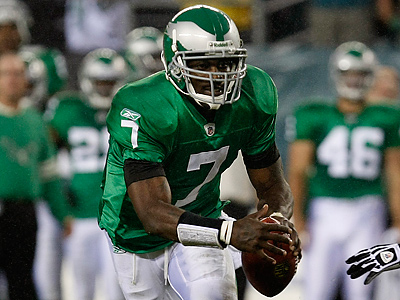 Normally, I wait until later in the week to round up what the national media are saying about the Eagles, but there's really no sense in delaying it after the Birds' loss to the Packers Sunday.
The primary topic dominating conversation is (you guessed it) Michael Vick.
Several writers from around the country are calling for Andy Reid to hand Vick the starting job based on his performance in the second half of Sunday's game. Here's a roundup of what they're saying.
Sheil Kapadia, Philly.com
Video: Both Kevin Kolb and Stewart Bradley suffered concussions in Sunday's game against the Packers. Philly.com's Sheil Kapadia analyzes the Eagles' injuries and what it means for the team going forward.
---
You can follow Moving the Chains on Twitter or become a fan on Facebook.
---
And download the 2010 MTC app from the ITunes store.
Sheil Kapadia, Philly.com
Here's a player-by-player look at the Eagles' defensive performance in their 27-20 loss against the Packers:
Brandon Graham- It was not a strong first showing for Graham, who failed to get pressure on Aaron Rodgers and looked vulnerable at times against the run. Graham played both outside and inside. He was blocked by a tight end on a 2-yard Ryan Grant run in the first half. Graham was blocked on a 7-yard Brandon Jackson run in the third. He got caught upfield, creating a hole on John Kuhn's 12-yard run in the third. And a big hole opened up between Graham and Trevor Laws on an 11-yard Jackson run. It wasn't all bad for Graham. He was quick off the ball, rushing from the inside on a 2nd-and-9 in the second, but couldn't finish the play. He got good penetration in the fourth, forcing Jackson to choose a different route before he was dropped for a 3-yard loss by Brodrick Bunkley. Graham played 49 snaps. Only Cole played more among defensive linemen.
Brodrick Bunkley- He might have been the Eagles' best defensive player on Sunday. Bunkley made several good plays against the run, stuffing Jackson in the second and dropping him for a loss on multiple occasions in the third. Really strong game from Bunkley.
Sheil Kapadia, Philly.com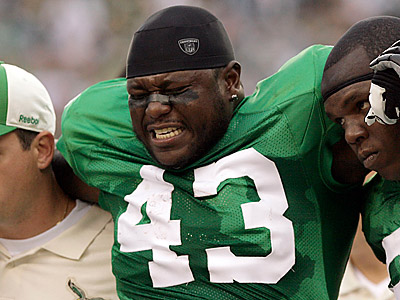 The injury news from Andy Reid following the Eagles' 27-20 loss to the Packers was not good.
Reid said fullback Leonard Weaver has a torn ACL and center Jamaal Jackson suffered a torn biceps, likely ending both of their seasons.
While we won't know for sure until Monday, it's reasonable to contemplate what direction the Eagles will go in to replace the two starters on offense.
Sheil Kapadia, Philly.com
Michael Vick led the Eagles on a furious comeback attempt in the second half, but the Birds fell short, losing to the Packers, 27-20, Sunday afternoon at the Linc.
Kevin Kolb was one of many Eagles to leave the game due to injury. Kolb suffered a concussion in the second quarter, then briefly returned to game later in the quarter. But he was ruled out in the second half.
Vick took over, completing 16 of 24 passes for 175 yards and a touchdown. He also carried 11 times for 103 yards. That rushing total was the fourth-highest in the league Sunday (as of 7:37 p.m.).
Sheil Kapadia, Philly.com
The Eagles announced their inactives a few minutes ago.
Here's the list: JaMar Chaney, Daniel Te'o-Nesheim, Keenan Clayton, Max Jean-Gilles, Austin Howard, Reggie Wells, Darryl Tapp and Mike Kafka.
Given the turnover on the roster, predicting the inactives was a little difficult for Week 1.
Sheil Kapadia, Philly.com
Join philly.com's Sheil Kapadia as he brings you updates and commentary on the Eagles' regular season opener against the Packers at Lincoln Financial Field.
---
You can follow Moving the Chains on Twitter or become a fan on Facebook.
---
Sheil Kapadia, Philly.com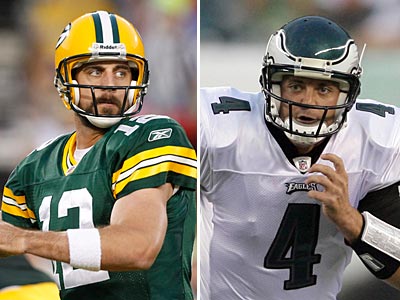 Football season is officially here. Join me at 4:15 for a live Eagles-Packers chat. I'll be providing updates and commentary straight from the Linc.
In the meantime, here's a look at who the national media are picking in today's matchup.
SI.com's Peter King likes the Packers, 30-16:
Poll: Who is the best coach in the NFC East?

(1563 votes)