Archive: August, 2010
Sheil Kapadia, Philly.com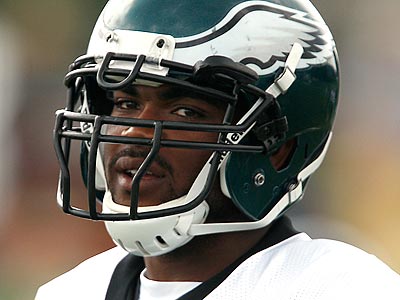 Observations from Tuesday morning's practice:
* It's pretty clear to me that no matter how much we think we have figured out in terms of the roster and roles, a lot can change between now and Week 1 against the Packers. Just this morning, Sean McDermott tried out a different package with the first-team nickel during one portion of practice. Juqua Parker stayed in the game at left defensive end, and Brandon Graham moved inside with Trevor Laws. Trent Cole stayed at right defensive end. The odd man out was Daniel Te'o-Nesheim, who we had seen consistently playing inside the past week or so. He returned there during another part of practice.
* I've definitely seen a trail-off with the rookies standing out, but that's to be expected. Many of them have been here for over three weeks. By my unofficial count, that means 35 practices, a Flight Night and a preseason game in 23 days. Nate Allen missed the first day of practice, but has been out here for every session since. I don't think guys like Riley Cooper, Clay Harbor, Te'o-Nesheim, Trevard Lindley, Mike Kafka, Charles Scott, Jeff Owens, JaMar Chaney or Kurt Coleman have missed a single practice, and that includes special teams for most of them. It's been a learning process, but the Eagles have to feel good about what the rookies have accomplished.
Sheil Kapadia, Philly.com
The Giants received a scare Monday night when Eli Manning was crushed in the team's preseason game against the Jets.
The video of the devastating hit is embedded below. Not great quality, but you can get the gist of it.
Manning and running back Brandon Jacobs appeared to have a miscommunication, and the Giants' quarterback was nailed by Calvin Pace from his blind side.
Sheil Kapadia, Philly.com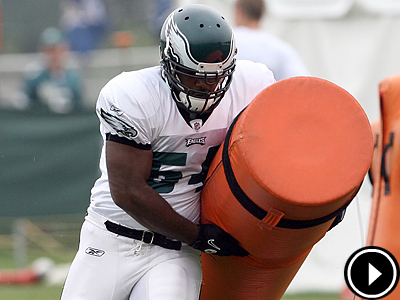 Eagles defensive coordinator Sean McDermott talked today about changes on defense from a year ago. Here is the daily video report from Lehigh.
Sheil Kapadia, Philly.com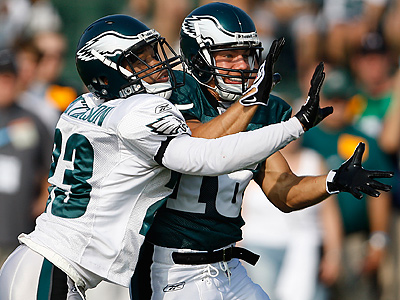 The practices are winding down at Lehigh, as the Eagles will pack up Wednesday and head back to Philadelphia to prepare for Friday night's preseason game against the Bengals.
But the pads were on this morning, and there was a live hitting period. Here are my observations:
* The wide receiver battle is difficult to figure out. Here's what we know: The top four spots are accounted for. Riley Cooper has established himself as the No. 4 guy, with Hank Baskett, Chad Hall and Kelley Washington fighting it out for one or two spots. The coaches are trying Hall out in every possible role, as we saw in the preseason game Friday night. What Hall has going for him is his versatility. He brings something different to the table than the rest of the receivers. I asked Marty Mornhinweg to compare Washington and Baskett, and he said they're in the same mold. In other words, I would be surprised if both those guys made the team. But with the added emphasis on special teams this season, you never know.
Sheil Kapadia, Philly.com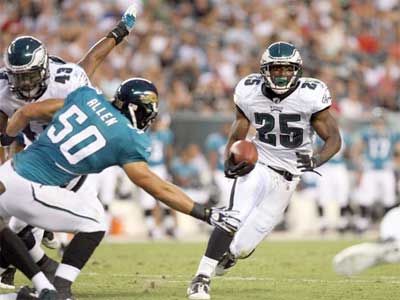 I went through the defense in Saturday's post. Here's a rundown of the offensive players.
I have notes on all of the starters and several of the backups, but I did not do every player.
For the MTC newbies, Man Up is a weekly feature I do all season after re-watching the games.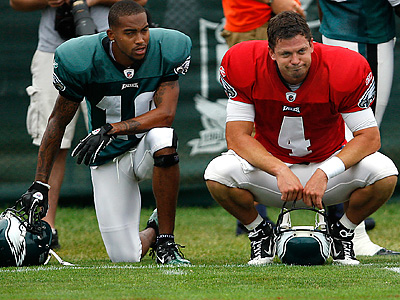 Join Philly.com's Sheil Kapadia for a live chat from Eagles training camp at 1 p.m. today.
Sheil Kapadia, Philly.com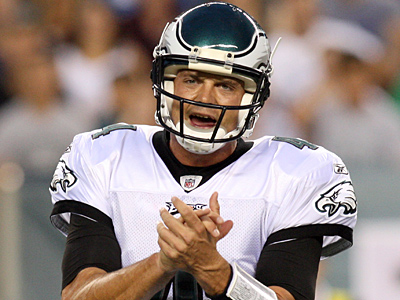 Deion Sanders thinks Kevin Kolb has the toughest job in the NFL this season.
The NFL Network analyst said so during an interview with Tony Bruno and Harry Mayes on 97.5 The Fanatic.
"He has the toughest job in the NFL this year because, for one, he's replacing McNabb," Sanders said. "You can't replace McNabb. He's filling in for McNabb. And secondly, Mike Vick is behind this man. You know in your cars it says objects in mirror are closer than they appear? The first bad pass he throws, those wonderful, valedictorian-type fans... those wonderful fans are going to be chanting 'Vick, Vick, Vick' on the second play of the game if he throws an errant, bad pass. He has the toughest job in the NFL this year. He really does."
Sheil Kapadia, Philly.com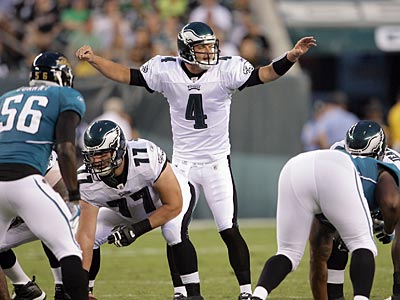 I took some time to re-watch Kevin Kolb's performance Friday night against the Jaguars.
Kolb completed six of 11 passes for 95 yards. Here are my notes on each of his throws:
Pass 1: The Eagles lined up with two running backs, two receivers and a tight end. LeSean McCoy motioned out wide to the right. To the left were Jeremy Maclin and DeSean Jackson in the slot. Kolb started off under center, took a three-step drop and found Jackson, who was somehow matched up with a Jaguars linebacker. Kolb's throw went about 6 yards and was on the money, allowing Jackson to pick up 15 yards after the catch.