Archive: June, 2010
Sheil Kapadia, Philly.com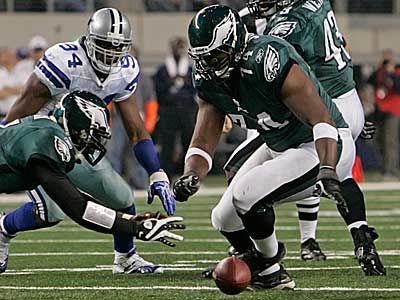 A big day for MTC. We have at least one Eagles player who admits to having seen, read or heard about Man Up.
Winston Justice.
When players walk off the field at NovaCare, reporters (and me) wait for them and grab whoever they want to talk to. Here's the conversation Justice and I had:
Sheil Kapadia, Philly.com
Eagles running back LeSean McCoy did not practice with the team Wednesday at the NovaCare Complex due to a tweaked ankle.
The second-year running back was being looked at by the training staff towards the end of Wednesday's practice.
Stewart Bradley, who left yesterday's practice early with a tweaked calf, did not participate today either. The team said Bradley's calf is getting better.
Sheil Kapadia, Philly.com
A few quick links before calling it a night.
If you missed them earlier, here are my observations from today's Eagles practice. And here is the video report.
We've been chronicling the back and forth between Brent Celek and Cowboys linebacker Keith Brooking all offseason.
Sheil Kapadia, Philly.com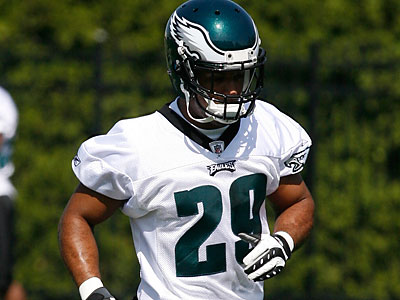 It was time for the second-team defense to get its turn.
On this day, that meant Nate Allen standing to the side and watching. But there was no time for a breather. He started with Quintin Mikell and Stewart Bradley, asking them questions about the reps he'd just run through. Then it was over to Asante Samuel, who pointed something out as the second-teamers played things out.
Finally, it was time for the third-team nickel. Ten guys ran on to the field, but one was missing. Someone called for Allen, he put on his helmet and ran out there. First team, third team. It didn't matter. Today was about getting reps and continuing to learn the defense.
Sheil Kapadia, Philly.com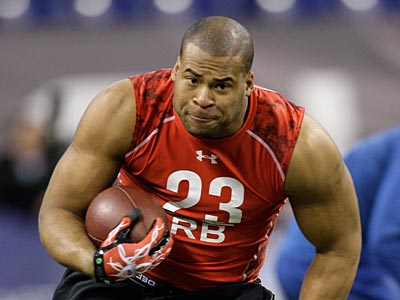 The Eagles and running back Charles Scott have agreed to terms, the team announced this morning.
It's a four-year contract, which we know doesn't mean much, considering the Eagles can cut Scott at any time.
Scott is the Eagles' first rookie draft pick to sign.
Sheil Kapadia, Philly.com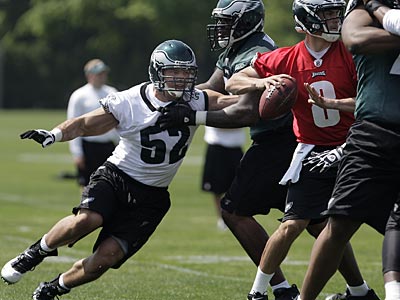 The play was over, but Marlin Jackson was not getting up.
Trainer Rick Burkholder went over, helped him to his feet and assisted Jackson off the field with one other person. In the corner of the practice bubble at the silent NovaCare Complex, Burkholder tried to calm Jackson down, as the Eagles' safety took his jersey off and headed outside.
Seconds later, practice was back on, a pass was broken up, and the 'D' was hooting and hollering, trying to keep the energy level up during an indoor practice in June.