Archive: October, 2010
Sheil Kapadia, Philly.com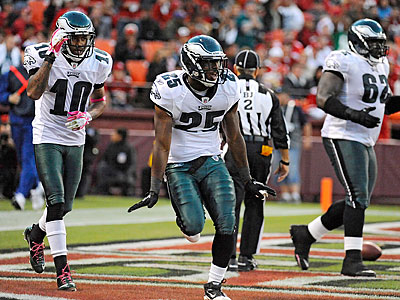 LeSean McCoy made a mistake on the Eagles' final drive, but overall, he showed once again how important he has become to the Eagles' offense.
Playing with a cracked rib, the Birds' second-year running back carried 18 times for 92 yards and a touchdown in the team's 27-17 win over the 49ers. He also caught five balls for 46 yards.
On the Eagles' final drive, McCoy took a Kevin Kolb pass 11 yards, but slid 2 yards short of a first down. Analyst Cris Collinsworth slammed McCoy on the national TV broadcast, as the Eagles were forced to punt following a third-down incompletion.
Sheil Kapadia, Philly.com
The Eagles were called for eight penalties for 80 yards in last week's loss to the Redskins. In the last two weeks, they've had 15 penalties for 164 yards.

And on the season, the Birds have 34 penalties (fourth-most in the league going into today) for 319 yards (tied for second-most).

Here's how it breaks down on offense, defense and special teams:

Offense: 15 penalties for 120 yards
Defense: 11 penalties for 123 yards
Special teams: 8 penalties for 76 yards

The player-by-player penalty count is below. Ellis Hobbs leads the team with 58 penalty yards. All of those have come in the last two weeks. Today, Hobbs is the Eagles' No. 1 cornerback with Asante Samuel sidelined.

Mike McGlynn is the only regular on the offensive line who has not been charged with a penalty through four weeks.

Jason Peters leads the team with four penalties. Two of those came last week against the Redskins.

| | | |
| --- | --- | --- |
| Player | No. of penalties | Penalty yards |
| Ellis Hobbs | 3 | 58 |
| Kurt Coleman | 3 | 40 |
| Jason Peters | 4 | 35 |
| Stewart Bradley | 2 | 15 |
| Eldra Buckley | 1 | 15 |
| Quintin Mikell | 1 | 15 |
| Ernie Sims | 1 | 15 |
| Max Jean-Gilles | 1 | 10 |
| Winston Justice | 1 | 10 |
| Brent Celek | 1 | 10 |
| Clay Harbor | 1 | 10 |
| Reggie Wells | 1 | 10 |
| Todd Herremans | 1 | 10 |
| Trent Cole | 1 | 5 |
| Antwan Barnes | 1 | 5 |
| Dimitri Patterson | 1 | 5 |
| Michael Vick | 1 | 5 |
| Nick Cole | 1 | 5 |
| Antonio Dixon | 1 | 5 |
| DeSean Jackson | 1 | 5 |
| Juqua Parker | 1 | 5 |

AROUND THE NFC EAST

The Giants and Redskins both won this afternoon.

Donovan McNabb and the 'Skins rallied from a 13-3 fourth-quarter deficit to tie the game and force overtime where a 33-yard Graham Gano field goal won it. McNabb completed 26 of 49 attempts for 357 yards, a touchdown and an interception. Washington sacked Aaron Rodgers four times and held the Packers to just three points in the second half and overtime.

The Giants, meanwhile, took it to the Texans, 34-10. New York wide receiver Hakeem Nicks had 12 catches for 130 yards and two touchdowns. In his last two games, Nicks has 20 catches for 240 yards.

Both teams are 3-2 after five weeks. The Eagles will need a win to stay tied atop the division.

The Cowboys and Titans are tied at 17 as of this writing. Tennessee sacked Tony Romo five times in the first half. Ex-Eagle Jason Babin had two of those and now has 5.5 on the season.

Earlier today, I rounded up predictions from the national media.

Don't forget that I'll be chatting tonight during Eagles-49ers. And you can join both the Eagles and Phillies chats here.
Sheil Kapadia, Philly.com
Join me for a live chat during Sunday night's Eagles-49ers game, starting at 8:15 p.m.
To participate in both the Eagles-49ers chat and the Phillies-Reds chat, click here.
And to join the Eagles chat from your mobile device, click here.
---
Sheil Kapadia, Philly.com
Here's the weekly roundup on who people are picking in today's Eagles-49ers matchup:
SI.com's Peter King likes the 49ers, 27-24:
I am a sucker for those Niners, aren't I? I am falling on the Alex Smith sword this week. I see the good things he does and think, He's going to put it together one of these weeks and shock the world. ... Well, I say he has enough good weapons to shock Kevin Kolb and the Eagles Sunday night.
Sheil Kapadia, Philly.com
The Eagles announced today that they've signed wide receiver Chad Hall from the practice squad and released defensive end Antwan Barnes.
Hall was a necessary addition because Riley Cooper can't go this weekend, which left the Eagles with just three receivers: DeSean Jackson, Jeremy Maclin and Jason Avant. Through four games, the Birds have used four wide receivers on just 6.5 percent of their offensive plays. Hall could get a couple touches Sunday night against the 49ers, but I don't expect him to be on the field too much.
Still, the move was necessary for depth. If one of the top three receivers goes down, Hall will have to play quite a bit.
Sheil Kapadia, Philly.com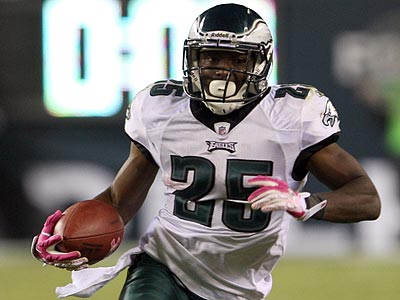 If you missed it yesterday, here's the quarterly report on the defense.
Today, the offensive side of the ball.
QUARTERBACKS
Sheil Kapadia, Philly.com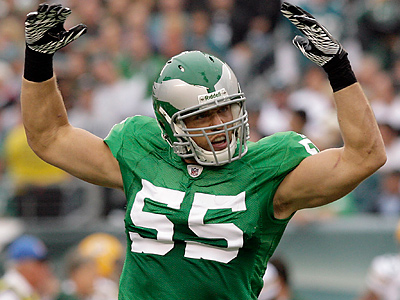 With the first quarter of the season in the books, it's a good time to take a look at where the Eagles stand.
I'll go over the defense today and the offense on Saturday.
DEFENSIVE LINE
Sheil Kapadia, Philly.com
Video: Moise Fokou has been given a chance to win back the starting job from Akeem Jordan. Philly.com's Sheil Kapadia discusses the Eagles' need for improvement at linebacker.
---
You can follow Moving the Chains on Twitter or become a fan on Facebook.
---
And download the 2010 MTC app from the ITunes store.
Sheil Kapadia, Philly.com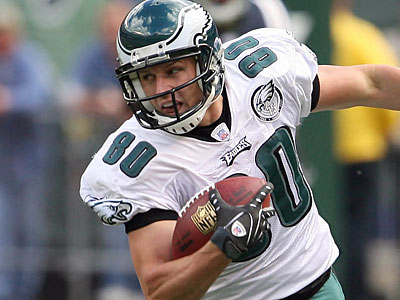 It's hard to believe that just last year, Kevin Curtis was one of the Eagles' starting wide receivers in Week 1.
Now, just over a year later, he's preparing to get back into the league while battling testicular cancer.
The Eagles released Curtis in March after he spent three seasons here. Doug Robinson of the Deseret News writes about how Curtis had surgery a couple weeks ago to remove a cancerous testicle.
Sheil Kapadia, Philly.com
One week after officially changing the name of this feature to Mike Check: Evaluating Vick, I'm back to What About Kolb?

Vick started the game, but was of course knocked out at the end of the first quarter with the rib injury. Kolb came in and completed 22 of 35 passes for 201 yards, a touchdown and the interception on the final Hail Mary.

As you know by now, each week, I'll break down the performance of the Eagles' starting quarterback.

Let's start with pass distribution. This is only for Kolb, so the numbers will differ from what you might find elsewhere for the entire game (Vick was in for the first 15 snaps).
| | | | | | |
| --- | --- | --- | --- | --- | --- |
| | Targets | Catches | Yards | YAC | Drops |
| LeSean McCoy | 11 | 9 | 72 | 47 | 1 |
| DeSean Jackson | 6 | 2 | 13 | 5 | 1 |
| Brent Celek | 5 | 3 | 27 | 18 | 0 |
| Jason Avant | 4 | 3 | 26 | 13 | 0 |
| Owen Schmitt | 4 | 3 | 43 | 35 | 0 |
| Jeremy Maclin | 2 | 1 | 15 | 0 | 0 |
| Mike Bell | 1 | 1 | 5 | 1 | 0 |
| TOTALS | 33 | 22 | 201 | 119 | 2 |

McCoy had 11 targets from Kolb, and 15 overall. He had 13 total targets in the previous three games combined. The 15 total targets were the most for any Eagles player in a single game this season. DeSean Jackson's 11 targets against the Packers was the previous high.

Schmitt had the same number of catches as Jackson and Maclin combined. Maclin was only targeted twice. And the Jackson number (6) is deceiving. Four of those were on the final drive that started with 1:07 left in the fourth.

Just 12 of 33 (36.4 percent) of Kolb's attempts were to wide receivers. Sixteen of 33 (48.5 percent) were to running backs.

The YAC number of 119 is deceiving as 82 of those were from McCoy and Schmitt, who caught balls close to the line of scrimmage. The wide receivers totaled only 18 yards after the catch. Jackson came into the game with 111 YAC, which was third-best in the NFL. It's been limited action for Kolb, but we've yet to see those short, timing throws to the receivers that allow them to make plays after the catch.

Seven different receivers caught passes. Riley Cooper went out early with a concussion, and the Eagles only have four wide receivers on their 53-man roster. Second tight end Garrett Mills did not catch a ball.

THE BLITZ, PRESSURE, SHOTGUN, ETC.

When I first re-watched the offensive snaps, I didn't think pass protection was that bad. By my count, Kolb faced some kind of pressure on 10 of 37 dropbacks. However, that number includes a couple plays where Kolb probably held the ball too long.

The troubling part here is how the Redskins pressured him. They did not blitz. They didn't even do a lot to disguise their pressure or confuse Kolb. They basically lined up three or four guys and just attacked. Often times, they won. Of Kolb's 37 dropbacks, I only counted one time when the Redskins rushed more than four.

In other words, pass protection was worse than I originally thought. In previous weeks, I argued that communication and the lack of continuity were the biggest problems on the offensive line. But against Washington, when the 'D' got pressure on Kolb, it was because the Eagles' linemen just got beat.

By now, you know that the Eagles' offensive line was called for four holding penalties - two on Jason Peters, one on Max Jean-Gilles and one on Todd Herremans.

Kolb did not take a lot of big hits. He was sacked once and scrambled twice. And of course, he got rid of the ball quite a bit to the running backs.

Twenty-five of Kolb's 33 pass attempts came out of the shotgun. He was 18-for-25 for 154 yards on those throws. Not as good under center where Kolb completed four of eight passes for 47 yards.

Kolb was 20-for-30 for 188 yards on throws in the pocket; 2-for-4 for 13 yards outside the pocket.

THIRD DOWN, RED ZONE

As a team, the Eagles converted five of 14 third-down opportunities. The previous week, they converted five of 13. With Kolb in the game, the Birds were 5-for-11 on third down, and one of those was the 3rd-and-16 play where he entered the game. So overall, a pretty good performance on third down.

Kolb was 5-for-7 for 44 yards on third down. He hit Avant for 17 yards on a 3rd-and-10 and Celek for 12 yards on a 3rd-and-7.

The Eagles made two trips into the red zone and came away with a field goal and a touchdown. The first trip, of course, was the disaster at the end of the first half. Kolb attempted a pair of passes inside the 20 on that possession. One was a 4-yard dump-off to McCoy. The other was a roll-out from the 2. The Eagles ran play-action, Kolb rolled to his right, had plenty of time and eventually forced an ill-advised throw to Celek.

On the other red-zone trip, Kolb completed all three of his attempts - two to McCoy, and the touchdown to Celek. Maclin also drew a pass interference penalty on a red-zone atttempt. Overall, Kolb was 4-for-5 for 19 yards in the red zone.

SUCCESS BY DISTANCE

Here's a chart of Kolb's throws by distance. I used the same ranges that Football Outsiders uses so we'd have a point of reference. Short is 5 yards or less. Mid is 6 to 15 yards. Deep is 16 to 25 yards. And Bomb is more than 25 yards. These are measured from the line of scrimmage to the point where the ball is touched, hits the ground or goes out of bounds.
| | | | |
| --- | --- | --- | --- |
| | Completions | Attempts | Yards |
| Short | 19 | 24 | 151 |
| Mid | 3 | 5 | 50 |
| Deep | 0 | 2 | 0 |
| Bomb | 0 | 2 | 0 |

As you can see, 24 of Kolb's 33 attempts (72.7 percent) were within 5 yards of the line of scrimmage. Take away the final drive, and that number goes up to 84 percent.

Of Kolb's 22 completions, only three traveled more than 5 yards from the line of scrimmage. The Eagles failed to complete a pass that traveled more than 15 yards from the line of scrimmage. Against the Jaguars, they completed five.

OVERALL

The thing to focus on with Kolb is obviously the short throws and the check-downs. I asked Maclin after the game about the Redskins' scheme, and he said they threw the offense a curve-ball by keeping their safeties so deep and taking away the big plays. Maclin said the Eagles' strategy to take what the defense was giving them was the right one. But then why did they have only 6 points midway through the fourth quarter?

There are several reasons. Yes, the Redskins took away the deep ball, but the Eagles also failed to find success on the intermediate routes. Part of that was because Washington was able to generate pressure with just three or four guys.

And then there were the Eagles mistakes. Two stand out - the delay of game penalty at the end of the first half and the McCoy fumble. If the offense has to rely on methodical drives without any big plays, eliminating those mistakes is critical. Those two opportunities could have led to touchdowns, which would have made this a totally different game.

And finally, there's Kolb. There's no doubt that he looked cautious at times, and confidence is going to be an issue. How could it not be, given the way this season has gone? The Fox crew did an excellent job of pointing out plays where Kolb had throws open downfield, but instead chose to go to his checkdowns. NFL Network broke it down well also in this online video. On perhaps his best chance to hit a big play, Kolb was off-target with his throw to Jackson. Jackson said afterwards that the wind picked it up, but that's still a play that has to be completed.

The job of Andy Reid and Marty Mornhinweg is now to build Kolb back up and to remind him of all the things he worked on in the offseason and at training camp.

This is a big-play offense, and any time the quarterback fails to get the ball to Jackson and Maclin the ball downfield or in positions where they can make things happen, the Eagles will struggle to score points. It's really that simple.