Archive: September, 2009
Sheil Kapadia, Philly.com
ESPN's Adam Schefter is reporting on Twitter that former Eagles wide receiver Hank Baskett will sign with the Indianapolis Colts today.
Update: Baskett's agent has confirmed the move to Les Bowen over at Eagletarian.
The Birds released Baskett earlier this week when they removed Michael Vick from the exempt list. The Eagles reportedly tried to trade him first, but when they couldn't find a suitable partner, decided instead to release him.
Sheil Kapadia, Philly.com
Dave Staley of sportsbook.com is back to explain this week's Eagles-Saints line to us.
This one was a bit tricky. The line didn't open on sportsbook.com until late Wednesday afternoon because of Donovan McNabb's injury. It opened as a pick 'em and is still there as of this post on Wednesday night.
Q: I see the Eagles-Saints line is not listed on sportsbook.com yet (as of 3:40 p.m. Tuesday). What's the process for waiting to list a line when a key player is injured?
Sheil Kapadia, Philly.com
I had a choice to make last night around 10 p.m. after watching Cliff Lee shut out the Nationals.
Do I catch up on DVR'd episodes of Rescue Me after I fell way behind last season?
Do I kill time on Facebook looking at wedding photos of people I haven't seen or spoken with in over a decade?
Sheil Kapadia, Philly.com
I was caught up in meetings all day, and while I was getting constant texts, Tweets and e-mails about the Eagles' roster moves, I didn't have a chance to comment on them.
Until now.
Let's start with Shawn Andrews. I had grown tired of the whole He doesn't want to play football conversations that dominated sports-talk radio over the last few weeks.. I think some of the shots taken were a little over the top, given that Andrews is the only one who knows what's going on in his head and his body, but that's just my personal opinion.
Sheil Kapadia, Philly.com
The Eagles have annonuced that Shawn Andrews has been placed on injured reserve with a back injury, thus ending his season.
The move clears a roster spot for them to add Jeff Garcia.
More to come shortly.
Sheil Kapadia, Philly.com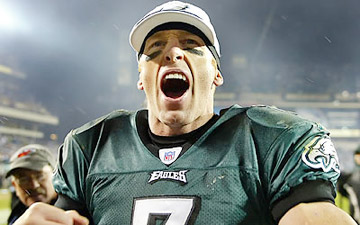 And so it continues.
ESPN's Sal Paolantonio is reporting that the Eagles are looking to deal Hank Baskett to clear up a roster spot for Jeff Garcia.
The Eagles carried seven wide receivers to start the season, but they only dressed five against the Panthers. Reggie Brown and rookie Brandon Gibson were both inactive.
Sheil Kapadia, Philly.com
I was going to write a notebook-type item on the Eagles' offense after re-watching yesterday's game, but when I was finished taking notes, I realized I had something to say on pretty much every guy. So we'll do it player-by-player:
Donovan McNabb - He played well, completing 10 of 18 passes for 79 yards, two touchdowns and an interception. McNabb also ran four times for 27 yards and a score. On the shovel pass to Brian Westbrook, it looked like McNabb changed the play at the line of scrimmage. The receivers did not help him out early. I counted at least three dropped passes in the first quarter. Now we wait and see when he can get back on the field.
Kevin Kolb - I'm going to write a separate post later this week breaking down Kolb's performance, but to me, it seemed to be more of a timing issue than anything else. He comnpleted 7 of 11 passes for 23 yards, and the offense seemed out of sync when he was in the game. A fumble by DeSean Jackson, a poorly thrown wide receiver screen, miscommunication with Hank Baskett. These seem like things that could be improved with a week of practice with the first team. Kolb made a couple nice throws when he rolled out to his right. His strength is still intermediate passes. The one shot Kolb took deep was ugly as Jackson had to break up an interception.
Sheil Kapadia, Philly.com
In our live chat, many of you felt the hit on Donovan McNabb, which broke one of his ribs, should have drawn a flag.
I decided to take a look back at the play on my DVR to figure out if it was indeed a late hit.
First, let's set it up.