Archive: November, 2010
Sheil Kapadia, Philly.com
With the return of Ellis Hobbs, the Eagles gameday roster will look a little different tonight.
Hobbs will dress, but will have a different role than he had prior to his Week 7 injury against the Titans. Dimitri Patterson, who's played well the last two weeks, will still get the start at right cornerback.
Hobbs could see some kickoff return duties as usual return man Jorrick Calvin is inactive for the first time since Week 2. That leaves the Birds with four active cornerbacks: Patterson, Hobbs, Asante Samuel and Joselio Hanson.
Sheil Kapadia, Philly.com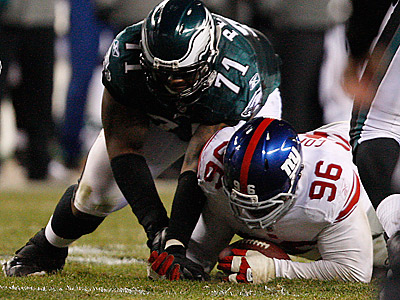 Join me for a live chat during Sunday night's Eagles-Giants game at the Linc. I'll get started around 8:15 p.m.
Click here to join the chat from a mobile device.
---
You can follow Moving the Chains on Twitter or become a fan on Facebook.
---
Sheil Kapadia, Philly.com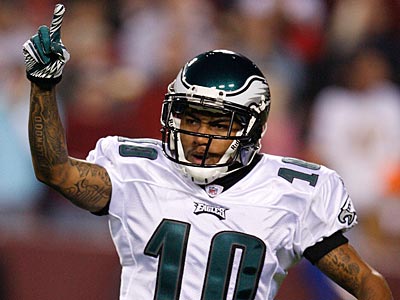 Here's the weekly roundup of who people are picking in today's Eagles-Giants matchup:
SI.com's Peter King likes the Eagles in a 30-24 victory:
I have never heard Tom Coughlin, and I mean never, say he watched an upcoming opponent "like a fan.'' But I have to give the man credit. Too often we think of Coughlin as a totally unfeeling automaton. If he'd spoken of Vick in a clinical, here's-what-we-need-to-do-to-win way at his Wednesday presser, I'd have thought of him as that Jacksonville robot he used to be. But this was perfect. Coughlin saw what we all saw Monday night: absolute brilliance by one of the special players of our time. I expect that to continue -- with a few more knocks from the Giants' defensive front -- Sunday night.
Sheil Kapadia, Philly.com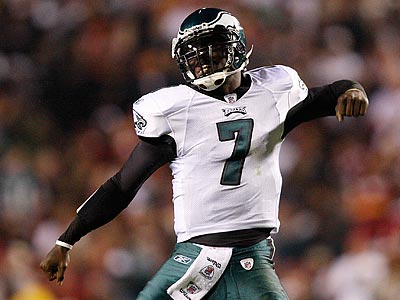 When evaluating the Eagles' offense this season, there are several impressive numbers to point to.

The Birds are third in yards per game (400.2); second in scoring (28.6 PPG); and have the fewest turnovers (9).

But the one worth examining today is red-zone production.

There's no question that the Eagles are a big-play offense. In the run game, they're third in the league with 11 runs of 20-plus yards. In the pass game, they're sixth in the league with 32 plays of 20-plus yards. And Michael Vick is second in yards per attempt (8.8).

But the Eagles have shown they can sustain drives (44 percent on third downs is fourth-best in the league) and produce touchdowns instead of field goals inside the 20. Perhaps that's the most impressive part about the offense. It can do damage in a variety of ways.

Overall, the Eagles rank eighth in the league in red-zone scoring at 58.6 percent. That's the percentage of touchdowns the Eagles have converted. Here's how their 29 red-zone trips break down:
| | | | | |
| --- | --- | --- | --- | --- |
| RZ Chances | TDs | FGs | Missed FGs | TOs |
| 29 | 17 | 8 | 3 | 1 |

But on chances with Michael Vick, the Eagles are even more impressive. In 17 red-zone trips into the red zone with Vick, the Eagles have scored 13 touchdowns and kicked four field goals for a scoring percentage of 76.5. That number would rank first in the league - by a longshot. Buffalo (go figure) is currently No. 1 in red-zone scoring percentage at 68.4 percent.

It's a huge difference from a year ago for the Eagles. In '09, the offense ranked 20th at 49.06 percent.

And there really hasn't been one go-to guy or go-to play, either. Here's a breakdown of the Eagles' 17 red-zone touchdowns:
Sheil Kapadia, Philly.com
Since I'm a little late with the Mike Check feature this week, I'm going to focus more on his performance overall and spin it forward to Sunday night's matchup with the Giants.

But I don't want to completely ignore the Monday night game.

Let's start off with pass distribution. Here's how it broke down last week:
| | | | | | |
| --- | --- | --- | --- | --- | --- |
| | Targets | Catches | Yards | YAC | Drops |
| LeSean McCoy | 6 | 5 | 51 | 47 | 1 |
| Jeremy Maclin | 5 | 4 | 79 | 16 | 0 |
| Jason Avant | 5 | 5 | 76 | 8 | 0 |
| Brent Celek | 4 | 2 | 8 | 0 | 1 |
| DeSean Jackson | 3 | 2 | 98 | 35 | 1 |
| Owen Schmitt | 2 | 1 | 6 | 2 | 0 |
| Jerome Harrison | 1 | 1 | 15 | 7 | 0 |
| Riley Cooper | 1 | 0 | 0 | 0 | 0 |
| TOTALS | 27 | 20 | 333 | 115 | 3 |
The Eagles had three drops, and Vick threw one ball away, so really Vick's line could have looked more like 20-for-23 instead of 20-for-28. Of the eight overall incompletions, one had a chance to be intercepted, but as you can see, Vick was extremely accurate.
Sheil Kapadia, Philly.com
Earlier today, I wrote about how many in the national media are on board with the idea that the Eagles are a serious contender in the NFC and Michael Vick is an MVP candidate.
As it turns out, Vegas is on board too.
An e-mail popped in my inbox this evening from Bodog.com. They have the Eagles listed as 4/1 to win the NFC. That puts them tied for second-best odds in the conference with the Giants and Falcons. The Packers, interestingly enough, are the favorites at 7/2.
Sheil Kapadia, Philly.com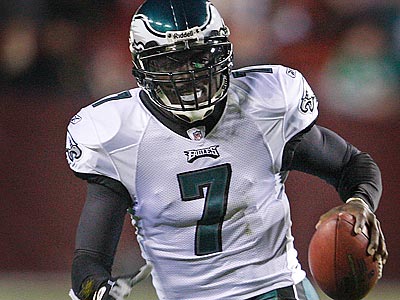 If you missed part one, check it out here.
Here's the second installment of what people are saying about the Eagles this week as they prepare to take on the Giants for first place Sunday night.
Mike Freeman of CBSSports.com wonders how so many personnel evaluators were wrong about Michael Vick 2.0:
Sheil Kapadia, Philly.com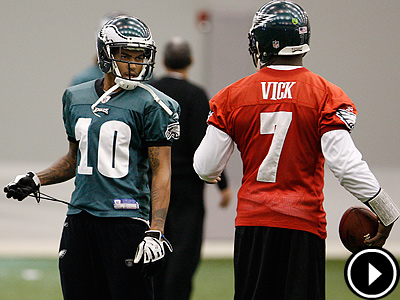 Video: What are the Eagles doing to prepare for the Giants? Here's today's video from the NovaCare Complex.
---
You can follow Moving the Chains on Twitter or become a fan on Facebook.
---
And download the 2010 MTC app from the ITunes store.