Archive: August, 2011
Sheil Kapadia, Philly.com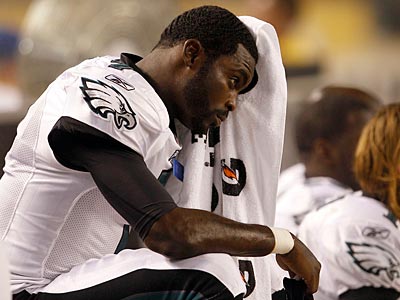 Here's a roundup of what the national media are saying about the Eagles:
ESPN's John Clayton doesn't think the whole Michael Vick/Roger Goodell/Bengals/Bills/Eagles thing was that big of a deal:
Goodell is considered a hard-nosed commissioner because he hands out tough suspensions to enforce player conduct. He shouldn't be criticized for handling a punished player with a delicate hand. The Vick story is a success story. A commissioner, particularly through a smart consultant such as Tony Dungy, can make suggestions. The suggestion to go to the Eagles instead of the Bills and the Bengals was the right one. Vick found a stable environment and great coaching. Although he might have received good coaching in Cincy or Buffalo, his arrival could have caused more of a circus environment, one that might have made it hard for him to be as successful. Vick needed to sit out most of his first season to get his body ready for football. The Eagles had to have patience. The commissioner and Vick should both be applauded for making the smart move.
Sheil Kapadia, Philly.com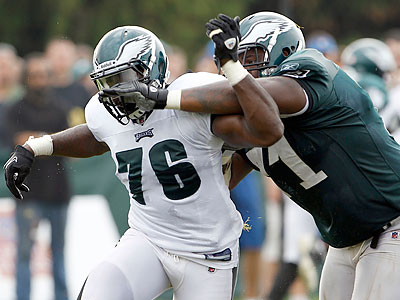 When I posted Man Up on the defense last week, I only provided observations on guys who played in the first half against the Steelers.
But there are still spots up for grabs as the coaches continue their preseason evaluation process.
Below are some notes on how some of the backups performed Thursday night, along with overall thoughts on how the battles for backup spots are shaking out.
Join Philly.com's Sheil Kapadia for a live chat about all the latest Eagles preseason news Monday at 1 p.m.
If you're on a mobile device, click here to follow along and post questions.
---
You can follow me on Twitter or become a fan of Moving the Chains on Facebook.
Sheil Kapadia, Philly.com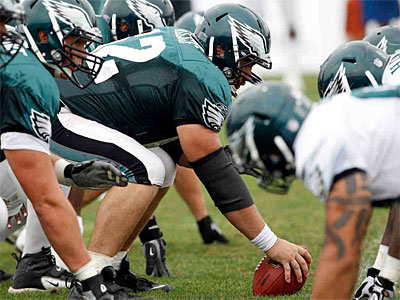 Here's my take on a few newsy items that have surfaced in the past 24 to 48 hours:
1. I was surprised to see the reports out of Novacare yesterday that Jason Kelce will get all the first-team reps this week at center, leading up to the Browns game Thursday night. Jamaal Jackson played with the first team against the Steelers, but apparently, the competition is very much on.
Here's the case for Jackson: He's a veteran with 72 starts under his belt. The Eagles have no clue who they're starting at right tackle (more on that below), and they will be going with a rookie, Danny Watkins, at right guard. It's clear that opposing defenses are going to throw all kinds of different looks and different blitzes at Michael Vick this year. Wouldn't it be wise to go with a center who already has the trust of his fellow linemen and will know what he's looking at right away? It's not just experience though. Jackson has been playing well. I thought he was very good on Thursday night and seems poised for a healthy and productive season.
Sheil Kapadia, Philly.com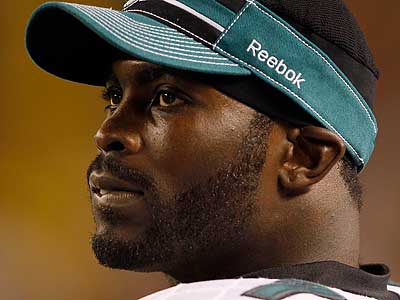 Here's the player-by-player breakdown of how the Eagles' offense performed in Thursday night's loss to the Steelers.
Again, for preseason games, I don't include everyone, but you'll find writeups on most of the players below.
It may seem strange to read, but the bright spot was probably the offensive line. Two of Vick's three interceptions were all on him, and LeSean McCoy's missed block contributed to the third. Protection actually held up pretty well.
Sheil Kapadia, Philly.com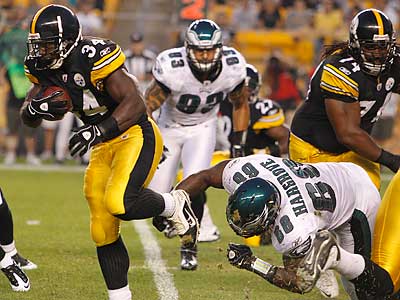 I switched it up for Man Up this week. Below you'll find the player-by-player breakdown for the Eagles' starting defense (everyone who played in the first half).
I wanted to get this writeup posted as soon as possible. I'll still analyze the Eagles' backups, who played in the second half and are fighting for roster spots, but I need some more time. Look for that writeup later Friday or some time this weekend.
The player-by-player breakdown of the offense will also be posted this weekend.
Sheil Kapadia, Philly.com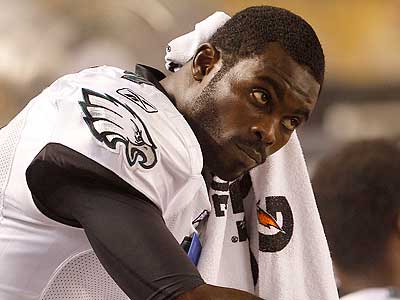 The first half Thursday night was one to forget for Michael Vick.
The Eagles' starting quarterback completed 5 of 12 passes for 47 yards. Vick also completed three passes to Steelers defenders for a quarterback rating of 13.7.
So what happened on the interceptions? Here's a quick look at each after having re-watched them:
Sheil Kapadia, Philly.com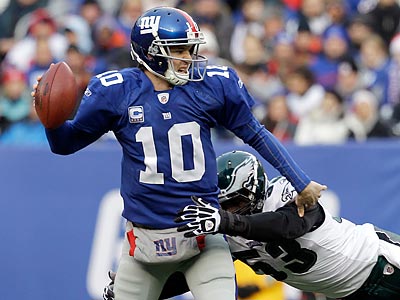 The Eagles have received much of the league-wide buzz in recent weeks, but should the Giants be considered the favorites in the NFC East?
That's the argument made by KC Joyner of ESPN.com. In an "Insider" piece, Joyner points out eight reasons why the Giants should have the edge. He calls Michael Vick the luckiest quarterback in the league in 2010:
One of the reasons Philadelphia won the NFC East in 2010 is that Vick had a near-MVP campaign, but the fact is he benefited from more luck than maybe any other quarterback in the league.
Join philly.com's Sheil Kapadia as he provides updates and commentary as the Eagles take on the Steelers in their second preseason game.
On a mobile phone? Click HERE to follow along and post comments.
---
You can follow me on Twitter or become a fan of Moving the Chains on Facebook.
Sheil Kapadia, Philly.com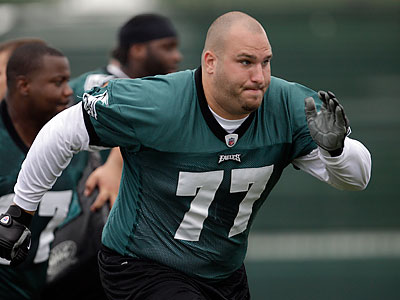 The Eagles are 12 days away from cutting their roster down to 75 players.
Tonight, the process of determining who will be a part of the 2011 squad continues when they take on the Steelers in Pittsburgh at 8 p.m.
As a guide/preview, here are 10 roster questions to keep in mind this evening: