Archive: July, 2010
Sheil Kapadia, Philly.com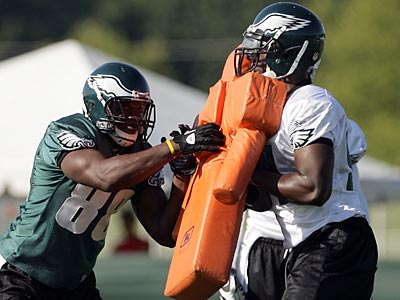 The Eagles had rookies and selected vets on the field this morning for the first practice at Lehigh. Here's what I saw:
* Let's start with the quarterbacks, shall we? Kevin Kolb, Michael Vick and Mike Kafka were all in attendance. The players were not in pads, but the QBs got their work in. Kolb was on-target, but keep in mind that the highest-profile defensive back on the field was rookie cornerback Trevard Lindley. As for Vick, I am still amazed at how he slings the ball so effortlessly, specifically on outs and down the field. He really has an unbelievable arm, although it's not always on-target, as we saw on a couple misfires intended for Clay Harbor.
* One play caught my eye when the Eagles rolled Kolb out of the pocket, something that had been a staple of the offense with Donovan McNabb. According to Football Outsiders, 13 percent of the Eagles' pass plays last season were with the QB out of the pocket. That was the seventh-highest percentage in the league. That number will drop this season, but it will be interesting to see to what degree.
Sheil Kapadia, Philly.com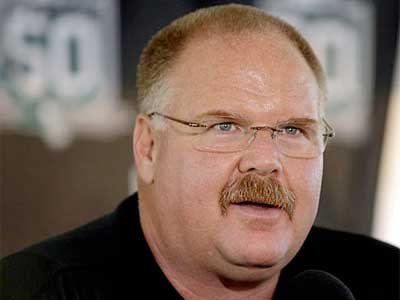 Andy Reid opened camp at Lehigh Monday afternoon, and while he was peppered with several questions about Michael Vick, the comment that caught my attention was about left guard Todd Herremans.
Herremans will join center Jamaal Jackson and defensive lineman Victor Abiamiri on the physically unable to perform list at the start of camp, meaning he won't practice right away.
Reid explained to reporters that the move is purely cautionary and that Herremans is fine.
Sheil Kapadia, Philly.com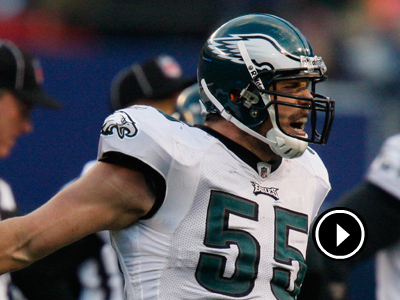 Here's the final video in our Camp Countdown series, taking a look at the Eagles' linebacking situation.
Sheil Kapadia, Philly.com
On Friday, I linked to a piece that looked at the number of "blue-chip" and "red-chip" players currently on the Eagles' roster.
It's a project by NFL.com's Michael Lombardi, and yesterday, he took a closer look at the list and ranked every team based on those players. Lombardi's got the Eagles at No. 19:
Another surprisingly low total, but losing a blue quarterback and not replacing him with one will hurt the initial total. However, the Eagles could be one of those teams that can significantly increase this total if Kevin Kolb plays well and some of their defensive players (Brandon Graham, Stewart Bradley and Ernie Sims) take the next step.
Sheil Kapadia, Philly.com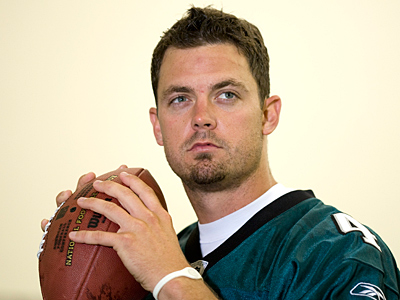 Sheil Kapadia, Philly.com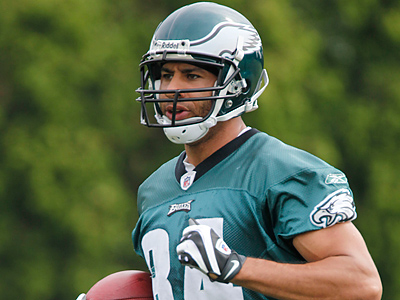 Andy Reid takes the mic at 5 p.m. Monday for the official start of Eagles training camp.
I'll be headed up to Lehigh tomorrow afternoon to add to philly.com's Eagles coverage. But first, here's a touchdown's worth of thoughts/predictions/guesses about what we're going to see over the next three weeks:
1. I think the veterans who are in camp battles will hold on to their starting jobs. Specifically, I'm talking about Nick Cole at center and Hank Baskett at the fourth wide receiver position. Every year at camp, readers ask which players "look good." It's an easier question to answer for wide receivers, tight ends, quarterbacks and cornerbacks. It's a much more difficult question to answer for linemen. That bring us to Cole. Other than an injury or poor work habits, I can't really see what would cause the Eagles' staff to sit Cole in favor of one of his backups. I feel pretty confident saying he'll be the starting center Week 1 against the Packers.
Sheil Kapadia, Philly.com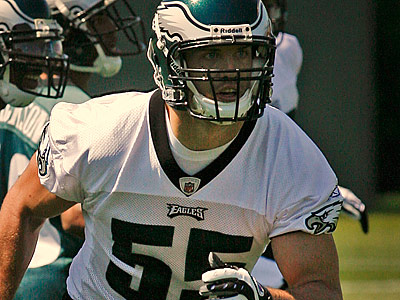 When I did a Q&A with Bill Barnwell of Football Outsiders before the 2009 season, he pointed out that the Eagles were very fortunate in terms of defensive injuries in 2008.
But what about last season?
The obvious injury that crippled the 'D' was Stewart Bradley tearing his ACL during training camp. Sean McDermott tried out several options to replace him, but no one was up for the job, and the Eagles were weak at middle linebacker the entire season.
Sheil Kapadia, Philly.com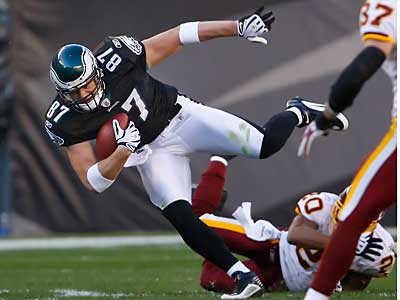 Several links to get to today.
Let's start with a column by Michael Lombardi on NFL.com. Lombardi breaks down every NFC roster, identifying blue-chip players (those among the top 10 at their position) and red-chip players (those among the top 15). Lombardi gives the Eagles three blue-chippers: DeSean Jackson, Trent Cole and Leonard Weaver.
He gives the Birds four red-chip players: Brent Celek, Jason Peters, Asante Samuel and Winston Justice.