Archive: June, 2010
Sheil Kapadia, Philly.com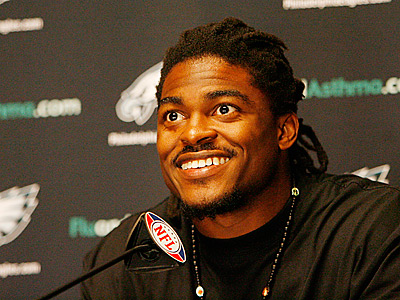 The Eagles made their selections in April's draft with the idea of getting pressure on opposing quarterbacks front and center.
At the media chalk talk event a couple months ago, general manager Howie Roseman even referenced the Giants team that won the Super Bowl, saying that they didn't have the best secondary, but could get to the quarterback.
While it would be great for the Birds to be able to rely on their front four to get that pressure, we all know this is still a blitzing defense.
Sheil Kapadia, Philly.com
Andy Reid addressed the media at the end of Eagles OTAs today, updating injuries and taking a look at what's ahead at Lehigh.
Here's the video report.
Earlier, I provided practice observations.
Sheil Kapadia, Philly.com
I spent this afternoon at the final day of Eagles OTAs before Lehigh. Here's what I saw:
* Ellis Hobbs was back to return a kickoff during special teams practice towards the end of the session. He let the ball sail over his head, as you often times see when the kick is headed to the back of the end zone.
Not a big deal at first. Until special-teams coach Bobby April took off in a full sprint from the other end of the field. With a whistle around his neck, he began yelling, "Get the ball! Get the ball!" In swooped rookie Brandon Graham, who was practicing on the kickoff team. He scooped the ball up right around the 5 yard line and ran into the end zone.
Sheil Kapadia, Philly.com
Some odds and ends to get to:
* Andy Reid will be one of four NFL head coaches going on the USO Tour to the Middle East later this month, according to ESPN's Sal Paolantonio. Brad Childress will join him.
Tom Coughlin, Bill Cowher, Jeff Fisher, Jon Gruden and John Harbaugh went last year.
Sheil Kapadia, Philly.com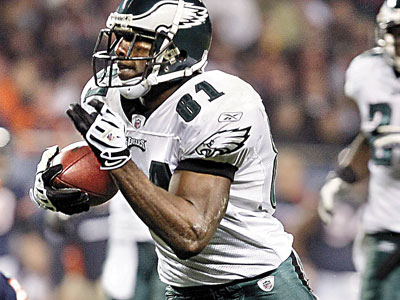 At one point during Tuesday's practice, with no DeSean Jackson or Jeremy Maclin, Jason Avant lined up outside in a two-receiver set.
Later, he was in his usual spot in the slot.
He stayed in behind the left tackle to block during another play.
Sheil Kapadia, Philly.com
During last month's media chalk talk event at the Novacare complex, defensive coordinator Sean McDermott talked about getting to good third-down situations.
Third down, McDermott explained, is when he can have fun. It's when he can bring in different personnel packages. It's when, quite simply, he can have his guys focus on getting after the quarterback.
As we've dissected several times here, McDermott used a rotation of nine or 10 guys along the defensive line last season. That might be the case again this year, or it might not be. But the names will be different.
Sheil Kapadia, Philly.com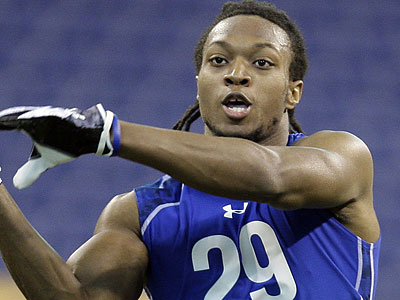 Practice was over, and many of the Eagles had already headed indoors at the Novacare Complex.
Others took time to meet with the media and answered reporters' questions.
Cornerback Trevard Lindley was still on the field.
Sheil Kapadia, Philly.com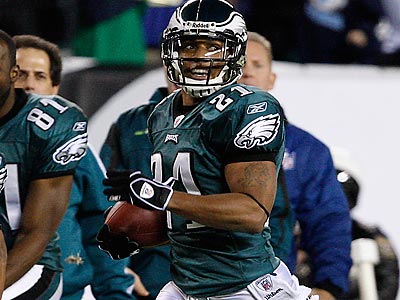 As you likely know by now, Asante Samuel and DeSean Jackson were no-shows today at OTAs.
The guys over at Eagletarian and Birds' Eye View have some details explaining why.
It was interesting to see who filled in at cornerback with Samuel absent and Ellis Hobbs still not participating fully.
Sheil Kapadia, Philly.com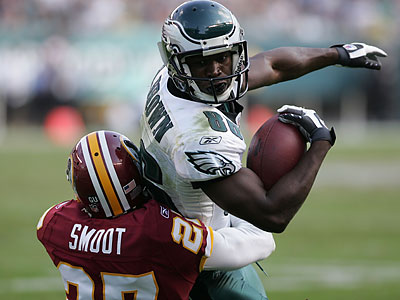 Some links to pass along this Monday morning.
I'll be stopping by Eagles OTAs in a few hours and will provide more practice observations and a video from there later.
* Reggie Brown is looking for a fresh start in Tampa Bay, writes Rick Brown of The Lakeland Ledger.
Sheil Kapadia, Philly.com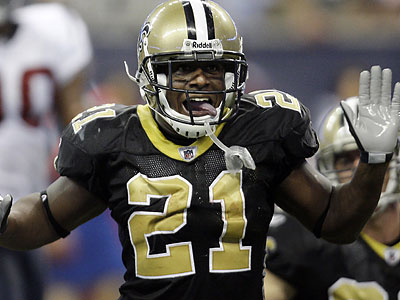 Eagles running back Mike Bell has caught 26 passes since beginning his NFL career in 2006.
So when I asked him last week what he thinks about Eagles running backs being expected to perform in the passing game, I expected Bell to talk about how he was just trying to learn the offense and pick up the receiving aspect of his job.
Instead, I got a different response.