Archive: December, 2010
Sheil Kapadia, Philly.com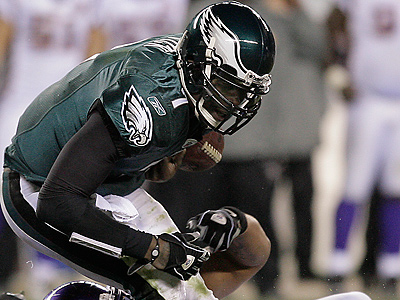 Join philly.com's Sheil Kapadia as he provides updates and commentary on tonight's Eagles game against the Vikings.
On a mobile phone? Click HERE to join the chat.
---
You can follow Moving the Chains on Twitter or become a fan on Facebook.
---
Sheil Kapadia, Philly.com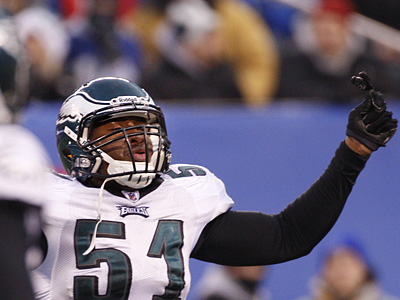 First of all, Merry Christmas and Happy Holidays to all the MTC readers out there.
Hope everyone is enjoying the day with their families and friends.
Just in case you needed something to read on your new laptop, IPad, smartphone, etc., I'm here to help.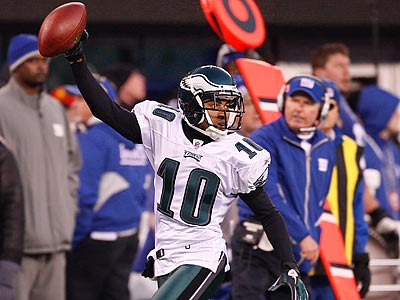 Sheil is enjoying his Christmas Eve, so we bring you an early present. DeSean Jackson went undercover at a local Modell's Sporting Goods store to promote the sale of his jersey.
---
You can follow Moving the Chains on Twitter or become a fan on Facebook.
---
Download our NEW iPhone/Android app for even more Birds coverage, including app-exclusive videos and analysis. Get it here.
Sheil Kapadia, Philly.com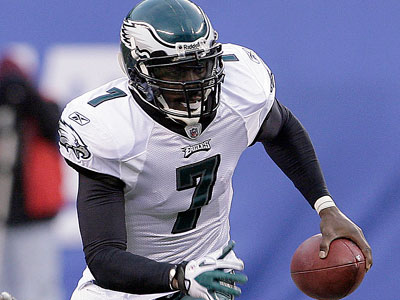 Michael Vick completed 21 of 35 passes for 242 yards, three touchdowns and one interception in Sunday's comeback win against the Giants.

He also used his legs for more big plays than we've seen all season, carrying 10 times for 130 yards.

For three-plus quarters, though, the Giants bottled up Vick and the Eagles' offense. So how'd they do it? And will other teams be able to replicate their success? What changed in the fourth quarter anyway, as Vick and the Birds looked unstoppable?

Here's a stab at answering those questions and more.

As always, let's start with pass distribution.
| | | | | | |
| --- | --- | --- | --- | --- | --- |
| | Targets | Catches | Yards | YAC | Drops |
| Jeremy Maclin | 9 | 7 | 59 | 11 | 0 |
| DeSean Jackson | 8 | 3 | 52 | 20 | 0 |
| LeSean McCoy | 6 | 4 | 13 | 10 | 0 |
| Jason Avant | 5 | 3 | 35 | 0 | 0 |
| Brent Celek | 3 | 2 | 72 | 37 | 0 |
| Jerome Harrison | 1 | 1 | 7 | 2 | 0 |
| Clay Harbor | 1 | 1 | 4 | 0 | 0 |
| TOTALS | 33 | 21 | 242 | 80 | 0 |
As you can see, Vick went to his playmakers. Maclin was the most-targeted receiver, as he caught seven balls and a pair of touchdowns. He really played an effective overall game. Maclin was wide open deep on one play in the second half and would have had a third touchdown if Vick had been able to put more on his throw. But he was pressured and severely underthrwe it.

Also, don't forget about Maclin's block on the Brent Celek TD.

Vick looked to Jackson quite a bit, but didn't have as much success. His throw on the first play from scrimmage was off-target. Jackson had the 30-yard catch on the play where he fumbled, but Andy Reid didn't challenge. On the season, he has 15 catches of 25 yards or more, second in the NFL to Denver's Brandon Lloyd.

McCoy has not been a factor in the passing game the last two weeks. What really stuck out to me when watching Vick's throws again was that the Giants had a great gameplan and were extremely prepared. There were plays where you could tell New York's defensive players saw something they recognized and knew exactly what was coming. That was the case when the Eagles ran screens to McCoy. And it didn't help that the offensive linemen missed their blocks. McCoy has seven catches for 17 yards in the last two weeks.

Avant had three catches for 35 yards. There was a third down in the first where he had a chance, but couldn't make the catch. The throw was high, though, so I did not count it as a drop.

And Celek, of course, had the huge 65-yard grab. As I mentioned earlier this week, Celek bobbled the ball initially before gaining control and taking off for the end zone. He got open again on the first play of the final drive, but Vick was off-target with his throw. It would have been a gain of 20-plus yards.

Overall, seven different players had catches.

There were two passes that were batted down at the line of scrimmage, where the target was unclear. That's why I only have 33 targets listed even though Vick had 35 pass attempts.
Sheil Kapadia, Philly.com
Update: The Eagles have placed return man Jorrick Calvin on IR. Two of the guys on this list (Clifton Smith and Justin Miller) have value as kick returners.
From earlier:
The Eagles have only two regular-season games left, but Andy Reid, Howie Roseman and the crew are still tweaking their 53-man roster.
Sheil Kapadia, Philly.com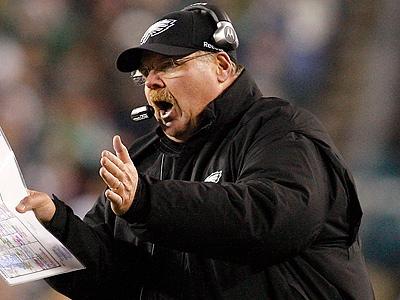 Here's the weekly roundup of what the national media are saying about the Eagles. Lots of MVP chatter for Michael Vick and coach of the year chatter for Andy Reid after their win against the Giants:
SI.com's Peter King has the Eagles third in his Fine Fifteen:
There is no question whatsoever that Sunday's win was the biggest, the most dramatic, in Philadelphia since the Phillies won the World Series.
Sheil Kapadia, Philly.com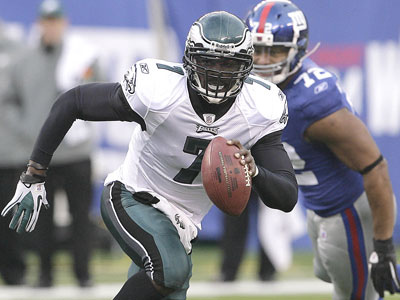 Apologies for being a day late with this. Mike Check will come Thursday.
Here's the player-by-player breakdown of how the Eagles' offense performed against the Giants:
Michael Vick- Vick was not comfortable or sharp for much of the game. Tomorrow, I'll take a look at what the Giants did to limit him - until the fourth quarter. In the fourth, Vick accounted for 246 yards (152 passing, 94 rushing) and three touchdowns. The biggest jaw-dropper was when he somehow ducked a blitzing Deon Grant and sprinted for 35 yards. The most important play was probably the 33-yard run when the Eagles faced a 3rd-and-10 from their own 12 on the final scoring drive. And the best improvisation was on a screen attempt that the Giants sniffed out in the fourth quarter. Vick scrambled and found Jason Avant for a gain of 13 while absorbing a big hit.
Sheil Kapadia, Philly.com
After the Eagles' first win against the Giants, defensive lineman Chris Canty ripped Todd Herremans for a pair of dirty blocks.
Herremans had been called for two personal fouls during the Birds' 27-17 win.
Now, after the Eagles' stunning 38-31 win Sunday, another Giants lineman is accusing the Birds' offensive line of dirty play.