Archive: November, 2008
Sheil Kapadia, Philly.com
For Eagles-Bengals this weekend, it will be Kenny Albert, Daryl Johnston and everyone's favorite, Tony Siragusa on Fox at 1 p.m.

The early game in the Philadelphia area on CBS will draw much more interest from a national perspective. Greg Gumbel and Dan Dierdorf have the call as the Giants host the Ravens.

CBS' 4 o'clock game should be entertaining as well, with the Steelers hosting the Chargers. Jim Nantz and Phil Simms will be your announcers.
Sheil Kapadia, Philly.com
Here's our weekly look at links that talk about the Eagles around the Web. As always, for your best local coverage, check out philly.com's Eagles section and blogs Birds' Eye View and Eagletarian.

SI.com's

Dr. Z has the Eagles seventh in his power rankings:

The game was close but they never appeared to be in it. They seemed to be a bit behind the Giants in all departments -- smaller, slower, not quite as tough. Still a good team, but not heavyweight championship material.

FoxSports.com

says

Andy Reid

is incapable of change:
Sheil Kapadia, Philly.com
Bernard Hopkins

once again didn't mince words when voicing his criticism of

Donovan McNabb

during Comcast SportsNet's Monday Night Live program.

Here's part of what Hopkins said when asked about where the Eagles stand this year:

"Some people are athletes, still good, but don't have that extra 'I'm willing to sacrifice my life. I'm willing to sacrifice what I have to sacrifice to win.' … People never forgot when things happen, they see a guy crumble under pressure. Whether they throw up on the highway, whether they throw up on the court, whether they throw up on the football field, when people see that, that sticks in the back of their mind."
Sheil Kapadia, Philly.com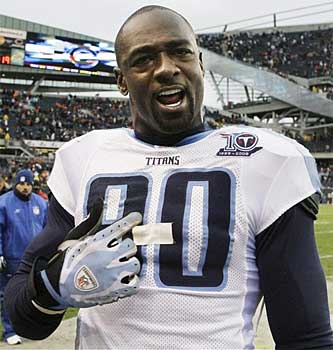 Couldn't help but notice ex-Eagle

Jevon Kearse

smiling in front of the camera after the Titans knocked off the Bears to improve to 9-0 on Sunday.

Kearse, of course, spent four seasons in Philadelphia, never really living up to expectations. In the offseason, he returned to Tennessee where he starts for the undefeated Titans. The numbers are underwhelming -- Kearse has 1.5 sacks and 20 tackles. But after the game, he took a piece of tape and applied it between the 9 and 0 on his jersey for the Titans' record.

Ironically, it was Kearse who urged the Eagles to add his ex-teammate Juqua Parker, who has been one of the team's better defensive players with five sacks, second on the team to Darren Howard.
Sheil Kapadia, Philly.com
As always, here are my 10 observations from the Eagles' 36-31 loss to the Giants:

1. The play everyone is going to talk about is the apparent Eli Manning illegal forward pass that was challenged by Tom Coughlin and eventually overturned. Here's what it says in the rulebook:

The penalty for a forward pass beyond the line is to be enforced from the spot where the ball is released when the passer's entire body and the ball are beyond the line of scrimmage. This includes either when the passer is airborne or touching the ground.
Sheil Kapadia, Philly.com
Sheil Kapadia, Philly.com
Be sure to check back tonight for our Eagles-Giants game chat. I'll be signing on at 7:45 p.m. to host.

And now on to our weekly look at who's picking the Eagles...

Paul Domowitch of the Daily News likes the Giants, 16-12.
Sheil Kapadia, Philly.com
In case you missed it yesterday, the Redskins have signed cornerback

DeAngelo Hall

for the remainder of the season.

Hall was let go by the Raiders after eight games. Oakland signed him to a $70 million deal after trading for him in the offseason.

Hall told Jay Glazer of FoxSports.com that it's a one-year deal, but he could be in Washington for longer:
Sheil Kapadia, Philly.com
Last week: 6-8
Overall: 65-59-4

Broncos at Browns

Week 10 picks come to you early this week with the Thursday night game on NFL Network. If you want to know how badly my main fantasy football team is doing (and I'm sure you don't), I was very excited to stake claim to

Brady Quinn

off waivers earlier this week. He'll get the start at 8:15 this evening. Don't be 'that guy' who forgets to set his lineup with the early game.
Sheil Kapadia, Philly.com
These are your same old Eagles links, but I thought I'd give the post a different title from here on out. As usual, you can get the best Eagles coverage from our Eagles section and blogs Eagletarian and Birds' Eye View, but these are other links out there you may have missed.

Without further ado...

Adam Schein of FoxSports.com hands out midseason grades and gives the Eagles a C+: