Archive: October, 2008
Sheil Kapadia, Philly.com

This week's observations from the Eagles' win over the 49ers:

1. Juqua Parker was the Eagles' best defensive player yesterday, and the same can probably be said for the entire season. Even before his interception return for a touchdown, Parker was making a difference all game. In the fourth quarter, he blew up a trick play to 49ers tight end Delanie Walker for a 10-yard loss. And he was constantly in J.T. O'Sullivan's face. In the last four games, Parker has 4.5 sacks

2. We've found a coach who's worse at using the challenge flag than Andy Reid. Last week we ripped Reid for issuing a challenge during Clinton Portis' touchdown pass. The week before, he was ripped for keeping the flag in his pocket. This week, Mike Nolan didn't challenge an early pass to Hank Baskett that looked questionable. Then later he challenged a DeSean Jackson catch even though it was pretty clear the rookie had both feet in-bounds. Nolan also challenged David Akers' field goal even though the announcers told us the play wasn't challengeable. It's amazing how little everyone seems to know about the replay rules. And my question is, who is recommending these challenges to Nolan? Is there one guy whose job that is? This would seem like a pretty important position, but maybe I'm crazy here.
Sheil Kapadia, Philly.com
Last week: 4-8-2




Overall: 42-29-3

We'll get back to the full version of picks next week, but I'm going to try profootballtalk-style one-liners for Sunday's games. Here we go...

Raiders at Saints: From Tom Cable's Wikipedia page:

Tom Cable was the head coach at the University of Idaho, his alma mater from 2000-2003. At Idaho, Cable compiled a record of 11-35 (.239) in four straight losing seasons. Idaho did not renew Cable's contract at the conclusion of the 2003 season, and he was quickly replaced by Nick Holt. Five of Cable's losses at Idaho were to lower Division I-AA schools, while one of his wins was against a I-AA school.
Sheil Kapadia, Philly.com
Rule No. 1 of blogging: Never apologize about lack of posts because your readers don't care.

So I won't make excuses for not posting these earlier and not posting since Tuesday. Just know that it won't happen again. Here is an adjusted version of the weekly links. These are where the Birds rank in various power rankings, plus who people are picking this weekend. Tomorrow you'll get an abbreviated version of the picks, and I'll be live chatting the game on Sunday.

Without further ado...
Sheil Kapadia, Philly.com

In an interview on his radio show today, Dan Patrick asked

Clinton Portis

to rank the quarterbacks in the NFC East.

Who did the Redskins' running back have No. 1?

"Gotta be Eli Manning. That's the Super Bowl champ," Portis said.
Sheil Kapadia, Philly.com
Adam Schefter of NFL Network reported yesterday that some teams are saying that the Lions are shopping wide receiver

Roy Williams

.

According to Schefter, back in April, the Lions were requesting two first-round draft picks for Williams. The Lions say they'd only deal Williams if an offer that was too good to be true was made.

In yesterday's loss to the Bears, Williams expressed his frustration on the sidelines, according to the Detroit Free Press, and fans chanted for the team to trade him. However, Williams told the paper he wants to be a Lion:
Sheil Kapadia, Philly.com
This week's observations from the Eagles' frustrating loss to the Redskins:

1. Very telling sequence at the end of the first half. The Eagles' offense took over at its own 40-yard line with 1:56 left. Chance to add to their lead and gain some momentum, right? Wrong. Here's the sequence of plays:

Play 1: False start on Jamaal Jackson sets up 1st-and-15.
Play 2: Incomplete pass intended for L.J. Smith.
Play 3: Brian Westbrook runs for no gain.
Play 4: Donovan McNabb completes a pass to Westbrook for 7 yards. Penalty on Smith is declined.
Play 5: Punt.
Sheil Kapadia, Philly.com
A reminder that I'll be hosting our live, in-game chat during Eagles-'Skins Sunday afternoon. And if the Phils happen to lose tonight and play Game 4 at 1 p.m., I demand every Best Buy in the Delaware Valley offer TVs for 40 percent off so we can all set up two screens and don't have to decide what to watch.

Glad we got that out of the way. Now it's time for our weekly look at who's picking the Eagles in their Week 5 matchup against the Redskins:

Les Bowen of the Daily News has the Eagles, 20-17.
Sheil Kapadia, Philly.com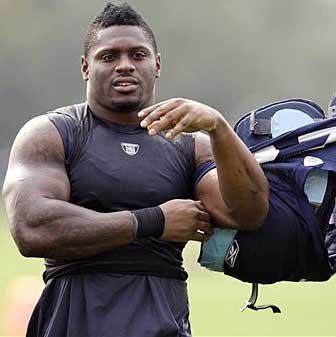 Last week: 9-4
Overall: 38-21-1

Colts at Texans

This falls into the "If I would have told you this before the season, there's no way you would have believed me category." The Colts need a win against Houston to get to 2-2 and they are only a three-point favorite. Let's bank on the return of center

Jeff Saturday

giving the Colts' running game a boost. By the way, ever play that game with your friends where you ask "What song would you come up to if you were a major league hitter?" I imagine it's easy for Saturday to answer. I picture him lumbering to the plate in a uniform that barely fits with Ludacris' "It's Saturday..." blaring in the background.