Sheil Kapadia, Philly.com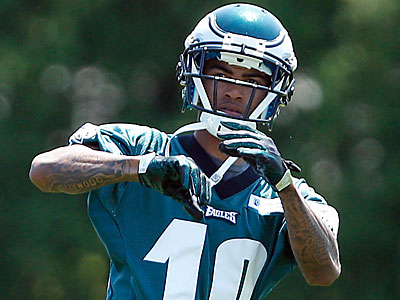 Here's a roundup of what the national media are saying about the Eagles:
Ian Rapoport of NFL.com stopped by Eagles mini-camp on Wednesday:
A lot of the good feeling comes from coach Andy Reid. Reid said with a straight face that he always has fun. But really, it seems he's having more fun now. Why? Maybe less to lose. He knows it'll be a big year either way.
Sheil Kapadia, Philly.com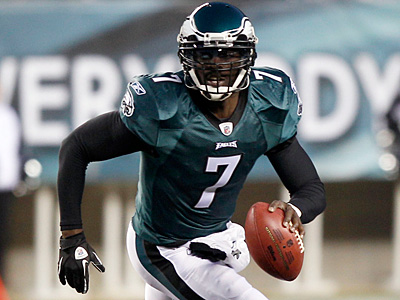 Michael Vick has spoken at length about how he didn't work as hard as he should have when he was with the Falcons.
In an NFL Network interview, he told his former coach, Jim Mora, that he didn't pay much attention to the playbook when he was away from the team's facilities.
He's even gone so far as to say he wishes Andy Reid would have been the one who drafted him right out of college. Maybe his career would have turned out differently.
Sheil Kapadia, Philly.com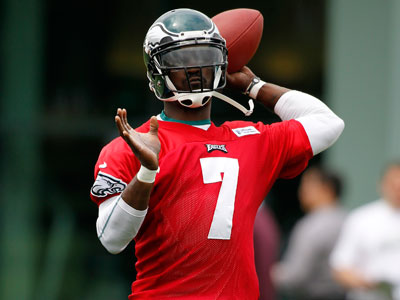 While the Eagles relied heavily on play-action last year, their level of effectiveness varied, depending on what Michael Vick did with the football.
Football Outsiders released some interesting data recently, showing that the Eagles used play-action on 25 percent of their pass plays, third-most in the NFL, behind only Houston (33 percent) and Minnesota (29 percent).
Here is a look at the Eagles' yards per play when they used play-action.
| | | | |
| --- | --- | --- | --- |
| | Yds./Play | Rank | League Avg. |
| Play-Action | 8.3 | 7th | 7.5 |
Sheil Kapadia, Philly.com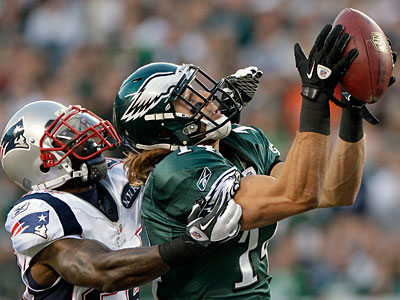 Here this week's installment of Five Eagles numbers that matter:
80 - Riley Cooper's yards-per-game average in three starts last year against the Giants, Patriots and Seahawks. Cooper lacked consistency (four drops), but overall, was productive when given the opportunity, averaging 19.7 yards per catch. He had a 58-yard grab against the Patriots and the game-winning touchdown against the Giants.
Any plans the Eagles have had about utilizing Cooper's size in the red zone have not materialized (just three RZ catches over the past two years). But given his special-teams role, Cooper is still the favorite to be the Eagles' fourth wide receiver next season and fill in for DeSean Jackson or Jeremy Maclin on the outside in the event of injury.
Sheil Kapadia, Philly.com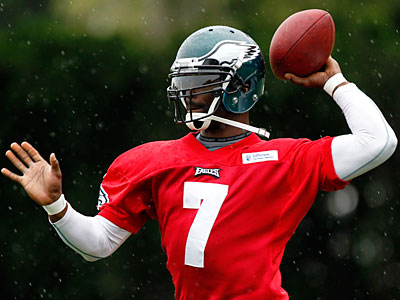 There are two things Michael Vick has never lacked: confidence and the respect of his peers.
But in the NFL Network's Top 100 rankings, Vick came in at No. 70, which was way too low if you ask him.
"It's a joke," he told Mike Missanelli of 97.5 The Fanatic. "I won't say where I need to be. I'll let my peers and everybody else just decide on that. Maybe it was voted on by the peers, but I just disagree. I know how good I am and what I bring to the table for my football team. The things that I can do on the football field sometimes can be uncanny, but I give a lot of credit to my coaches and the people around me."
Sheil Kapadia, Philly.com
I needed to switch things up this week, so you'll get Five Eagles numbers that matter on Tuesday.
And if you missed it from Sunday, I posted some final thoughts on the Birds' front-office shakeup.
Meanwhile, here's a roundup of what the national media are saying about the Eagles:
Sheil Kapadia, Philly.com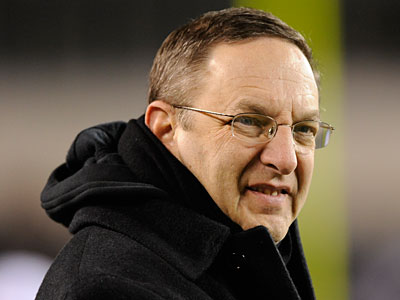 The dust has settled on the Eagles' front office shake-up, and we'll find out soon enough what the departure of Joe Banner means for the direction of this franchise, which is still seeking its first Lombardi Trophy.
The words power struggle have been used constantly since news broke that Banner was leaving. The term drives most to think of extremes - Andy Reid and Banner on opposite sides of the table, pounding their fists and forcing Jeffrey Lurie to choose between them.
But this situation probably wasn't quite as dramatic. It seems, quite simply, that Banner was not needed to fill the role he had previously occupied.
Sheil Kapadia, Philly.com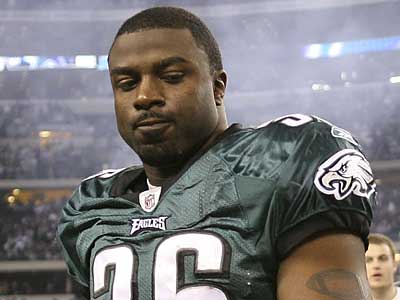 The current group of Eagles has not had a lot to say about the departure of team president Joe Banner.
The reality is that most of them are happy with their contracts, and many of them have probably dealt more with general manager Howie Roseman.
But during the Eagles' most successful years, plenty of key players sat across the table from Banner, looking to maximize their earnings as professional football players. Yesterday, I wrote about Brian Dawkins, who was critical of Banner and explained why he thinks the Eagles are better off without him.