Archive: May, 2009
Sheil Kapadia, Philly.com
Any time we write about Donovan McNabb here at MTC, it usually results in the comments section being flooded with insults, name-calling and personal attacks.
But we're going ahead with this post anyway.
Matt Bowen of the National Football Post writes about a topic that Eagles fans have argued about in this city for years: Is McNabb a franchise quarterback?
Sheil Kapadia, Philly.com
Today we continue our series of Q&As with reporters who covered the Eagles' draft picks in college.
Next up is Oregon offensive lineman Fenuki Tupou, who the Birds picked up with one of their fifth-round picks.
Rich Hofmann of the Daily News wrote about Tupuo in a column today.
Sheil Kapadia, Philly.com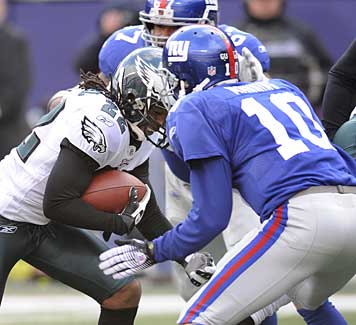 As we've discussed multiple times here at MTC, the Eagles-Giants rivalry has a lot to do with the buzz that is building for the 2009 season in Philadelphia.
New York focused on revamping its defense through free agency, and while the Giants were mentioned in several rumors about adding a veteran wide receiver, they ended up addressing the need for offensive weapons through the draft, much like the Eagles.
Enter Eli Manning.
Sheil Kapadia, Philly.com
During last month's NFL draft, ESPN's Chris Mortensen reported that the Raiders were shopping ex-Eagles defensive end Derrick Burgess.
According to Mort, Philadelphia and New England were two possible destinations for Burgess.
This week, reports have surfaced that the Patriots are considering sending a second- or third-round pick to the Raiders for him.
Sheil Kapadia, Philly.com
During last month's draft, there were rumors that the Eagles were showing interest in Broncos tight end Tony Scheffler.
That didn't happen, and the Birds picked up Florida's Cornelius Ingram in the fifth round.
Between Brent Celek and Ingram (Matt Schobel is also on the roster), I assumed they were set at the tight end position for the 2009 season.
Sheil Kapadia, Philly.com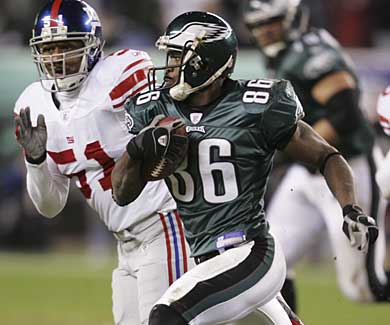 Reggie Brown is happy to be in Philadelphia -- for now.
The Eagles wide receiver said he's out to prove himself after a disappointing 2008 season.
But if he feels he should be on the field, and the coaching staff thinks differently, well, there could be some problems.
Sheil Kapadia, Philly.com
ESPN's Sal Paolantonio reports that Eagles defensive coordinator Jim Johnson is taking a leave of absence from the team as he undergoes a new round of chemotherapy.
"I told him to take care of himself first, and when he's ready to come back, come back," Andy Reid told Paoloantonio.
"I'd like to tell you he's great, but he's not. He's struggling right now," Reid said. "I told him, when you feel like it, come back."
Sheil Kapadia, Philly.com
SI.com has a list out ranking the best offseason trades in the NFL.
The Eagles' acquisition of tackle Jason Peters from the Bills comes in at No. 5:
The Eagles acquired the two-time Pro Bowl left tackle and gave him a six-year, $60 million contract. The Bills weren't interested in paying that much for a lineman who gave up a lot of sacks last season. But the 6-foot-4, 340-pound Peter is a major talent and should have success filling in for long-time Eagle Tra Thomas, who signed with the Jags this offseason.