Archive: February, 2010
Sheil Kapadia, Philly.com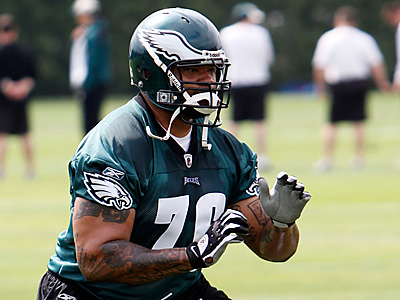 Here's what I wrote about Stacy Andrews in Man Up after the Eagles beat the Panthers in Week 1:
It looked to me like he probably was the least impressive of the Eagles' offensive linemen, but let's cut him some slack and remember he had offseason knee surgery and is playing on a new team. Andrews got beat a couple times on pass plays, once for a sack in the fourth quarter.
And then after Week 7 against the Redskins:
Sheil Kapadia, Philly.com
Welcome to Combine Week.
On Wednesday, the annual NFL meat-market begins as over 300 college prospects head to Indianapolis for a few days of medical testing, interviews and physical workouts.
It's essentially a job fair for a bunch of guys in their early 20s, who have aspirations of playing in the league. Some have goals to be future Super Bowl champs and Hall of Famers. Others just want to hear their name called in late April, even if it's at the end of the seventh round.
Sheil Kapadia, Philly.com
Byron Westbrook was arrested on charges of drunken driving early Friday morning, according to multiple reports.
Byron, 25, is the younger brother of Eagles running back Brian Westbrook.
Byron was charged with DWI, DUI, negligent driving and failure to drive right of center, according to the Web site of Washington D.C.'s NBC affiliate, WRC-TV. He was pulled over around 2 a.m. after changing lanes several times.
Sheil Kapadia, Philly.com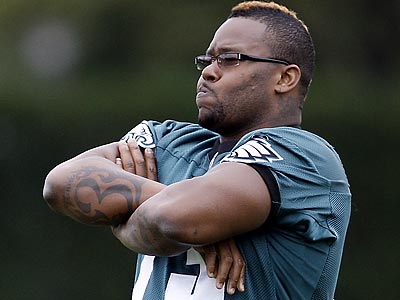 On the day when veterans were supposed to arrive at Lehigh last summer, Shawn Andrews arrived in a white Range Rover.
He was sporting a cleaned-up mohawk and had a Macbook Pro in hand. He had traveled to other countries during the offseason and was learning new languages. He said he felt physically right and mentally right. Andrews had never been more excited about training camp, and getting a chance to play alongside his brother.
But the next day, Andrews was not on the field for the team's first full-squad workout. Andy Reid explained afterwards that Andrews' back tightened up during a run that morning.
Sheil Kapadia, Philly.com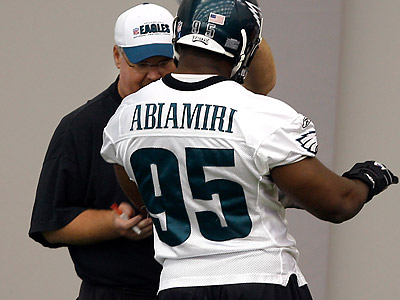 Think way back to early September and Week 1 of the NFL season.
Do you remember who was in the starting lineup at left defensive end opposite Trent Cole?
It was Victor Abiamiri. The third-year defensive lineman actually recovered a fumble and took it to the end zone for a touchdown.
Sheil Kapadia, Philly.com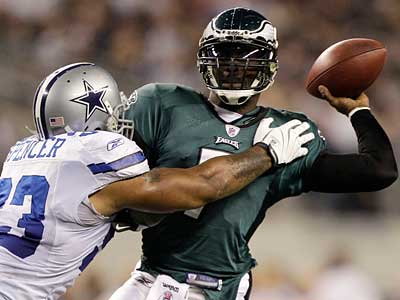 Before we get to the Michael Vick report, a couple housekeeping items.
We started our Year in Review series with David Akers, and as some commenters and the folks at Iggles Blog pointed out, I somehow forgot to include his performance on kickoffs. Bad job by me. Maybe this is what happens to my brain once football season ends?
Anyway, Derek over at IB fills in the gaps and starts an interesting discussion about whether the Eagles could benefit from a kickoff specialist. Worth checking out.
Sheil Kapadia, Philly.com
Today was supposed to be Victor Abiamiri's season in review, but I was a little more swamped than I expected and never got around to reviewing my notes on him.
That will come Wednesday. I promise. No sleep until we post on Abiamiri.
In the mean time, some quick nuggets below to hold you over.
Sheil Kapadia, Philly.com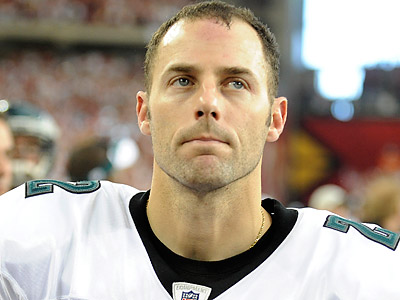 Time to kick off our

Year in Review

series.

We'll take a look at every player on the Eagles' roster and evaluate how each performed in 2009.

We'll go (mostly) in alphabetical order, but I need more time checking my in-season notes on

Victor Abiamiri

, so we start with

David Akers

.

The veteran kicker hit 86.5 percent of his field-goal attempts last season, the third-best mark of his career and the best since 2002. It was the ninth-best overall percentage among kickers with at least 15 attempts.

Akers led all kickers with 32 makes, but also had the most tries (37).

He was money from 39 yards and under, hitting 20 of 21 attempts.

From 40-49, Akers made 11 of 13 kicks (84.6 percent). The two misses? Both against the Raiders, in a game where he attempted five field goals. In his previous 10 seasons, Akers hit 69.2 percent from that range.

From 40 or longer, he was 12-for-16 (75 percent). Only four kickers (who attempted at least 10 from that distance) had a better percentage. In his previous 10 seasons, Akers hit 64.9 percent from 40 or longer.

In terms of "game on the line" kicks, Akers hit winners against the Redskins and Broncos in the second half of the season.

The numbers don't lie. Even by his own standards, Akers was well above average in 2009. And keep in mind, this is a guy who was named to the league's All-Decade team.

At 35, he showed no signs of slowing down and will return to a field-goal unit that was ranked best in the league by Rick Gosselin of

The Dallas Morning News

.

Akers is under contract for 2010, but then would be eligible for free agency.

David Akers: Stats

Follow Moving the Chains on Twitter. And become a fan on Facebook.